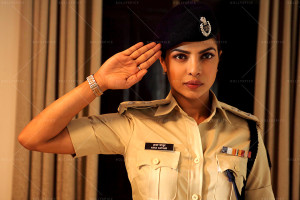 Jai Gangaajal starring Priyanka Chopra which released on March 4th, 2016 has been receiving rave reviews for its hard-hitting storyline and incredible performances. The film also marks the debut of Prakash Jha who is known for his realistic cinema. Fans and critics alike praised the film and had the following to say:-
The idea of a woman cop straightening out the goons is instantly sexy. Especially when the cop is played by Priyanka Chopra, who is convincing as the tough-talking Abha. It's very satisfying to see her pummel the bad guys. – Anupama Chopra
 One must admit here that Jha surprises with his ease in front of the camera and decent acting abilities, but quite often the camera focuses a little too indulgently on him. Jha yet again successfully revisits the world he's so familiar with, the rampant hooliganism, the fascinating and colourful lingo that we are all familiar with, largely thanks to Jha's earlier films – Shubha Shetty
Prakash Jha himself, as the corrupt policeman who later realizes the significance of his khakhi, and tries to make amends, is the surprise package of the film. He lives his character and has a commanding screen presence. – Troy Rebeiro
Fans are going completely gaga over Priyanka's tough cop avatar! From praising the story to saying how much they loved Priyanka as Abha Mathur, they took to twitter to share what they loved most about the film. The fans commended the film for the powerful message it sends across as well as the bold and brilliant work done by the entire team. One fan went so far as to say that she left the theatre with a little bit of Abha along with her which is a true testament of the actress' strong and moving performance in the film.
Praises also poured in for Prakash Jha who made his acting debut in this film. Apart from a brilliantly scripted movie, he was also applauded for his stellar performance.
Looks like Jai Gangaajal is a must watch for all those ardent fans! Catch Jai Gangaajal at a theater near you.
Written and directed by Prakash Jha, produced by Prakash Jha Productions and Play Entertainment and co-produced by Milind Dabke, Jai Gangaajal revisits the dusty heartland of Central India and examines the society–police relationship. Starring Priyanka Chopra, the movie released on 4th March, 2016.