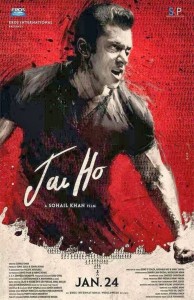 Jai Ho sees Sohail Khan return to directing after Maine Dil Tujhko Diya (2002), his debut film as an actor. Jai Ho is yet another remake of a Telugu hit, Stalin, starring Chiranjeevi and Trisha.  Sohali's version stars Salman Khan, Tabu and Danny Denzongpa in pivotal roles.
Music has been composed by Sajid-Wajid (Dabangg franchise) and Amal Malik with Devi Sri Prasad as guest composer. Vocal talents consist of Wajid, Shreya Ghoshal, Shaan, Palak Mucchal and Himesh Reshammiya amongst others. The album features 9 tracks including 3 remixes.
Baaki Sab First Class is a satirical number sung by Wajid. The lyrics (Sajid, Irfan Kamal, Danish Sabri) are impressive however the repetitive dhol beats gets old quickly and Wajid's rendition, while decent, suffers from a serious case of been-there-done-that.  The remix of the track is equally unremarkable.
Tere Naina Maar Hi Daalenge is a poor derivative of 'Saanson Ne' and 'Dagabaaz Re' (Dabangg 2) and 'Tere Mast Mast' and 'Chori Kiya Re Jiya' (Dabangg). Veterans Shaan and Shreya are wasted on a mediocre melody and run-of-the-mill lyrics. The whole track is painfully formulistic without an ounce of innovative thought.
Photocopy is a train wreck from the word go. Then again, what can one expect with Himesh Reshammiya back behind the mic. The composition is loud with a multitude of ill-arranged sounds. Lyrics are equally dismal, if not more. Keerti and Palak, up and coming vocalists, are more or less butchered by being pinned against a ghastly rendition by Himesh. The track's remix is not helpful either.
Tumko To Aana Hi Tha, a Amal Malik creation, is a well composed track but suffers from amateurish lyrics. The contemporary composition is a welcome deviation from its desi predecessors though. Armaan Malik gives a decent performance but it is hard to judge the rendition on its merits with the flawed lyrics. The techno version of track, titled Love You 'Til The End also suffers from the same fate. The remix has been well imagined, but the amateurish lyrics heavily discount the track's likability.
Devi Sri Prasad's fusion dance track, Nacho Re, commences well enough but loses its appeal along the way as the traditional fuses with the western. Ujjayinee screaming the minimal (and mediocre) lyrics towards the end of the track does not help matters either. It is a short track and therefore the disappointment does not last long.
The album closes with the title track, the album's only listenable track. The techno number is well arranged by Amal Malik and Armaan and Wajid do a fantastic job rendering same. Lyrics, what little there is, are well penned and the chorus, though a mere repetition of the 'Jai Ho', is too energetic to bore. It would have been a hard task to differentiate the track from the internationally popular Slumdog Millionaire track of the same name but Amal Malik does a credible job of making it standing out. The only drawback is that the track's too short.
In conclusion, Jai Ho, is a collection of tried and tested compositions from Sajid-Wajid that are utterly unremarkable if not ill-composed. Amal Malik makes a decent debut but gets hammered due to ill-penned lyrics. Surprisingly, the title track is entirely listenable indicating that Amal Malik is a talent to look forward to. Sadly, it is only 1 track out of a 9-track album and therefore fails to redeem the rest of the album. In other words, do not fret if you forgo listening to Jai Ho, you would not be missing anything at all.