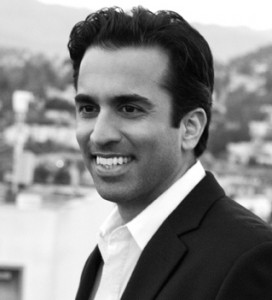 Beverly Hills: Jai Khanna, talent manager and producer at Brillstein Entertainment Partners is selected as a recipient of the 2014 Outstanding 50 Asian Americans in Business Award. This event will be held on 19 June at Cipriani Wall Street in New York.
The 2014 Outstanding 50 Asian Americans in Business Award is presented by the Asian Americans Business development centre. The Outstanding 50 Asian Americans in Business Award not only recognizes entrepreneurs for their role in driving the U.S. economy, it also provides corporations with the opportunity to honor top Asian American executives within its ranks.
Jai Khanna is a 16-year veteran at Brillstein Entertainment Partners (BEP). Formed in 1975, BEP operates as one of the premiere entertainment companies. The company manages a diverse roster of A-list talent including Brad Pitt, Natalie Portman, Jennifer Aniston, Vin Diesel, Adam Sandler, Irrfan Khan, Ajay Devgan, Amy Adams to Anthony Zuicker (creator of the hit franchise "CSI"), directors Seth Gordon ("Identity Thief") and Matthew Vaughn ("X-Men") and Brian Helgeland ("42"). The company has been nominated for over 20 Emmy's and Academy Awards. BEP also packages programming with clients and has produced some of television's most critically acclaimed series' such as 'The Sopranos' and "Politically Incorrect". Brillstein's film efforts support client production companies including Plan B Entertainment, credited with "12 Years a Slave," "World War Z," 'The Tree of Life', 'The Departed.' BEP was profiled in Forbes magazine as "Hollywood's most successful management and production firm."
Mr. Khanna personally nurtures a client roster that includes talent and film financiers. He is regarded as an entrepreneur helping launch client production ventures in film, television, helping guide investments within the community. Mr. Khanna was profiled in The Hollywood Reporter as 'one of the top 35 executives in Hollywood' and has recently been featured in The New York Times, Variety and Wall Street Journal. USIBC has recognized Mr. Khanna as one of the 100 influential Indian American leaders in the US. He is a frequent speaker at UCLA.
"I am delighted to be a recipient of this important award. This is the only forum to highlight the achievements of Asian Americans across the United States, and I am honored to be selected among the best business owners, professionals and corporate executives who are engaged in a variety of business interests and who drive our economy," said Khanna.
According to the Asian American Business Development Center, Mr. Khanna was nominated for the award by a number of his peers. In all, hundreds of nominations were reviewed by a selection committee before the final 50 were chosen.
Senior level Asian American executives and entrepreneurs with distinguished achievements in the field of business were eligible for the Outstanding 50 Award. Honorees must demonstrate a spirit of corporate diversity, outstanding leadership, vision and accomplishments. In its thirteenth year this event is expected to be attended by 700 government, business and civic leaders and their families.