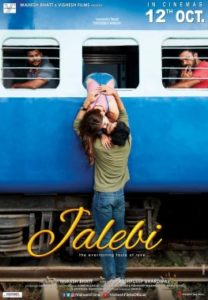 Everyone makes decisions daily which they later regret as its consequences cause unforeseen issues. Sometimes its not too bad, sometimes its life changing. Jalebi: The Everlasting Taste of Love follows Varun Mitra and Rhea Chakraborty through just one of these decisions and its consequences. Directed by Pushpdeep Bharadwaj, it's a remake of a superhit 2016 Bengali movie Praktan. Expect a lot of sad, if not teary, music from music directorial teams Jeet Gannguli, Tanishk Bagchi, Javed-Mohsin, Abhishek Mishra and Samuel–Akanksha in this 10-song album.
Samuel-Akanksha get to bookend this album with their first track Tum Se. 'Tum Se' is sung by Jubin Nautiyal whose silken voice is quickly becoming popular and well-known in the industry. In this version he can bring it to the fore with nothing but a drum providing a heartbeat. The music directors keep adding instruments, but they seem to take more the form of adding to the beat then supporting the singer. Keyboard, flute and synth all give this heartbeat a life, something to cling onto, but the introduction of an electric guitar with a violin really brings this song alive as beauty mixes with anger. The promise of never being apart hangs like a mill stone until a piano backed by macarenas seem to take it all away as the ending of this song descends into an instrumental.
At the other end of this album are 2 short Tum Se adlib versions of this song, one sung by Jubin again and the other by Shilpa Rao. Both open with the haunting melody of an oncoming train with signal sounds and overworked wheels to give the full effect. Even though they are only 2 mins each, they are captivating in their slow and broken rhythms and could effectively be used in promotional materials as well as in the climax scenes.
On the lighter side is Pal. Javed-Moshin have worked on bringing the emotion of love in the 2 versions of the song. The first part is the definition of love with Arijit Singh and Shreya Ghosal delivering a gem of a love song. This is both the signature tune (as it's early release and use in promotional material shows) as well as the key sentiment piece. Keeping in mind this is one of only 2 happy songs in this film, so the musical team have given it their all to get all the happy emotions jammed in. Soft instruments, acoustic guitar and snare drum keep a very slow, even rhythm allowing these titans of Bollywood playback singing to do their work. However, the insistence on Arijit keeping to high notes which is not his forte and the repetitive nature of this tune, captivates early on but quickly dulls after a few listens.
The second version of this is the girl's sad song. As of course a lot of feelings in this movie will be internalised there was no doubt that music would have to speak for the actors. In this song, the music directors have asked Shreya to be constantly on the verge of tears, gently dragging an even slower pace to the song and adding a de-tuned violin for good dose of sadness. While it may not leave people in floods of tears, like the actress there is a pain deep within the heart.
Jeet Gannguli takes Arijit Singh away in the meantime for Mera Pyar Tera Pyar. Here the actor is away from his love and he is thinking about her, but this doesn't fulfil him in any way. It opens with piano, acoustic guitar, flute and Arijit. A light Spanish style tune breaks open with a synth beat, the addition of finger clicking and an earthen pot for beat but not much actually changes in the song. There is a constant sad overtone although it remains light throughout.
Mujhme has Samuel-Akanksha now working with Shilpa Rao ad her soft drawl to say "Yehi rahoge tum mujhme". This is the heart-rending break up song. In a sense it's partnered in a sort of male-female version with 'Mera Pyar Tera Pyar' but cuts far deeper for the listener. The emotions are everything in this tune and the music directors are even able to find a way to show the actor being drowned in her own emotions by letting the supporting violin drown Shilpa's voice out, until Shilpa comes roaring back in her own mini-fightback moment. But the violin and the beats team up to overtake one more time as the song concludes and having won, there are a few seconds of silence at the end.
Tanishk Bagchi takes over next for the other happy song Tera Mera Rishta. If 'Pal' was a love song, then this is a happily ever after song. KK and Shreya are bright with mid to high tonal ranges sounding like a breath of fresh air. The lyrics tell listeners that each character wants to be the image of the other and requests that each go looking for the other should one get lost. The relationship defined by god can now be made into the perfect life story… of course the audience knows better but in the moment it's a lovely light piece with a beauty of its own. Instrumentation is all background, with an unchanging rhythm and beat from acoustic guitar, box drum and piano… a dream sequence almost, but still a nice feeling.
Again, this has a 2nd version however which is a clever twist on a nice song. This is the guy's sad song but depending on how its used in the movie, it has the potential to just be a little less happy. KK is back on his own here, with most of the instrumentation hidden deeper and replaced with finger clicking and chorus. This song could easily behold a new, less exciting relationship as the trailer seems to give away or it could be the conciliatory reminder that the actor once had a chance at the perfect relationship.
The final song is Pehle Ke Jaisa. While this is not actually the final song of the album, after this is all the remakes of the earlier songs which have already been discussed. Abhishekh Mishra is in charge for this song and employs KK to bring it to life. This song is the musical version of the immortal statement "Unse mohobbat kamal ki hoti hai, jinka milna muqqadar mein nahin hota", which opens the trailer so beautifully. The song itself however is a complete twist on everything before as with a synth beat, macarenas lightly supporting and rabab providing deeply sad rhythms, there is a classical feel here that has not been seen in any other song of this album. The reasoning behind it is mysterious and will depend on how its used in the film, but overall it leaves the sense of memories trying to be rewound.
Each of the music director teams have shown the correct emotions and used the correct singers for the moments that they have been asked to write for. Nevertheless, we have Arijit getting stuck on high notes, KK sounding like a breath of fresh air halfway through an album, and like a new relationship that becomes tattered by whims, mysterious changes of tone with Shilpa Rao and the song 'Pehle Ke Jaisa'. From the film's point of view these may be critical to the story telling and, in their usage, take the viewing experience to a new level, but as songs they sometimes give life to doubts which mess with the peace of mind to be found in harmony.