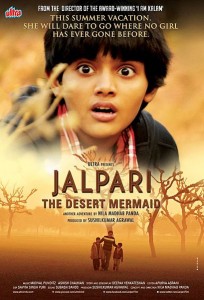 The 30th April marked the birth of "Father of Indian Cinema", the man who gave us brilliantly impressive movies, like Raja Harishchandra, Satyavan and Savitri, Lanka Dahanand many more films, each of which is still a masterpiece in itself. As an aid of respect and remembrance the cinema association has named many awards and film festivals after him which are the most respected and prestigious awards in the film industry. Many maverick film-makers, actors, actress, films, have received Dadasaheb Phalke award. The list is endless and to add to it, critically acclaimed director Nila Madhab Panda's second directorial film Jalpari- The Desert Mermaid has won three awards at Dada Saheb Film Festival, 2013 on his birth anniversary. After his first ovation to I Am Kalam, Nila came with a film Jalpari- The Desert Mermaid, which dealt with various predicaments that a girl child encounters in rural India. He dared to be different alike Dadasaheb Phalke and his work has been praised and honored on an auspicious day. The film has won against hundreds of nominations from across the world.
Jalpari – The Desert Mermaid wins 3 Awards including Best Film in Dadasaheb Phalke Film Festival 2013 which was held in Noida. The Film has won in 3 Categories: Best Film – Producer Sushilkumar Agrawal, Best Screenplay – Deepak Venkateshan & Best Child Actress – Leher Khan.
With immense joy and happiness producer Mr. Sushilkumar Agarwal adds, "It's an honor to receive awards in three different categories for our film — Best Film, Screenplay and Child Artist. These awards are a score of appreciation and an encouragement for us to continue making and supporting content oriented cinema. I always believed in its blazing subject, powerful performance and treatment to film which has the potential to compete and also win. Its celebration time for us."
"After receiving critical acclamation and admiration at international festivals; I am super ecstatic on receiving triple triumph at India's most Honorable Film Festival — DadasahebPhalke Film Festival, 2013 for my second film. His work, his history has been a source of inspiration and encourages me to make such movies. It's a mark of distinction to get awarded on an auspicious day for Indian cinema; adds NilaMadhab Panda on receiving the awards.
It's a celebration time for the cast and crew of the film Jalpari- The Desert Mermaid's….This still has to reach places and gain appreciation. It's the beginning