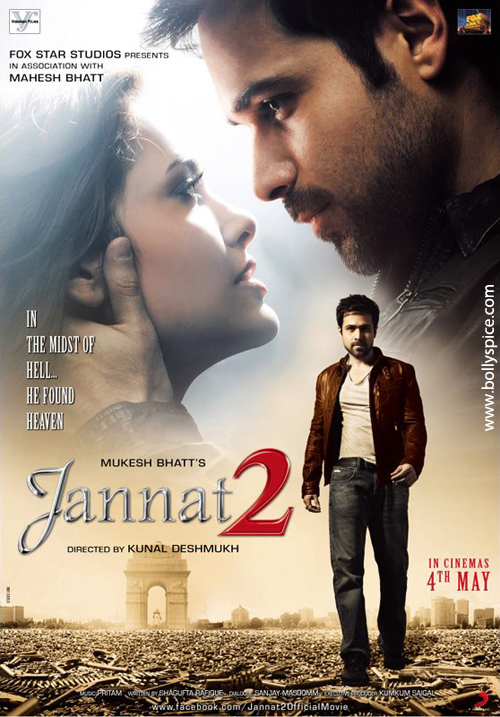 It seems every time a film is due out from the Bhatt camp – especially one starring Emraan Hashmi (is there any other kind?) – the anticipation for the soundtrack goes through the roof. The pressure, every time, seems to grow exponentially, because if there's one thing the Bhatt camp seems to have a lock on, it's getting the best out of their longtime collaborator, Pritam.
And the pressure is at an all-time peak this time round, because Pritam's soundtrack for Jannat is still regarded as one of the best of his career to date. Jannat 2 has a lot to live up to. A Pritam soundtrack for the Bhatt camp – it's going to be good, that's a given. But can it be great?
The album opens on a relatively low key, romantic note with the breezy, Sufi-inspired Tu Hi Mera. A hummable and melodious track, featuring the vocals of Shafqat Amanat Ali, it's a pleasant start to the album.
The Sufi vibe continues with Tera Deedar Hua from the incomparable Rahat Fateh Ali Khan. This track is much more upbeat, making use of a percussive chorus and of course, bringing a sharp focus onto Rahat Fateh Ali Khan's distinctive voice – which, honestly, almost gets a little bit harsh and overpowering in the qawaali arrangement. An alternate version of the song is also presented on the album: Tera Deedar Hua (From The Heart) – featuring a similar arrangement, but with softer, mellower vocals from Javed Ali. The second version is my preferred version, but both will have their fans!
The mood darkens somewhat with Tujhe Sochta Hoon, a moody and soulful piano-based rock ballad sung with deep emotion by the one and only K.K. The track itself is reminiscent of many Bhatt-camp tracks – the "emo rock ballad" definitely has its place in their films, and one can definitely imagine Emraan Hashmi emoting onscreen to this. K.K.'s voice is the USP on this track for sure. There's a reprise later on in the album  entitled Sang Hoon Tere  – a slow, loungey electronic version, with the vocal duties handed over to Nikhil Dsouza. It's interesting to see how much a track can change with a bit of tweaking, and also to see (yet again on this album) how much difference the singer of a track can make. Fans of electronica/lounge will like this version, but traditionalists – stick with K.K.
The best track on the album belongs to Mohit Chauhan, who sings the compelling and soul stirring Rab Ka Shukrana with sensitivity. Beautiful pacing and a barebones arrangement allow Mohit's voice to really shine and make this track a true standout.
The Rab Ka Shukrana (Reprise) sung by Anupam Amod – like all the reprise tracks on the album, offers a gentler, softer, version of the song, all edges pared away. A lovely track in itself, it lacks some of the emotional power that Mohit Chauhan's voice brings but has its own merits – some lovely instrumentation and Anupam Amod's yearning soft vocal.
Finally there's a shoutout to the original Jannat soundtrack in the edgily anthemic Jannatein Kahan, which is essentially a remix of Jannat super hit Zara Sa. A curious mix of electro and dubstep samples alongside the original song, mixing in some new rap samples – it sounds like an experiment that really shouldn't work. BUT IT DOES. K.K.'s voice is suitably anthemic, and the song – even years later, still sounds fresh. You can see why it was such a hit. The second version of the song included on the album Jannatein Kahan (Power Ballad) is exactly what it sounds like – the power (rock) ballad version of the epic song, this time with vocals by Nikhil Dsouza, who does a fantastic job with a BIG song. Soaringly emotive, building upon glorious anthemic choruses to a climactic finish – this is a hit.
Though it can probably never quite live up to the original, it's hard to deny that Pritam, and the Bhatts, have done it yet again – delivering a solid and reliable album sure to please. Though it doesn't reinvent any wheels, there's variety in the voices, and experimentation in the remixes, and when it comes down to it, this is Pritam doing what he knows, and doing it well.