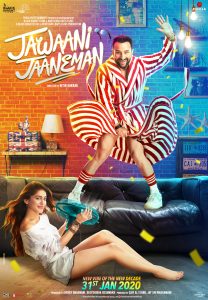 Taniskh Bagchi has changed the face of Bollywood music by focusing his work on finding new ways to present old tunes. This is in some cases very successful as it brings to light an old song in a way that audiences back then hadn't thought about it and where it fails, at worst it brings good memories of some classic old song. Like Taniskh, Jawaani Jaaneman is a film doing old things in a new and fresh way. This comedy film seems to be a take on Mamma Mia and similar films and having a fresh face in Alaya F being around well-established actors Saif and Tabu does this. Taniskh as music director finds a way to bring back some old and make it new too.
Jazzy B is a Canadian hip-hop performer who has been in the Indian music scene for many years with his most recent output being a studio album in 2017. Taniskh brings him in to sing a remake of his 2004 hit 'Dil ', under the new name of Gallan Kardi, the first song on this album. This new version is a combination of cool down, club track and Rastafarian. However, it fails to get away from the original enough that fans won't instantly remember the original hit.
If a song could launch a career, then this would be the original proof of this matter. 'Ole Ole' was a superhit song upon which Saif Ali Khan launched his now lauded career and Taniskh brings in Amit Mishra and some clips from the original by Abhijeet to develop Ole Ole 2.0. Again, this is a Rastafarian club track, with the cool down effect on high as the original was one of the best dance songs of that decade. On a positive note, there's little to no attempt to hide the original; the title is only 2.0 and sound grabs to come from the original, so those who are uninitiated will get a chance to listen to a rare gem.

Bandhu tu Mera is the next on the album and does seem to be original but by this time its hard not to doubt that. Also a gentle club song, but a more sober beat and tempo, aligned with the words "tere sang hone se, I'm always happy". Yasser Desai is given the song to sing over the top of this beat and his clear voice is obvious. While the song is unchanging throughout, it's never dull but never goes anywhere either… a middle of the road song, just comfortable for everyone.
The album ends on the sad note… Mere Baabula (Madhaniyaa) sung by Harshdeep Kaur and Akhil Sachdeva. This one seems to be trying to capture all the sadness of this film into one moment as its twice the length of any of the other songs and goes all out on the minor scales, acoustic guitar and violins. The background instrumentation is however almost as if it was recorded separately from the singers as its so unchanging that the only change in the song is that from female to male singer.
As mentioned in the introduction, even bad remakes are good because they give new audiences a chance to catch up on old classics. While not making any great new songs Taniskh has revived both Jazzy B and Yeh Dillagi as must listens. As far as this album goes, the changes are not enough to make them more interesting than the originals and so don't contribute here. Thus, the work is left to Bandhu Tu Mera and Mere Baabula, which are both bland and unchanging, relying on some very good singers to take over the whole spaceHi