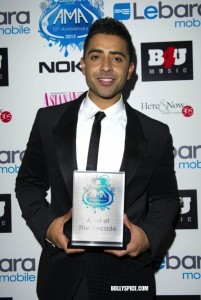 International music artist Jay Sean was in London on Tuesday night (9th October) and not only did Jay Sean take part in a special Q&A but he also took home a special award.
Held in the Hilton Hotel in Wembley, BBC Asian Network presenter Tommy Sandhu hosted the intimate Q&A with Jay Sean where the singer talked about his time in industry. He also was presented with a special Artist of The Decade award by Richard Robertson, the Managing Director of Lebara Mobile.
On receiving the award, Jay Sean told the audience, "I am truly honoured to receive this award. I wouldn't be here today if it wasn't for some of my family and friends who are in the room tonight, so to receive it in front of them is really special."
"I want to say a big thank you to the Asian Music Awards for this memorable evening and for all their support over the years. And finally a big congratulations for 10 years of the Asian Music Awards."
Other guests who attended the event included singer and actress Preeya Kalidas, Ameet Channa, Juggy D, H-Dhami, Shide Boss and BAFTA award winning actor Adam Deacon.
The Lebara Mobile Asian Music Awards are set to take place in Wembley Arena on 25th October.
Bollyspice.com attended the special event to get all the details as well as an exclusive interview with Jay Sean so stay tuned for the full details!