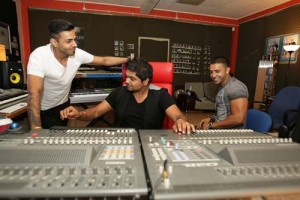 The music industry waits with baited breath for the much anticipated joint return of Jay Sean, Juggy D and Rishi Rich, previously known as The Rishi Rich Project. The trio are set to return with a brand new collaboration, recapturing some of their old magic from 2003.
Recognised as the Holy Trinity of the British Asian music scene, the awesome threesome established and steered an entire movement of Bhangra-R&B fusion. The boys are now working hard to reignite the music scene and create some more hits for their unique and much-loved genre. Famous for classics such as 'Dance With You' (Nachna Tere Naal), 'Eyes On You' (Remix), 'Push It Up', 'Stolen' and 'Dil Mera' from the Bollywood film 'Kya Kool Hai Hum', the musical maestros have recently been spending time in Rishi's studio in London.
The 3 Londoners were the first Asian lads as a group to perform at the MOBO's, on Top of The Pops, on CDUK and at MTV Lick parties in London and Ireland.
Commenting on the exciting venture, Jay says: "The three of us had a really special thing together, an amazing vibe. We toured the world and had a lot of fun. Life takes you on different journeys sometimes, but all of us always knew we'd do something again eventually. We're brothers so it would be inevitable!"
Jay Sean's fourth album 'NEON' hits stores and iTunes today in the UK. The album features the hit single 'Mars' featuring Rick Ross, which is currently climbing US radio charts rapidly,'Breakadawn' Featuring Busta Rhymes and 'All On Ya Body' featuring fast rising star Ace Hood. Jay Sean was the first Asian artist to go to number 1 on the Billboard Hot 100 in America, and is to date the only British artist in history to have number 1 Billboard songs on both the English and Spanish Charts!
Juggy D has been touring the world over the past few years and has gained an amazing following. His face adorns advertising hoardings across the metro cities in India and he is a regular sight on TV across the sub-continent. He enjoyed global success with his recent album aptly entitled 'Punjabi Rockstar' and has collaborated with the creme de la creme of the music industry.
Almost 2 decades on and Rishi Rich still mesmerises audiences with his stupendous productions. Rishi is currently working on completing his latest album, for which he has garnered much support from established international and UK-based artists. Unsurprisingly, Rishi has begun realising his passion for film scoring and has been selected to score and produce the soundtrack for 3 British films this year!