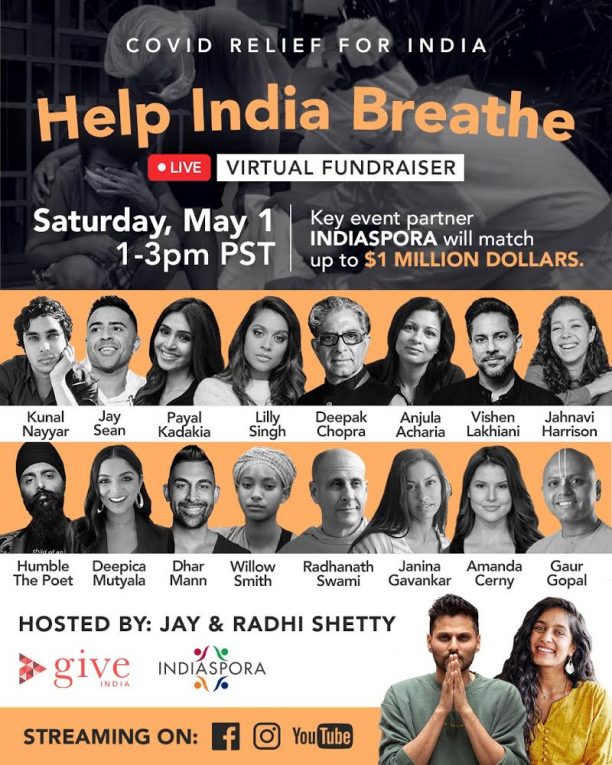 Stars are coming together for a very special virtual fundraiser for Covid Relief for India. Jay Shetty, Lilly Singh, Deepak Chopra, Jay Sean and more will be joining together on Saturday 1st May for a two-hour virtual fundraiser for GiveIndia in support of India's catastrophic COVID crisis. The event takes place at 1pm PST, 4pm EST, 9pm UK (21:00), 1:30am (Tuesday) IST.
Best-selling author, award winning storyteller & podcast host and former monk Jay Shetty has put together the two-hour virtual event, Help India Breathe, which will live-stream across Facebook, YouTube and Instagram on Saturday. The event can be seen on Jay Shetty's platforms (Instagram: @JayShetty // Facebook: @JayShettyIW // YouTube: Jay Shetty) as well as select guests' platforms.
All participants will be donating to the fundraiser. Event partner Indiaspora, a global community of Indian diaspora leaders, will match up to $1 million dollars (US) from raised donations.
All proceeds will go to GiveIndia. The non-profit organization launched India COVID Response Fund-1 in April 2020, and with the second deadly wave currently hitting India, the organization launched ICRF-2 to support gaps in healthcare and other critical needs.
Alongside Shetty and Indiaspora, the event will bring together powerful voices across the US-based South Asian community including Lilly Singh, Deepak Chopra, Dhar Mann, Payal Kadakia, Kunal Nayyar, Humble the Poet, Jay Sean, Radhanath Swami, Janina Gavankar, Vishen Lakhiani, Deepica Mutyala, and more.
Jay Shetty says: "We are devastated by the news of the rising tragedies in India. They urgently need our help, and we are so grateful to our friends, communities and audiences that will participate in making a difference this weekend. We know you'll show up."
Silicon Valley-based entrepreneur, investor, and Founder of Indiaspora, MR Rangaswami adds: "The Indian diaspora is mobilizing like never before to help with India's COVID-19 crisis. We are deeply gratified to see the outpouring of support from our Indiaspora members and the larger community. Together, we hope we can rise to the occasion to double our impact and save twice as many lives."
The event will be using Facebook's fundraising tools to raise money for GiveIndia. People can donate through Shetty's Instagram and Facebook posts as well as during the event live stream. Facebook charges no fees for nonprofit fundraisers, so 100% of what's raised on Facebook and Instagram go directly to the organizations being supported.
On YouTube, viewers can seamlessly donate to the GIVE Foundation, the parent organization of GiveIndia, either through the Donate button or using Live Chat Donations. YouTube will cover all transaction fees to ensure that 100% of the funds donated reach the organization. YouTube will contribute $100,000 USD to the fundraiser to support this campaign.
Please attend, donate and share the event artwork on your social media!