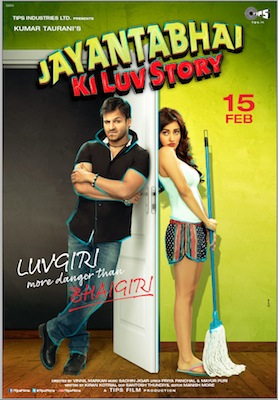 For the music of the Vivek Oberoi-Neha Sharma starrer Jayantabhai Ki Luv Story, debut director Vinnil Markan went with the fab duo of Sachin-Jigar, who certainly are on a roll with some outstanding and new sounding soundtracks! For this rom-com about opposites attract, the composers showcase the incredible vocals of Atif Aslam, along with Anushka Manchanda, Shreya Ghosal and Sachin himself. We have been getting a sneak listen to the songs through the cool videos for the film and have been excited to hear the full versions, especially of 'Aa Bhi Ja Mere Mehermaan'. So what do we think about the sounds and music of Jayantabhai Ki Luv Story? Read on!
Hai Na starts off with a fabulous acoustic guitar that transposes into a full rock beat. The strong kick drum and the driving wail tone of the electric guitar hit the right rock mood. The groove of the song is old with the rock layers but also new because there are a lot of rhythms and some interesting instrumentations. This blend makes the song have such a different flavor that really works. Atif Aslam puts on his rocker edge to sing the cool syncopated beats. I love the occasional grunge he adds, but sometimes it does feel as if he is struggling in other sections. Priya Panchal joins in and she adds a nice level to it. She has a lovely tone to her voice but is underused. This song takes a couple listens, but then you get the feel and your feet star tappin', which I think I have mentioned is hard when you are writing on a laptop. Give it play if only for Atif's vocals.
Anushka Manchanda and Atif Aslam are at the mic for the dance mix with the pulsating beat Dil Na Jaane Kyun. It is a very average track that I feel like I have heard before. I am also unsure either voice mixes well with the music and the shadowy mute-y effect they have added to their vocals does not help – it distracts. I kept wishing for different vocalists. Plus that whistle sound…annoying. It is fine, but not just something that would make me and jump around and dance around my room (not that I do that…)


A beautiful piano melody begins Thoda Thoda sung by the ever melodious Shreya Ghosal, who is joined by Sachin. It is a beautiful song, which again shows Sachin and Jigar's interesting sounds, use of instruments and mixing. 'Thoda Thoda' showcases Sachin and Jigar's talent how a song can begin with one sound and become another track entirely. The scenes on the screen will enhance this track I think. It is a pretty song that you will want to play again! 


As I said in the intro Aa Bhi Ja Mere Mehermaan was the song that I was really looking forward to hearing the full track after seeing the song promo. I loved it when it was first released and I love it still. It has a very, very cool beginning and then the song moves into alternative new age-y flavored track. The music surrounds you with its many layers and sounds. Love the mood and groove of the music. Atif is perfect. He sings with gentleness, then with a bit of roughness and then with such feeling and power and it is so good. The section when it is just simply his voice… just brill! One of my favorite vocals from him. I just love every section, stanza, and note of this killer track and with each new listen it gets better. I can't wait to see Vivek in this scene! This one must go on your killer BW song list.


Last, we have Mashup (Jayantabhai Ki Luv Story), which as you probably guessed from the name, is a mashup of the tracks on the OST. I am never really a fan of remixes but this concept of remixing and mashuping (is that a word?) works because of its uniqueness. It is cool in its way and the mix interesting. Some may love it, some may say meh and some say WHAT? I will leave that one up to you!
Sachin and Jigar are always working at creating new sounds for the movies and with Jayantabhai Ki Luv Story they succeeded in some parts. It is my favorite album of theirs? No, but I do love 'Aa Bhi Ja Mere Mehermaan' so big props to that. Tallying it all together I ended up with 2.5 star rating but I will go with a 3 just for the Atif's vocals and yes, 'Aa Bhi Ja Mere Mehermaan'!
Jayantabhai Ki Luv Story hits theaters on February 15th!