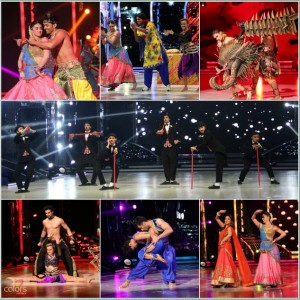 Saturday's show opened with a special group of children who danced on patriotic songs (Rang De Basanti and Chak de India title tracks) with hosts Manish and Ranvir. The judges were warmly welcomed on the show. The theme for today's show was Independence Day.
The audience were then reminded that the contestants would be dancing with different choreographers today. The special guest of the evening was actor Emraan Hashmi who had come to promote his film Raja Natwarlal. It was then time to find out who would be in this week's face-off.
After all the contestants were called on the stage, it was announced that Kiku and Kruti and Tara and Jack were in this week's face off.
Tara and Jack were the first to perform. Their chosen dance style was urban hip hop and their song reflected the same. Next to perform were Kiku and Kruti. Their chosen dance song was Lyrical Hip Hop and their chosen song was 'Nain se Naino Ko Mila' by Adnan Sami. Unfortunately, Kiku forgot his steps in his performance for the first time ever. It was then clear to the judges that Kiku should be eliminated from Jhalak Dikhhla Jaa. It must be noted that this is the first time this season that no scores were revealed of both face off performances.
The audience were then shown which choreographer would be dancing with which contestant this week. Here is the list below:
– Shakti & Punit
– Tara & Tusshar
– Mouni & Deepak
– Sophie & Jack
– Karan & Shampa
– Ashish & Bhavna
– Akshat & Kruti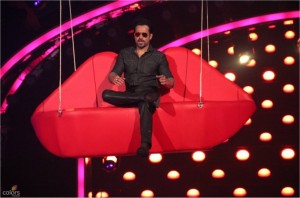 Next to perform were Shakti and Punit. Shakti was very happy to be performing with Punit as they are also very good friends. Their chosen dance style was lyrical and their chosen song was Swades title song. It was a very patriotic performance as they used sand to represent desh ki mitti. The judges loved their performance and said it clearly reflected their feelings for their country. Shakti was awarded 30 marks.
It was then time for sharmila (shy) Ashish Sharma and Bhavna to perform. Their chosen song was 'Aaj Phir Tumpe' from Hate Story 2 and their chosen song was freestyle. The judges said it was a wonderfully romantic intense performance. Ashish was awarded 27 marks. Host Manish then requested special guest Emraan to dance with judge Madhuri. They both danced on the song 'Pee Loon' from Once Upon A Time in Mumbaai.
Next on stage were Sophie and Jack. Their chosen dance style was lyrical and their chosen song was 'Tum Gaye Ho Kyun.' The audience were reminded how Sophie had unfortunately injured her back last week and already suffered from previous back and neck injuries. Still she performed her best with this performance. The judges appreciated Sophie's determination and loved her emotional performance. Sophie was awarded 24 marks.
It was then time to welcome the actress of Raja Natwarlal Humaima Malik on the show. Emraan requested judge Karan if he could have a question and answer session with him, as it is a well known fact that judge Karan has his own chat show. Emraan's session was called Imli with Emraan!
The last act of this episode was the adorable chota packet Akshat and his new choreographer Kruti. Their chosen dance style was semi-classical and their chosen song was reflected the Bal Hanuman theme as Akshat was playing the role of Bal Hanuman. It was the first time Akshat ever performed an aerial act. The judges appreciated Akshat's performance and said his lifts were very good. Akshat was awarded 25 marks for his performance.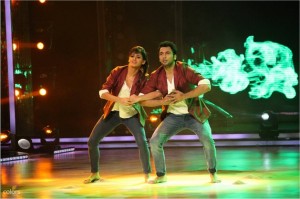 Performance of the day was given to Shakti and Punit.
The show ended with host Manish showing of his mimicry skills and the judges and special guests danced on the original chartbuster song Jhalak Dikhhla Jaa which was composed by popular music director Himesh Reshammiya. The audience learnt that it was judge Remo who had choreographed the video that accompanied the song.
Sunday's episode opened with all the male contestants dancing with the famous Gutthi (who is the famous character from Comedy Nights with Kapil). The judges learnt that Gutthi had supposedly kidnapped the original hosts and decided to host today's show herself! The judges expressed that they are missing the very silly original hosts!
As it was Janmashtami on Sunday, there was a very special performance from Gurmeet Chaudhary and Lauren Gottlieb. Gurmeet was the 2012 winner of Jhalak Dikhhla Jaa. Gurmeet and Lauren danced on the song 'Radha Kaise Na Jale' from Lagaan. It was a beautiful performance. At the end of their act, the original hosts Ranvir and Manish arrived flummoxed and promptly made Gutthi a guest on the show so that they could resume their hosting!
The first act to perform was Mouni and Deepak. Their chosen dance style was Afro and as their act reflected an animal based theme, their song reflected this. The audience were shown that Mouni was feeling the pressure of working with a new choreographer. Their act was very unique and reflected how creatures living in the jungle would target their prey. They had made the camera the prey so the audience could watch their act from different angles. The judges loved their performance. It was something very different and well out of Mouni's comfort zone. The judges felt it was very well choreographed. Mouni received 30 marks.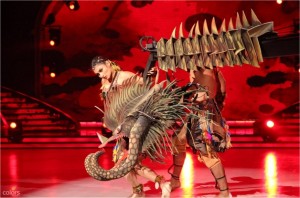 Host Manish then spoke to Mouni and Deepak's original partners (Sophie & Punit) who were very proud of this act. Gutthi then requested all the male contestants to do a frog race. It was hilarious to watch and choreographer Punit won the race!
Next to perform were Tara and Tusshar. Their chosen dance style was Paso Doble and their chosen song was 'Aazma' from the film Luck. Their act was a very aggressive form of Paso Doble and it left the judges speechless. The judges were totally floored by Tara's high energy and aggression which she kept intact all the way throughout the act. Tara received 30 marks.  The audience then learnt that Lauren and Tara are very good friends. Gutthi then decided to test the girls to see how much 'desi' they have become!
The next contestant to perform was Karan and Shampa. Their chosen dance style was contemporary and freestyle and their chosen song was 'Behne De' from Raavan. The judges said it was a very smooth, visually stunning act and the graphics accompanied them wonderfully. Karan also received 30 marks. The audience were then reminded that Gurmeet's choreographer was Shampa. They danced impromptu to the song 'Raat Ka Nasha' from Ashoka.
It was then time to watch the contestants perform in the teams they were given last week. Team Mouni were first to perform (team Mouni: Shakti, Tusshar, Mouni, Punit, Sophie, Deepak) their chosen dance style was Broadway jazz and their song was a medley of 'Nacho Nacho', 'Do You Want A Partner', 'Chamak Challo' their costumes had them all dressed and behaving like Charlie Chaplin. The ending of their act was hilarious as they carried on dancing off beat near the judges and host Manish tried to stop them! Their scores were saved and would be revealed after Team Akshat performed.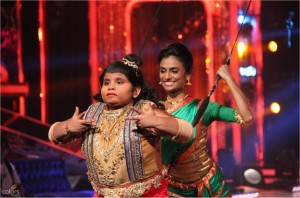 Team Akshat were next on stage (Akshat, Vaishnavi, Ashish, Shampa, Karan, Bhavna, Tara and Jack). Their chosen dance style was Bollywood/Hip Hop. Their act reflected members of a mad family. Akshat and Vaishnavi were the grandparents, Ashish and Shampa were the children, Karan and Bhavna were the parents and Tara and Jack were the servants. They performed on the following songs 'Dil Toh Bachcha Hai Ji', 'All izz Well', 'Hichki', 'I Hate you', 'Nachle'. The judges said it was a very entertaining performance.
The scores were then revealed. Team Mouni received 30 marks and team Akshat received 29. It was very close! The show then ended with Lauren requesting judge Madhuri if she can dance with her. Judge Madhuri and Lauren gracefully danced on 'Nimbooda' from Hum Dil De Chuke Sanam.
Stay with BollySpice for the latest updates on your favourite show Jhalak Dikhhla Jaa!