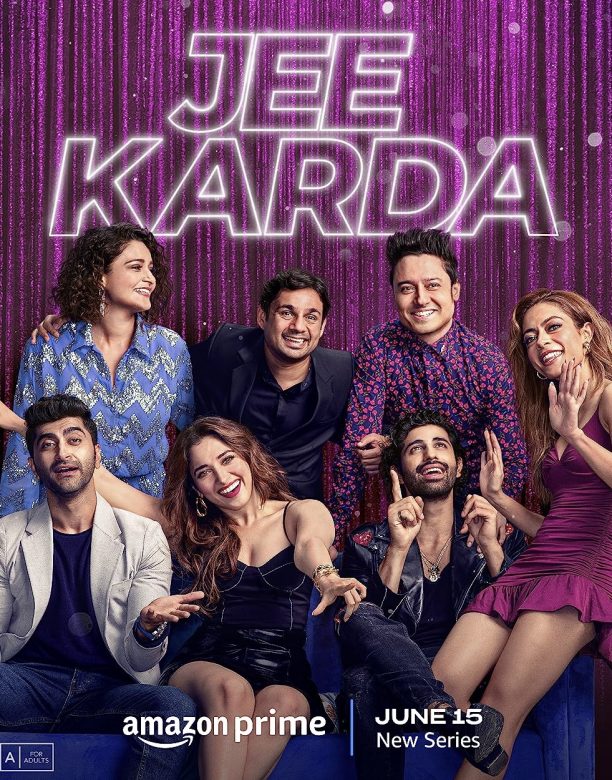 JJee Karda (Prime Video, 8 episodes)
Have you ever been to a wedding where, right in the middle of the festivities, the lights go off? That's how it felt at the end of Jee Karda. A wedding, the photogenic Tamannaah Bhatia's wedding, had just taken place and she was figuring out whether she was fit for spousedom or not (my verdict: no, she is not, not after her nasty behaviour in the middle of the wedding festivities) when the serial ended abruptly, hoping to keep us hooked until the next season.
While some of the characters do have potential to hop and skip into a second season, others are just plain human embodiments of animalistic selfindulgence. They do what they like. They treat their partners like disposable diapers.
And though the seven friends played by Tamannaah Bhatia, Aashim Gulati, Suhail Nayyar, Anya Singh, Hussain Dalal, Sayan Banerjee, and Samvedna Suwalka , speak endlessly about commitment and honesty in relationships, they seem trapped in a writers' block.
The writing by Abbas and Hussain Dalaal and director Arunima Sharma, seems way too eager to expel urban coolth on the characters . They end up looking like they are showering under water sprinklers that don't work properly.
While they are all very 'cool' in their sexual frankness they almost invariably end up looking acutely aspirational with their I-suttenly-hop-saw accents and I-don't-give-a-frock attitude.
Only Samvedna Suwalka's Sheetal and her problems feel real. But her no-space-for-sex predicament feels strongly déjà vu: we recently saw it in Zara Hatke Zara Bachke. Nonetheless Sheetal comes across as a real person rather than a facsimile.
Some characters are clearly overloaded. Melroy(Sayan Banerjee) was abused by his father, is gay and trapped in an abusive relationship with closeted man who drops in every weekend.
And not to play ludo.Oh hell, no.
As for the two male leads Aashim Gulati and Suhail Nayyar are the two bratty brothers from different mothers. One of them ends up with godman Anup Jalota(in a fleeting television appearance) as his illegitimate father…you get the overloaded picture?
Aashim's rapper-boy hedonism as Arjun seems like a corny carryover from his other recent series where he played Prince Salim.Arjun is just as self-indulgent and hedonistic. In one of the series' most ineffective humour attempts, a concierge at a hotel hides in his room and makes him sing while she seems be to be having an orgasms.
This series confuses libidinous self-indulgence with sexual frankness. The talented Anya Singh deserved better than to be squeezed under a brainless Bollywood star who accuses her of dumping him after his latest film flops.
I get the temporal fast-food mood of the series. But really, did everything have to be so obvious? Nonetheless it is a fun slip-in-slip-out watch.