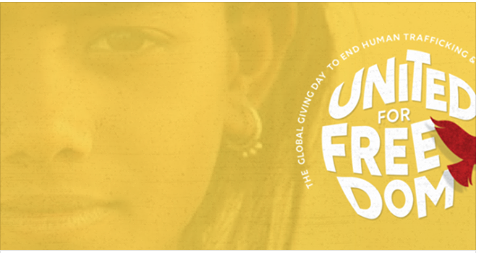 On Sunday, July 30, the United Nations World Day against Trafficking In Persons, organizations throughout the world will band together for a united day of action to end human trafficking and modern slavery.
Today, there are more than 45 million lives whose most essential and precious human rights have been stolen from them. Men, women, children—each one a life with infinite potential and possibility.
In partnership with the UN Voluntary Trust Fund and Charidy.com, the United for Freedom Giving Day will gather organizations and individuals committed to the cause to raise awareness, resources, and restore essential freedoms and human rights to countless lives.
With a united goal of $600,000 and 9 participating organizations, it will be a day of sweeping collective impact.
"Many people are unaware of the many faces of modern slavery. It can be a young boy or girl working in a sweatshop. Or entire families forced to work without pay," explained Joe Schmidt, C.E.O. of Freedom United. "We need to be conscious of what is going on—not only around the world, but right here in our own backyards."
"The United for Freedom Giving Day represents both a unique and unprecedented opportunity to bring together a multitude of organisations in a coordinated approach to the raising of awareness and much needed funding in the fight to end scourge of human trafficking and modern day slavery. The Global Sustainability Network ( GSN ) http://gsngoal8.com/ fully supports and endorses this worthy and important initiative in the fight to preserve human rights and dignity" says Romy Hawatt – Founding Member Global Sustainability Network.
"What can be accomplished through this day is beyond calculation. People see the headlines. They hear the stories. And they want to help, they just don't always know how. This is the moment for you to show up and bring all your friends," added Jeffrey Brown, Academy Award winner and Director/Co-Writer of the film SOLD.
Be part of the movement. Join at charidy.com/unitedforfreedom to help countless men, women, and children regain their freedom, their dignity, and their lives.