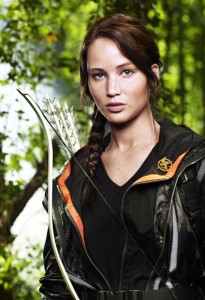 Jennifer Lawrence, star of The Hunger Games was speculated to be making her way to Bollywood and joining Shekhar Kapur's upcoming film Paani (Water).
These speculations stated that the Hollywood actress would soon be starring opposite Sushant Singh Rajput, the love struck Shuddh Desi Romance hero – who definitely has been confirmed as the male lead for the film.
Shekhar Kapur cleared up the rumours through a tweet:
"Jennifer Lawrence has not been approached for Paani. Just clearing out the rumors"
This is not the first time Paani has attracted speculation.
The film, having been written 15 years ago, has accumulated much speculation associated with the leads including: Bollywood's Anushka Sharma, Deepika Padukone, Vivek Oberoi, Hrithik Roshan; as well as the Hollywood Twilight star, Kristen Stewart.
"Paani", to be directed by Shekhar Kapur, is reportedly a film set in the year 2040AD, during a time where "water"- the commodity often taken for granted, is causing outbreaks of war.
Shekhar Kapur revealed the plot to New Indian Express :
"Water is now owned by international corporations who use thirst as a weapon of control. In one such future city, a young love story breaks all the rules and in the ensuing war, water flows back to its people."
Paani certainly seems an action packed love story with a shocking environmental message.
As sources state, Shekhar Kapur held auditions for Paani in LA- the landmark of Hollywood, BollySpice explore the top three Hollywood actresses who might be just perfect for the adrenaline love rush that Paani seems to be:
1. Angelina Jolie
Angelina Jolie is often stated to be the world's most beautiful woman.
Stealing hearts for sure, yet, Jolie is not just a pretty face.
Jolie surely knows how to kick the baddies into place!
Known for her action packed performances through films such as Lara Croft: Tomb Raider (2001), Mr and Mrs Smith (2005), Wanted (2008), Salt (2010) and The Tourist (2010), Jolie certainly checks adrenaline off the list.
However, Angelina Jolie perhaps is also the perfect actress to represent the environmental message of Paani.
An advocate of humanitarian work, her work includes highlighting the plight of Refugees around the world and protecting wild animals in Cambodia. Jolie purchased a Cambodian National Park threatened by poachers in 2003 and transformed the area into a reserve.
2. Keira Knightley
Kiera Knightly is the well-known bella who knows adventure and action with a capital A.
Her adventures include: Pirates of the Carribbean trilogy; King Arthur (2004) and Domino (2005).
Knightley's role as Elizabeth Swann in adrenaline filled Pirates of the Caribbean trilogy made her an internationally renowned name.
Apart from teaching pirates a lesson or two, she has also stolen many hearts through her emotively moving performances through films including Love Actually (2003) and The Duchess (2008)
Knightly is also the face of Amnesty International, the Human Rights campaign and donated a dress to charity Oxfam, raising £4,300. She also posed for photographs for WaterAid, an international non-profit organisation that saving the lives of millions around the world through brining clean water, education on hygiene and clean latrines.
3. Scarlett Johansson
Scarlett Johansson is a queen of action.
Johansson played a Marvel comic book character in Iron Man 2 (2010), The Avengers (2012) and is soon to be gracing the big screen with action packed Captain America: The Winter Soldier (2014).
She is also known for her role in emotional roller-coasters Girl with a Pearl Earring (2003), Vicky Christina Barcelona (2010) and the recent Don-Jon (2013).
Not only romantic and mingling amongst super heroes saving the world, Scarlett Johansson strives to make the world an equal and better place.
Johansson is a Global Ambassador for the international organisation Oxfam, which works with people living in poverty and strives to ensure that their human rights are achieved. She also campaigned profusely for the current USA president, Barack Obama to win election.