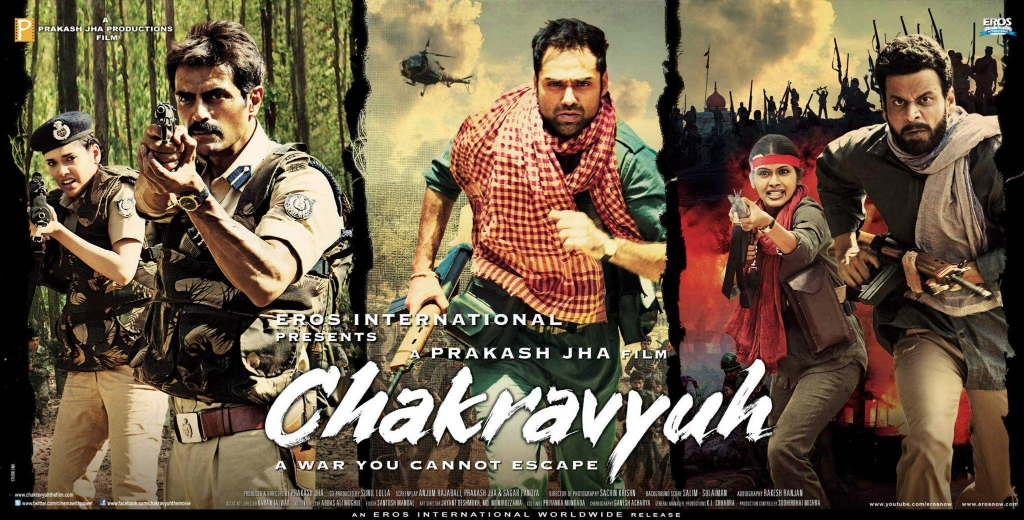 Starring Arjun Rampal, Abhay Deol, Anjali Patil, Esha Gupta, Om Puri, Manoj Bajpai
Directed by Prakash Jha
Becket beckons Bollywood once again.  The immortal French play by Jean Anouilh was furnished a sensitive renewability by Hrishikesh Mukherjee in Namak Haraam 38 years ago and then again much later by Govind Nihalani in Dev.
Now the stories of two friends separated by caste creed and ideology who are torn apart by their irreconcilable socio-political differences, is given a seriously spunky spin by Prakash Jha.
Staightaway, let's get to the point(much in the same vein that the film does). This is Prakash Jha's most resolutely etched and firmly grounded drama since Mrityudand, and a work way superior to his last two film Raajneeti and Aarakshan both of which suffered to some extent by being scattered in intent and pulled in too many directions.
While here again in Chakravyuh  we witness Jha's penchant for whipping up a frenzy of  crowd sequences, mob fury , gargantaun political rallies and fleets of red-light-topped government cars winding their way urgently through dusty roadways,never does the narrative lose hold of the plot's centre. Jha is in full command of his wide-angled canvas,never allowing the storytelling to become a slave to the political ideology that fans and fuels his wound-up stressed-out characters as they're cast into reluctant roles of outcastes, into a frenetic bundle of activities that define and somewhere rearrange the rapidly-mutating socio-political synergy of Indian democracy.
Jha enters the dark largely-unexposed world of the Naxalites fighting for their land and dignity, braving all odds including an apathetic government, corrupt and sadistic cops and bureaucrats, betrayal within their own Naxal ranks and avaricious land-grabbing entrepreneurs(and here we have Kabir Bedi and his wimpy yankee-twanged son as easily-recognizable global 'entre-players' ruthlessly manoeuvering to usurp the Naxals from their rightful land and property). It's a complex morally ambivalent world of arbitrary treachery and strained loyalty. The well-researched material is culled into a condensed but brightly illiminated screenplay(by Prakash Jha, Anjum Rajabali and Sagar Pandya) that brings out the basic theme of monstrously growing socio-economic inequality in our society through the characters of two friends.
Adil Khan(Arjun Rampal) and Kabir(Abhay Deol) are separated by their differing attitude to socio-political injustice but united in their combat against corruption, the path chosen by the friends diverge, unify and then split apart in ways that keep us riveted to the devastatingly tragic finale. There's also a girl between them, a colleague from the college days(Esha Gupta, miscast). Mercifully there's no love triangle happening here. Thank God for a cinema that sidesteps the trite clichés.
If anything , the film should have been longer. There should have been more space for the Adil-Kabir dosti to be nurtured. The same goes for the delicately but rather hastily-drawn relationship that grows between the loyalty-challenged Kabir and the spirited Naxal girl Juhi(newcomer Anjali Patil). But then Prakash Jha has always been shy of dwelling on feelings. He only slows us glimpses into his characters' hearts before pulling back ruthlessly to allow them to  go about their jobs as professionals who have to travel far beyond their call of duty.
In a film about social injustice and the ire that it fosters, it would be unjust to give away the plot .Suffice it to say  Jha copes with the complex themes of love, loyalty, friendship and betrayal in a language that never resorts to gutter-level sniping and combative belligerence just to appear trendily earthy. Armed with an explosive plot that tests the loyalty of  two friends as they are pitched in an ideological battle Jha's narrative remains unwavering in its allegiance to a powerful content-execution and a voice that's raised in protest without getting shrill or hysterical.
The crucial confrontation sequence towards the end is a make-or-break moment in the narrative. Thanks to the brilliantly-written words and the restrain with which the two actors put their viewpoints forward, the sequence scorches the screen .
While Abhay Deol once again after Shanghai displays remarkable temperance and understanding in playing a complex hard-to-pin-down character it's Arjun Rampal as a cop doing a job that could not just kill him but put a whole community of people's lives into danger, who once again surprises us with his deep understanding of  his character's socio-political context. Not for a second does he give away his Malabar Hills antecedents while getting into the skin bones heart and soul of the cop's character. The time-tested Manoj Bajpai and Om Puri have smaller but significant parts a Naxal leaders. They add that much-needed touch of gravitas to a film that goes resolutely in the opposite direction to Karan Johar's Student Of  The Year.
While the film contains a collage of competently calibrated performances by some  brilliant actors(for example, Chetan Pandit who was last seen as an idealistic school teacher in Agneepath here slips into a cheesy cop's role) it is debutante Anjali Patil who leaves the best impression among the supporting cast. A truly worthy successor to the holder of that never-fogotten actress with the same title(Smita).
Chakravyuh does have its unhinged moments when the narrative seems to turn docu-dry. Jha quickly reimposes a sense of ongoing drama and impending catastrophe which keeps the audiences' heartbeats racing dangerously. The editing(Santosh Mandal) could have been more austere. But the loose moments never overpower the film's strong convictions and powerful story structure.
Chakravyuh ends with Prakash Jha's voiceover warning us of  growing inequality in the Indian social structure whereby 25 families control a majority of the nation's wealth while a majority of the people live on 70 rupees per day.
Would the 70-rupee wagearner be able to afford the 200 rupees required to watch this film? Would his life change? The process of social awakening that started with the cinema of V Shantaram and B R Chopra has come a full circle. Now if only cinema could change mindsets.