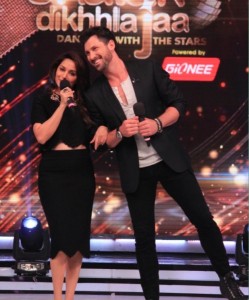 The second week of Jhalak Dikhala Jaa started off with a bang as Madhuri Dixit entered with a new international judge Maksim Chmerkovskiy from the US dance reality show Dancing with the Stars. Maksim won this past season of the popular television show partnering US Olympic Ice Dancing Gold Medalist Meryl Davis. This is the first time that Jhalak has had an international judge on the judging panel.
His first step? He danced with Madhuri to the song Chamak Challo from Ra One in Salsa style. It truly was a sizzling performance!
As always, the second week of the show, starts of the elimination process and this would be taking place on the Sunday episode.
First up to perform were Mouni & Punit Thakar who were safe from the eliminations. They danced on the song 'Lahu Muh Lag Gaya' from Ram Leela and their dance style was Rumba & Cuban Bolero – International Dance Form. The judges were very pleased with their performance as it had the right amount of sensuousness and oomph factor that is needed when dancing Salsa style. Their total marks for the performance was 32. Maksim also danced impromptu with Mouni on the same song.
Palak (Kiku Sharda) and Kruti were next to perform after being told they are safe from this week's eliminations. They performed on the song 'Baby Doll' from Ragini MMS and the dance style they chose was Flamenco & Bomba. Sunny Leone, the original Baby Doll, also joined Palak after their performance. Palak received good marks overall from the judges but was reminded to be aware of handling 'her' costume better whilst performing. Palak's total marks were 27.
The cast of the film Humshakals arrived dancing to the song 'Caller Tune' (which has music by Himesh Reshammiya). Sajid Khan, Saif Ali Khan and Riteish Deshmukh were warmly welcomed on the show.
Purab Kohil & Mohena Singh were next to perform. They danced on the song 'Tattad Tattad' from Ram Leela and the dance style they chose was Salsa & Lambada. The judges were very impressed by Purab's improvement from his last performance. Purab's hard work paid off this week and he was awarded 33 marks.
Cricketer Sreesanth and Sneha Kapoor were up next to perform. They danced to '1234 Get on the Dance Floor' from Chennai Express and their dance style was Lindy Hop and Charleston. Karan said Sreesanth has amazing coolness and ease. The judges were equally impressed with Sreesanth and it was noted that it is not easy for a sportsman to tune his body towards dance. Sreesanth received a grand total of 32 marks.
Next up to perform were the dynamic jodi of Shakti Mohan & Tushar Kalia. Shakti scored the highest marks in the very first episode of this season, so there was immense pressure already for her to live up to everyone's expectations. They performed on the song 'Kamli' from Dhoom 3 and their dance style was Tango & Mambo tricks. The judges were floored by this flawless performance. It really was no surprise that Shakti received once again, full marks from all the judges and is the first contestant to score 40 marks in this season of Jhalak!
Last to perform were Sukhwinder and Bhavna. They danced on the song 'Nasha Hi Nasha Hai' which naturally has vocals by Sukhwinder (!) and the dance style was Rumba and Contact Improvisation. The judges applauded Sukhwinder for trying harder and improving on his last performance. Sukhwinder joked that they musn't ask him to come after Shakti's performance as he won't be able to live up to it! Sukhwinder scored 26 marks in total.
On Sunday's episode, the cast of Ek Villain (Sidharth Malhotra, Shraddha Kapoor and Prachi Desai) came to promote their film on the show. The viewers were reminded that this was the first elimination episode of the season and that there would be a face off between the last two unsafe contestants. To ease the atmosphere after mentioning eliminations, the contestants were all called on the stage and danced freestyle to 'Party All Night' from Boss.
First up to perform were Akshat (Dhamaka) & Vaishnavi. Their dance style was Paso Doble and Clowning. Akshat played the role of a bull extremely well throughout his performance. The audience requested a once more after his performance and the judges said it was simply outstanding – they had never seen a 9 year old dance like that on stage before. Needless to say, Akshat was awarded a mega 40 marks from the judges! Remo & Maksim joined Akshat on stage and they performed the signature steps of 'PoPo', 'Dhan Te Na', 'Chin Ta Ta', and 'Dhinka Chika' songs.
Ashish Sharma and his choreographer Shampa were up next to perform. They were dancing on the song 'Saree Ke Fall Sa' from R Rajkumar and their chosen dance style was Samba & Carnival Samba. The judges loved the performance and mentioned how they wanted to blow whistles during it because the energy levels were superb. Ashish was awarded 35 marks.
Special guest Shraddha Kapoor was then called on stage to announce the next act that was safe from eliminations. It was Kritika & Savio. Their chosen dance style was Jive & Jitterbug and their song reflected the chosen dance style. The judges commended Kritika on their performance and said she was showing great signs of improving. She was given 30 marks.
After Kritika's performance, Sidharth requested if he could dance with Madhuri. This season, Madhuri has said that anyone who wants to dance with her has to 'earn it' and therefore Sidharth sang a few lines of the song 'Teri Galliyan' from Ek Villain before graciously dancing with Madhuri on stage.
Back to the performances, it was time for Puja & Rajit Dev to be on stage. Their chosen dance style was Cha Cha & Tufo Tufo. They danced on the song 'Asalaam E Ishqum' from Gunday. The judges felt it was a good performance, but more flexibility was needed from Puja. She was given 27 marks.
Now it was time for the last three acts before the final face off. Sophie Choudhary, Andy Kumar and Karan Tacker were all called on stage. Karan was the first one to be declared safe. He and Elena danced on the song 'Aaj Blue Hai Pani Pani' from Yaariyan. The judges felt it was a very confident performance and Karan was given 31 marks.
Prachi Desai wowed the audiences with a performance of her song 'Awari' from Ek Villain and Shraddha sang 'Teri Galliyan' live for the audience before they bid goodbye.
Next on stage were Andy & Bhavni. Their dance style was Zouk & Reggaton and their song was 'Gandi Baat' from R Rajkumar. The judges were asked to punch in the scores but not reveal them until after Sophie has performed. Sophie & Deepak Singh performed on the dance style Bachata & Kizomba and their song was 'Raat Akeli Hai' remix version. The marks of the last two performances were then revealed. Sophie had scored 36 whereas Andy had only scored 27. He was unfortunately eliminated from the show.
The show ended on a high note with Akshat & Vaishnavi being declared performers of the week. As a special bonus Salman Yusuff Khan, who of course we have seen before as a choreographer on the show and last year's runner up Lauren Gottileb performed a superb sizzling act on the song 'Ang Laga De' from Ram Leela. You also may remember the two fabulous dancers from the dance film ABCD Any Body Can Dance. They performed a new dance style called Karma Graphy. Remo told the contestants that this would be the theme for next week: Made in India. Looks like next weeks episodes aim to be even more exiciting!
Stay tuned with BollySpice more updates on TVs most loved dancing show Jhalak Dikhala Jaa!