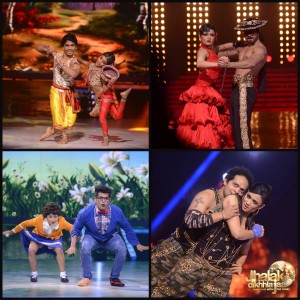 Emotions took over the week 4 of Jhalak Dikkhla Jaa 6 with their family special, but that was the beginning of their next big challenge-their different props. With different and vague props given to each celebrity couple, this week surely had some exclusive performances and unique ideas!
Week 5 kicked open with those two little stars that light up Jhalak like nobody else. Yes, Sumanth and Sonali delivered yet another outstanding performance with a matka as their prop. The best part about this pair is the way they depict their strength in every performance, without making it monotonous at all. With their perfect lifts and an energetic Bollywood-semi classical performance, the duo scored 28 on 30. Next up was a sensual flamenco act by Drashti and Salman, with a chain as their prop. With amazing costumes and a good attempt at the different dance form, Drashti and Salman scored 27.
A 'light' prop like a feather as their prop, Karanvir and Sneha were next to perform a lyrical hip-hop act. Sneha had conceptualized the act very well, considering their prop was something as flimsy but just their choreography had to be stronger, at the level that the show has reached. The couple managed to get a 26 on 30. This week was a tough one for Shweta Tiwari, as her choreographer Sushant was unfortunately injured and had to opt out of performing. With Savio stepping in his shoes, Shweta and Savio used a skipping rope and did a freestyle and hip hop performance. Evidently, the duo had tried their level best but the performance lacked to generate that applause and they scored 22 on 30.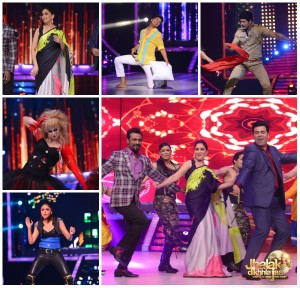 Aarti Chhabria and Ekta Kaul were in the danger zone, and both the beauties were injured. It was indeed a tough choice for the judges to pick one after their Jaan ke liye Dance, and eventually they eliminated Ekta.
The next series of performances continued with a 'rowdy' Bollywood number by the ladykiller Siddharth and the hot Sonia. A hunk in the police uniform, Siddharth was totally into his character on stage and performed with all his energy with his prop being a scarf. The judges thought that this was his best performance so far and the couple scored 24 on 30. Following them was a breezy and romantic performance by the all smiles star Shaan and his choreographer Marischia, who performed a modern contemporary act with pillows as their prop. Shaan has apparently raised his standards so high with such amazingly well done acts that this modern contemporary performance was considered 'too simple for his standards'! This amazing pair grabbed a 27 on 30.
What does one do with an umbrella as a prop? A nice and pretty act? Yes sure, but Lauren and Punit are not the mainstream ones. A contorted contemporary act that stole hearts and froze the judges with how spooky it was, Lauren and Punit outdid themselves with a perfect concept and even better dance. The pair, known for their 30 on 30, swept off another 30. Aarti and Cornel were the last to perform for the week, and Aarti did a brave job with a hip hop performance in the pain of her injury. Their prop was a briefcase, and the scored 21 on 30.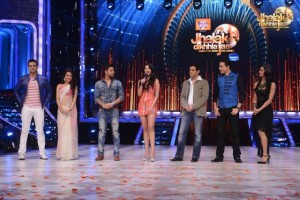 The dhamaka of the evening was the introduction of the 7 wild card entries! Sana Saeed, Mantra, Mukti Mohan, Rochelle Rao, Karan Patel, Rohit Roy and Vatsal Seth will all compete to be participants of the show next week. This amazing week concluded with a special Step of the week by Remo, wherein the entire Jhalak team including the judges performed the signature steps of Balam Pichkari and gave a perfect ending to the week.
The contestants are all charged up while the wild cards are determined to make their place in their Jhalak family. The coming week is surely going to be full of some fun and fierce competition. Here are the profiles of the wild cards.
Keep watching our space for more!