We are a day away from knowing who wins the race to the trophy of Jhalak Dikhhla Jaa 6, and this is exciting! With our top 4 biting their nails, we decided to put together a reminiscing piece on their journey comprising of their best performance, most deserved score and their X factor. So what makes these 4 jodis so special? Read on to know!
Lauren Gottleib and Punit Pathak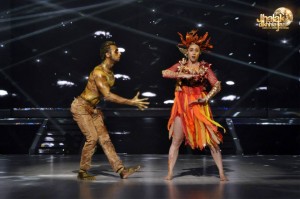 MOST DESERVED SCORE: what score do I say is the best? 30s and 30s back to back! And no one can complain either, since all their 30s were well deserved. But their much deserved score was the Filmy Masala performance, where Lauren sizzled to the famous song 'Jaane do na'. "The performance was ravishing and Lauren turned even more desi with that one!
BEST PERFORMANCE: However, I think their best performance was the Contorted Contemporary act in week 5, the best horror act ever performed on the stage. This duo stole the show every episode with acts that have never been done before on this platform and precisely why they stand a chance to take the trophy home.
X FACTOR: Lauren's dancing history has undoubtedly aided her in being able to do so well in Jhalak, but what makes her performances better is the right attitude. Her X factor is her attitude to adjust, to learn and to be able to deliver positively. If she wasn't working on the technicalities and basics of dance like foot work because she is a dancer, she was learning Hindi and the lyrics of Bollywood songs. She understood how the beats of these songs work. With sheer brilliance, foreign ki Lauren stole hearts!
Lauren's Jhalak Journey : Link to video
Shaan and Marischa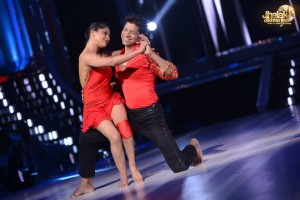 MOST DESERVED SCORE: Shaan and Marischa have had their share of 30s or even falling down to 21. But I think the best 30 here would be their second performance for Jhalak on Wheels. A non-dancer doing that well in the second week, it is commendable!
BEST PERFORMANCE: It is difficult to judge this one again, but the best performance that took Shaan's level a notch higher was the Paso Doble performance by this duo during the back-up dancers' weekend. This particular performance was an eye-opener and an inspiration to every person who has never tapped their feet that nothing is impossible.
X FACTOR: What can work best as an X factor for a singer who has suddenly taken up a dance reality show? In Shaan's case, two things worked: his 'never give up' strategy and Marischa. Yes, Shaan is indeed lucky to have an intelligent choreo partner. Marischa knows that there is more to dance than steps, lifts and energy. She enriches performances by making them conceptually stimulating. Shaan's determination and his choreo partner are his X factors!
Shaan's dance act on Jhalak: Link to Video
Shonali and Sumanth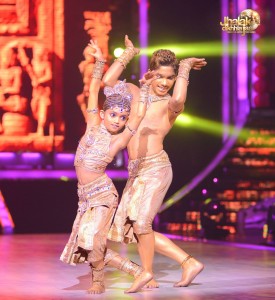 MOST DESERVED SCORE: Wonder kids! What do you say about these little bombs? They were successful at giving a lot of jaw dropping performances, but the most deserving 30 was the weekend of international dances, where this duo performed Salsa and had the judges giving them a standing ovation. Salman Khan added another 10 to the 30!
BEST PERFORMANCE: Sumanth and Sonali were brilliant at every performance, but this one performance made the audience scream and applaud, the judges speechless and scared their co-contestants. Their semi-classical act for the Independence Day special episode was stunning and their best performance on this season!
X FACTOR: It is evident that the unique point of this jodi is their expertise in lifts and turns. But their X factor lies in their confidence. I notice Sonali's expression when she comes on stage and throughout her performance, her face is calm. Her expression is 'I know what I am doing' and these kids as a jodi completely wooed everyone in the whole season with their flawless acts, as they were confident enough to compete with contestants twice their age with double the experience.
Sonali's Royal Performance on Jhalak: Link to Video
Drashti and Salman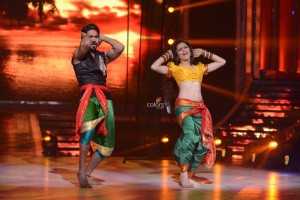 BEST SCORE: The most deserving score of our lovely Madhubala and her Salman was for their lively Jive in the ninth week of the season. They were vibrant and so entertaining that they just had to get their 30 for the act!
BEST PERFORMANCE: Their best performance has to be their first performance. The waltz on 'Ishq Wala Love' was smooth and mesmerizing! Drashti emerged as a promising contestant right then, and now here she has indeed reached the finale!
X FACTOR: Drashti Dhami is currently the most loved actress of the TV industry. Adding to her ability to act, she made sure she does her best in her dancing too. Drashti's X factor lies in being able to express. Performances need expression to make the dance be out there, and that is exactly where this X factor plays the role. She has touched new heights as an actor and a dancer too!
Drasti dances like Madhuri Dixit: Link to Video
Watch the finale of Jhalak Dikhhla Jaa Season 6 on 14th September at 9.00pm on Colors!