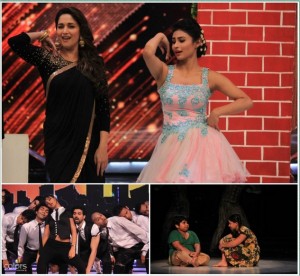 Saturday's Jhalak Dikhhla Jaa opened with all the choreographers of the contestants, dancing to the ABC song from Yaariyan. They were then joined by the contestants.
The audience were informed that the current top 9 contestants would soon become top 8 as it was time to announce who would be in this weeks face-off. Mallishka and Kiku were the chosen face-off contestants this week.
Kiku and Kruti were the first to perform. Their chosen dance style was Tandav and Krumping. As they had an act with a religious theme, their song reflected the same. Kiku was dressed as Raavan and Kruti as Lord Shiva. As always, Kiku's scores were saved and would only be revealed after Mallishka had performed.
Mallishka and Diwakar were on stage next. Their chosen dance style was Samba/Freestyle and their chosen song was 'Ooh La La' from The Dirty Picture. It was then time for the judges to announce the scores. Kiku was awarded 24 marks and Mallishka 22. Mallishka was eliminated from Jhalak Dikhhla Jaa. Before leaving the show, Mallishka requested judges Karan and Madhuri to dance on the same song with her and the both obliged.
Host Ranvir then informed the contestants and audience that next weeks theme would involve teams and the captain of each team would have the highest score from this weeks episodes.
Next to perform were adorable chota packet Akshat and Vaishnavi. Their act was a very emotional one and the audience were shown how they visited an orphange to understand the plight of those children who grow up without any parents. Their chosen dance style was contemporary/freestyle and their chosen song was Taare Zameen Par title track. The judges became very emotional and totally loved the performance. They were amazed at how well Akshat controlled his expressions as this was a much more serious performance. They had great assistance from their background dancers. (Each act this week, would feature background dancers). Akshat was awarded 30 marks. Host Ranvir then did a few sawal/jawab (Q&A) with Akshat to test his studies!
It was then time for Mouni and Punit to perform. Their chosen dance style was Freestyle and their song was 'Main Tenu Samjhawan Ki' from Humpty Sharma ki Dulhaniya. Their act incorporated a mirror image whereby both Mouni and Punit were dancing the same steps synchronised but had a wall in between them. They also had background dancers accompanying them. The judges loved their performance and this unique concept of watching two acts at the same time. Mouni was also given 30 marks. Mouni and Punit were given the golden dancing shoes and judge Madhuri danced on her famous 'Dhak Dhak' song with Mouni.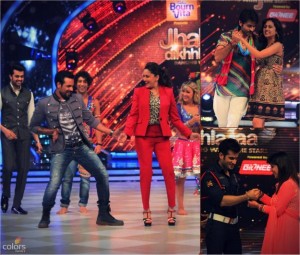 Hosts Ranvir and Manish then requested to play a game of dumb charades with few of the contestants (Ashish/Sophie/Mouni/Karan). It was hilarious to watch!
Last to perform in Saturday's episode were Shakti and Tusshar. Their chosen dance style was lyrical hip hop and their chosen song was 'Lage Raho' from Taare Zameen Par. Their act depicted their observation of normal office life. The judges agreed that it was a very different, enjoyable act and they used their background dancers very well. Shakti was given 27 marks. Shakti said that she is a huge fan of judge Madhuri and would even sweep in her house to prove how big a fan she is! Judge Karan decided to put her to the test by making Shakti dance with Kiku as his 'premika' (lover) and judge Remo would be the jailor. This was a very funny act to watch!
Sunday's episode opened with hosts Ranvir and Manish dancing randomly for five minutes before welcome judges Remo and Karan on stage. They quizzed where judge Madhuri was and were told that she would be entering along with all the female contestants of the show. Judge Madhuri and the female contestants of Jhalak Dikhhla Jaa performed to a medley of songs, featuring 'Gori Gori' from Main Hoon Naa and 'Gore Gore' from Hum Tum. Judge Madhuri and the girls also conveniently reminded host Manish that it was Raksha Bandhan today (a special ceremony, honouring the relationship of a brother and a sister).
The first contestant to perform today was Tara with her choreographer Jack. It was the first time that Tara was dancing in a fully blown Bollywood genre and her chosen song was 'Babuji Zara Dheere Chalo' from the film Dum. The judges loved the outstanding energy that was visible troughout the performance. Judge Madhuri felt their genre was more Bollywood Freestyle as compared to being just Bollywood. Host Manish tried his best to request judge Karan to give one item song style dance step but he politely declined and judges Madhuri and Remo gave a few steps. Tara was given 27 marks for her performance.
Judge Karan then said he felt there is too much of friendship between the contestants and he wants to find out who they think their competitors are. The contestants were given a board which showed all their names and they were asked to pick 2 contestants they did not want to see in the finals. Here are the results of this test: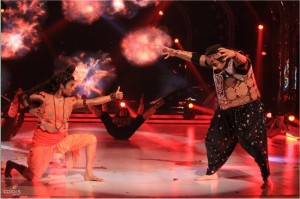 *Kiku said he did not want to see Karan and Ashish in the finals.
*Karan chose Shakti and Tara.
*Akshat chose Kiku and Mouni.
*Ashish chose Mouni and Shakti.
*Mouni chose Karan & Ashish.
*Shakti chose Ashish & Karan.
*Tara chose Ashish & Shakti.
*Sophie chose Tara & Shakti.
Of course this was just all for good fun and to promote healthy competition amongst the contestants!
The next act on stage was Karan and Bhavna. Their chosen dance style was Freestyle and their chosen song was 'Lift Karade' remix by Adnan Sami. Their background dancers represented characters played by Bollywood actors Asrani, Shakti Kapoor, Mehmood and Paresh Rawal. The judges loved the performance as it was very entertaining. Karan was given 27 marks. Karan's sister also came on the show to tie him a rakhi for Raksha Bandhan!
The next contestant to perform on stage was Sophie with her choreographer Deepak. The audience learnt that Sophie had been performing despite neck and back injuries. Their chosen dance style was Acrobacia and Freestyle. Their chosen song was 'Jiya' from Gunday. Their background dancers were used like a fountain and they incorporated water during their act. Unfortunately towards the end of the performance, Sophie slipped but she was ok. The judges applauded her spirit for seeing this performance through until the end. They all collectively said it was a beautiful performance. Sophie was awarded 27 marks.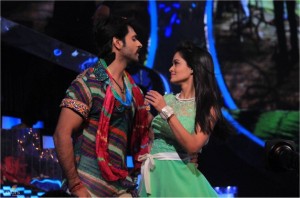 Last to perform were Ashish and Shampa. Their chosen dance style was physical theatre/mime. Their chosen song was 'Mera Mann' from Nautanki Saala. Their act was a tribute to Mumbai city. The judges said their act had a very nice theme but something was missing. Ashish was awarded 25 marks for his performance. Ashish's wife was also present on the episode and they both danced together.
The audience then learnt that the contestants would be put into teams. Mouni and Akshat were the captains.
Akshat's team has contestants Tara, Ashish and Karan. Mouni's team has Shakti, Sophie and Kiku. Judge Remo also told the contestants that their choreographers would be swapped over too and they would not be dancing with their original choreographers! This caused a stiff amongst the contestants for sure!
Stay with BollySpice for the latest updates on your favourite show Jhalak Dikhhla Jaa!