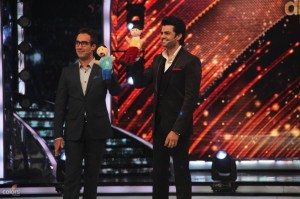 This week's Jhalak Dikhhla Jaa, started on a "short", sad note as host Ranvir Shorey read out a humorous letter from host Drashti Dhami explaining why she has left the show. Ranvir even joked that he wished she hadn't left him as he now has to do all the work himself! Of course, thankfully, Drashti has been replaced and it is by none other than Manish Paul who was one of the original hosts during the earlier seasons of Jhalak Dikhhla Jaa. All the judges and contestants welcomed him warmly, and the show was filled with his usual hilarious antics and natural flirty behaviour with the ladies!
This week's theme of Jhalak was 'Judges Demand' and this meant that the judges had chosen the specific dance style and that each contestant was to perform. Only how they did it, would remain entirely their choice.
The first contestant, that was safe from eliminations this week, was Karan Tacker. He performed with his choreographer Elena on the song 'Mere Haath Main' from Fanaa. Their dance style was Ballroom Freestyle. They had based their performance on a story of two lovers being separated. The judges were very pleased with the performance as it was noted that Karan had taken their comments from last week's episode, seriously. Madhuri said, even though the script of their story was weak, being such good actors, they acted it out well. Karan was awarded 24 marks for his performance. (Performance marks are now out of 30 as there are three judges on the panel).
Saturday's episode had special guests Zain & Aalia (character names) from the hit Colors serial Be Intehaa. They were asked who their favourite contestants from Jhalak were. Aalia said her favourite was Karan Tacker and Zain said his favourite was Shakti Mohan. As Manish is back as the host, he his usual hilarious antics began and he started flirting with Karan's choreographer Elena (who unfortunately, does not understand any Hindi!). Both Karan and Shakti danced on 'Ooh La La' from The Dirty Picture with Zain and Aalia respectively.
Then, contestants Mouni Roy, Akshat, Sophie Chaudhary, were called on stage and it was revealed that Mouni was safe from eliminations!
Next on stage to perform were Mouni Roy and Punit Thakar. The audience were shown how Punit got the idea of their puppet and ventriloquist act. The main song they performed on was 'Nagada Sang Dhol Baje' from Goliyon Ki Rasleela Ram Leela and the dance style they were dancing to was Freestyle. The judges were once again, very happy with Mouni's performance as they never expected to see her playing the role of a puppet. It was noted that it is not easy to play such a role, as a puppet has to be completely stiff and it is very difficult to depict that through dance. Mouni was awarded 27 marks for her performance.
Aalia from Be Intehaa came back on stage, as she was given a clue as to who is the next safe contestant. The clue was the famous moustache symbol and everyone knew the next safe contestant was Ashish Sharma.
Ashish and his choreographer Shampa, were given the dance form of Drunk Jazz, and they performed on two songs 'Party All Night' from Boss and 'Party with the Bhoothnath' from Bhoothnath Returns. They were dressed as ghosts but had a humorous side to their performance too. The judges loved the performance and Madhuri also danced with them 'ghost style!' Ashish was awarded the full 30 marks for his outstanding performance.
Judge Karan then decided to call all the contestants on stage so that they could have a fun face-off between each other. The contestants all danced to 'Nachle Nachle' from Bol Bachchan and seeing their excitement, judge Karan also joined them on stage and shook a leg to 'Gandi Baat' from R Rajkumar.
Then, Palak was requested to go on stage and give a clue via dumb charades, as to who is the next safe contestant. Judge Madhuri guessed correctly that it was Sukhwinder Singh.
Sukhwinder and Bhavna were given the dance style Hip Hop and Freestyle by the judges, and the song they performed to was 'Velle' from Student of the Year. The judges were hugely impressed by Bhavna's choreography, as despite Sukhwinder's limitations, she did not let them show so obviously, in the performance. It was noted that Sukhwinder did forget a few steps, but at the same time, he had improved a lot. Sukhwinder received 21 marks. Remo also danced with Sukhwinder on the same song.
Next it was time for more special guests. This time it was Armaan Jain and Deeksha who are the star cast from the forthcoming film Lekar Hum Deewana Dil. They both performed to their song 'Khalifa' which has been composed by AR Rahman. The judges and contestants wished them well for their film. Judge Karan explained that Armaan is from the famous Kapoor family and the audience were shown a photo of judge Madhuri with Armaan when he was very young. Armaan went and met Madhuri and the judges and thanked them for their blessings.
It was then time to find out the next contestant, who would go straight into the face-off. Palak and Puja were both called on stage and it was revealed that Puja is once again, in the face-off.
Palak and Kruti were next on stage to perform. The song they performed to, was 'Balam Pichkari' from Yeh Jawani Hai Deewani, and their dance style was Bollywood and Freestyle. Their act was based on the classic cult film Sholay and Palak was Basanti while Kruti was Gabbar. The judges applauded Palak for this wonderful performance. They said it was just like her very first performance on the show: full of energy and nonstop dancing. Palak was awarded 27 marks.
Then hosts Ranvir and Manish called Shakti, Sophie, Sreesanth, Kritika, Akshat on stage and teased them about the face-off and who would perform next. But unfortunately, it was the end of the show which meant the contestants would have to wait until the next episode to find out!
Sunday's episode started with a rain theme. Hosts Manish and Ranvir were sitting happily amongst the contestants, drinking tea and eating pakodas. The contestants naturally, got fed up waiting for the duo to open the show, so Karan and Sophie decided to open the show themselves. This surely was a wakeup call for Ranvir and Manish! Akshat was the next contestant who was safe from the eliminations. Manish told the audience how Akshat is very good at mimicking other contestants, and that he has received full marks twice.
Akshat and Vaishnavi performed in the dance style of Michael Jackson, and their outfit resembled Michael's Smooth Criminal look. The song they performed was 'Pandeyji Seetee' from Dabangg 2. We are all familiar that Judge Remo is a devotee of Michael Jackson and so he became very emotional after the performance. He straight away came on stage and hugged both Akshat and Vaishnavi. Judge Madhuri said that Michael would be most proud of this performance. Akshat and Vaishnavi were awarded with a pair of the gold Jhalak Dikhhla Jaa dancing shoes and of course, they were given full 30 marks.
To introduce the next act, host Manish sang 'Blue Eyes' by Yo Yo Honey Singh, which was, of course, intended for Sophie Chaudhary. Sophie and Deepak performed on the dance style Samba and Freestyle. They performed on a mix of the songs: 'Ice Cream Khaungi' from The Xpose and 'Duniya Main Logo Ko', but primarily, 'Ice Cream' was the main song. Sophie's act had a wonderful retro feel to it, and was pure dance which made the judges very happy. They collectively felt it was one of her best performances. Sophie was awarded 27 marks. She was very happy and said she is just waiting for the day when she will receive 30 marks. Host Manish in his usual joking style asked Sophie when she is next going on holiday as he would want to go with her! Sophie then casually told them how her nickname when she was younger, was 'mirchi' (hot/chilli) and she handed them a plate of green chillies, saying they would have to eat them if they wanted to accompany her on holiday. Needless to say, they did not accomplish this task!
Sreesanth and Kritika were called on stage. We learnt that Sreesanth and Shakti are safe and Kritika would be in the face-off opposite Puja. Sreesanth was next to perform, with his choreographer Sneha Kapoor. They danced on the Hip Hop and Freestyle genre, to the song 'Whistle Baja' from Heropanti. The judges said it was an extremely cool performance, and Sreesanth's solo part was excellent. Sreesanth was awarded 27 marks for his performance. Naturally, after performing on a song like ;Whistle Baja', host Manish asked the judges if they could whistle. Judge Remo and judge Madhuri both displayed their talents at whistling, whilst judge Karan resorted to using a standard whistle! Even contestant Palak, was asked if she could whistle and was later proven, that she could not!
It was now time for the face-off between Puja and Kritika. Puja and Rajiv Dev were the first to perform. The dance style they performed on was Indian Freestyle and their chosen song was 'Bedardi Raja'. Their act was set against the backdrop of a murder, and the murder being Puja's boyfriend. She then seduces the murderer and the act ends with her killing him. As always in a face-off, the judges' scores would be revealed after Kritika performed.
Kritika and Savio were next to perform. Their dance style was Cha-Cha and Freestyle and their song was 'Tooh' from Gori Tere Pyar Main. After Kritika's performance, Puja was also called on stage and the marks were revealed. Puja was given 26 marks and Kritika was awarded 25. Kritika Kamra was eliminated from Jhalak Dikhhla Jaa.
The judges said Puja's performance was very impressive and one of her best. They hope she will be able to perform free of pressure of being in the bottom two. Special guests Simar from Sasural Simar Ka and Anandi from Ballika Vadhu were welcomed on the show. Palak requested Anandi to teach her how to act like a typical daily soap 'bahu' (daughter-in-law). Anandi very graciously taught Palak some tricks of the trade!
Last to perform were Shakti and Tusshar. Shakti has mostly been receiving full marks for her performances on Jhalak. Their dance style was Modern Jazz and their song was 'Ram Chahe Leela' from Ram Leela. Shakti's act had her dressed like a scary 'chudail' (witch) and her choreographer Tusshar was a trespasser who ended up being killed by Shakti. The judges loved the performance and said it was both scary and outstanding at the same time. Shakti was however, awarded only 28 marks. This was the first time she was not given full marks. Simar from the hit colors show Sasural Simar Ka asked if she could dance with Shakti who is her favourite contestant from the show. They both danced to 'Channke Mauhala' from Action Replayy.
Ashish Sharma and his choreographer Shampa received the performance of the day title. The show ended with Manish and Ranvir dancing to  'Yaariyan' from ABCD on the judges' request.
Next week's episode will have a 'Filmy' theme! Stay with Bollyspice for all the updates!