The super finale of Jhalak Dikhhla Jaa opened with judge Karan welcoming the four finalists on the show. Judge Karan kicked of the show with a performance to 'Jail House Rock' from We Are Family. Mouni Roy performed to 'Radha' from Student of the Year. Ashish Sharma performed to 'Iski Uski' from 2 States, Shakti performed to 'Drama Queen' and Karan Tacker performed on 'Saturday Saturday'. This opening act ended with a surprise entry from Varun Dhawan.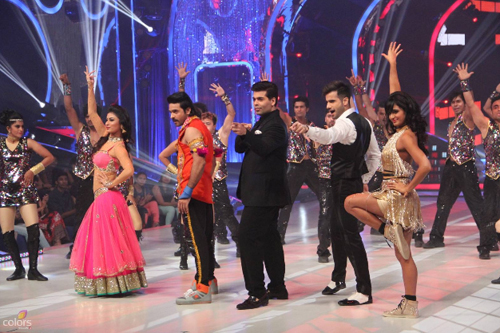 Hosts Ranvir and Manish then welcomed comedian Bharti on stage. Bharti entered with a performance on 'Pink Lips' from Hate Story 2. Bharti's usual antics totally lit up the Jhalak stage once again. She called all the female participants of Jhalak Dikhhla Jaa on stage and they all had a selfie together!
The first dancer-choreographer to perform on the super finale, were Shakti and Tusshar. They performed on the title song of 'Dum Maaro Dum'. The judges appreciated the high energy performance and Shakti was given 27 marks. Shakti's sisters Mukti and Neeti had also come to support her.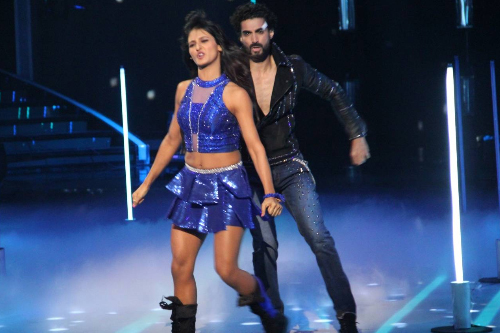 Next, the audience were shown the contestants bonding with Jhalak House, which is the place where the contestants do their rehearsals and bond together. They all said that they would miss coming to the house.
It was then time for Karan and Bhawna to perform. They danced on the title song of the film Blue. They had a rain effect in their performance. The judges applauded the enthusiasm that was shown and Karan was given 29 marks.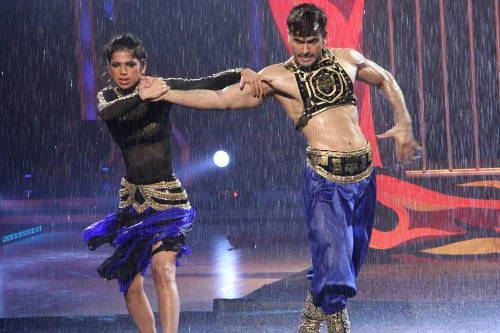 It was then time for judge Remo to perform. He had an almost 3D like effect added to his performance and he danced on songs from 'Bhag Milka Bhag', 'Catch Me If You Can' (The Xpose) and 'Shake it like Shammi' from Hasee toh Phasee. Judge Karan said this performance was "perfect" (Judge Madhuri style!) and Judge Madhuri said it was a banging performance (Judge Karan style!). Bharti was a contestant on the last series of Jhalak and is known for her flirtatious (!) ways with judge Remo. However this time, she purposely snubbed him a few times! It was very funny to watch judge Remo's reactions everytime Bharti came on stage!
Next to perform were Ashish and Shampa. They danced on the song 'Khalbhali' from Rang De Basanti and they had a frame as a prop which they used very well throughout their performance. The judges loved this genius concept. Ashish was given 27 marks.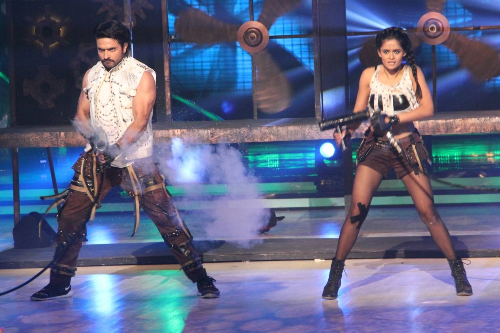 The audience were then shown a special video that had been taken by host Ranvir. It featured out takes from behind the scenes and also the judges back-biting about each other. It was all in good humour! Host Manish then sang a Bengali number for the judges.
It was then time to welcome the special guest of the evening which was Mr Anil Kapoor. He was warmly welcomed by the judges and contestants. He also gave host Manish a warning as judge Madhuri lightly complained that host Manish irritates her and judge Karan a lot!
Next to perform on stage were Mouni and Punit. They performed on the song 'Sree Ganesha Deva' from Agneepath. It was a very powerful performance. Mouni was given 27 marks.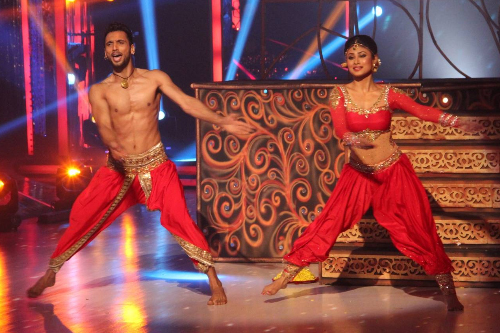 Host Manish then reminded the contestants that Anil Kapoor played an invisible character in the film Mr India. He was invisible because of a special watch that he would wear in the film. Host Manish asked the contestants what would they do if they were invisible. Karan Tacker went to pull Judge Karan Johar's cheeks, Mouni tried to pick up the Jhalak Dikhhla Jaa trophy, Ashish irritated Manish with everything that he put up with over the last 3 months on Jhalak (this was hilarious to watch!) and Shakti wanted to be Sridevi and dance with Anil Kapoor. Bharti also took the opportunity to be invisible and kiss judge Remo on the cheek and hug Anil Kapoor.
Previous participant, Sophie Choudhary, performed to 'Jumma Chumma' from Hum with her choreographer Deepak.
Anil Kapoor and Madhuri also gave a performance from their iconic film Tezaab on the song 'Ek Do Teen'.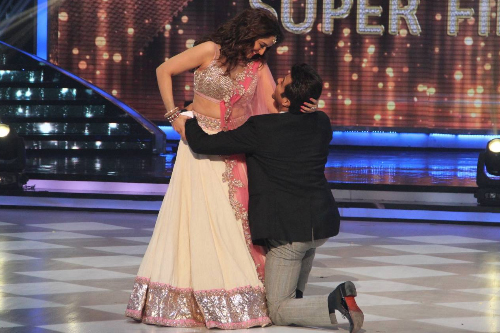 It was then announced that Mouni Roy was the first contestant to be eliminated from the finals of Jhalak Dikhhla Jaa. Ashish, Shakti and Karan were still in the race.
Then Lauren Gottileb and Salman Khan performed with group dancers on the title track of Jhalak Dikhhla Jaa. This was one high energy performance!
Then Palak's family members Dadi and Gutthi turned up to support her. They felt that as she had come back on the show, they also needed to!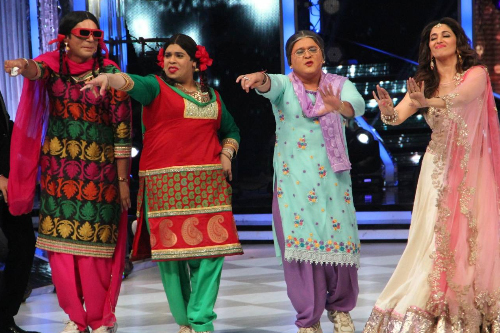 Judge Madhuri gave a stunning performance on the song 'Main Tainu Samjhawan Ki' from Humpty Sharma ki Dulhaniya. She also featured remixes and clips of all her hit songs from her films.
Host Manish showed a video which told the audience how popular Judge Karan had become after his dances on the show. All three of the judges danced to 'Rock and Roll Soniye' from Kabhi Alvida Naa Kehna. Time was then getting closer to the results.
The hosts explained that there would be one last dance performance from all the contestants and it would be in the style of a relay. The contestants would be given extra marks (8, 9, 10) for their performance.
Ashish performed with Shampa to 'Hud Hud Dabangg' title song. Karan danced to 'Abhi Toh Party Shuru Hui Hain' from Khoobsurat and Shakti performed to 'Pyar Na Mile' from Kick. Shakti was given 8 marks, Ashish was given 9 marks and Karan was given 10 marks. These scores would be added to their total marks. All three contestants performed together on 'Jashnn e Ishq Ka' from Gunday.
It was then time to announce the winner. The votes had been counted by the Ernst & Young group. Judge Karan announced that Shakti was the runner up. The competition remained between Ashish and Karan. The audience learnt that there was a tie between both but once the audience votes were added, it was Ashish Sharma and Shampa who were declared the well deserving winners of this seasons Jhalak Dikhhla Jaa!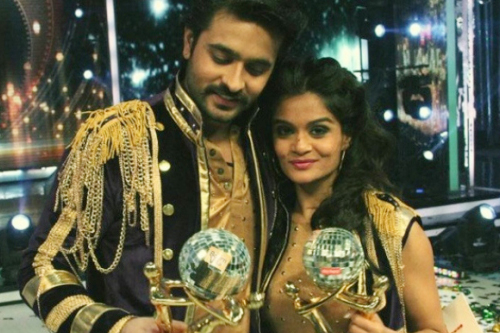 We wish many congratulations to Ashish and Shampa for winning Jhalak Dikhhla Jaa and we hope you enjoyed reading all the updates for your favourite show exclusively at BollySpice!