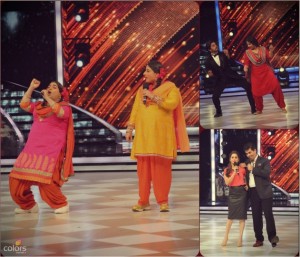 Saturday's episode opened with hosts Manish and Ranvir sitting in a Sholay style motorbike singing 'Ye Dosti, Hum Nahin Todenge' from the film Sholay. The song ended and contestant Mouni proved to be a "distraction" for the boys and the audience were led to thinking they have had an accident. The next scene had two coffins and the judges and contestants were crying as if the hosts Manish and Ranvir are no more. But of course, they both turned up (much to the "disappointment of the judges/contestants!) and the show began as normal. Thankfully!
The first contestant who was safe from eliminations, was Sophie. It was great to see her out of the face-off and being the first contestant to perform on the show. Sophie and her choreographer Deepak, performed an aerial act and their chosen dance style was Aerial and Freestyle. Before Sophie's act began, we were shown how during her rehearsals, actor Tusshar Kapoor had come to support her. Sophie and Deepak behaved like fishes underwater and they danced on the song Meeti Boliyan. The judges loved the act. They felt it was visually stunning and the choreography was very poetic. Sophie was awarded 27 marks for her performance. As always, host Manish had to comment about their act and he couldn't help but notice that Deepak was wearing make up! Host Ranvir also joined in on the fun and asked Deepak to show them how a dolphin would dance and both of them tried their hand at dancing like a dolphin! Then, a reference was made to how Sophie always pouts and the judges were naturally, asked to show their pouts!
The special guest of this episode was the lovely Vidya Balan who had come to promote her latest film Bobby Jasoos. However, Vidya arrived on the set dressed as Palak! This caused much confusion for the hosts and judges who initially found it difficult to tell the difference between the two. Of course, it was then made clear who is the real Palak!
Karan Tacker and Sreesanth were then called on stage. Vidya Balan came back (this time as Vidya!) to announce that both Karan and Sreesanth are safe from eliminations.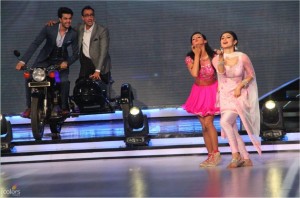 Karan Tacker and Elena were next to perform. They were dancing on the style Paso Doble and their song was Ishaqzaade title song. Their act was very futuristic but unfortunately was not executed very well and they forgot an important step during the performance. Karan was awarded 22 marks. Vidya announced that she had left her "jasoos" in Jhalak house (it was none other than host Ranvir) and he found out that Karan was teaching his choreographer the wrong phrases in Hindi!
The next act to perform were Palak and Kruti. Their chosen dance style was Robotics and the song they danced on was Hairat from Anjaana Anjaani. The judges were very impressed with Palak's performance and they mentioned that it is not very easy to do a robotics style dance. Palak and Kruti did a great job and their total marks were 25. As this was a futuristic act, the judges gave their thoughts about what Jhalak would be like in the year 2050!
Next on stage, were Sreesanth and Sneha. Their chosen dance style was freestyle and they danced om the song Raabta from Agent Vinod. Their act was based on a brother and sister relationship, just before the sister is about to get married. The judges loved Sreesanth's performance and judge Remo said it was one of Sreesanth's best performances so far. Madhuri praised Sneha for her choreography, and said that their act reminded her of the classic song 'Ek Hazaron Main, Meri Behena Hai'. Madhuri sung a few lines of the song too! Sreesanth was given 27 marks for his performance. Host Manish then requested Vidya to dance with Sreesanth and they danced on the 'Lungi Dance' from Chennai Express.
It was then time to find out who would be in this weeks face-off. Puja, and Sukhwinder were called on stage. We learnt that Puja is safe but Sukhwinder is in the face-off. Naturally, Puja was next to perform with her choreographer Rajiv. They performed in the semi-classical dance style and their song had a religious theme. Their act was based on the mythology of Lord Shiva, Kaali Ma and a Demon. Rajiv played two roles during the performance. The judges notes that dancing in the form of Kaali Ma is not easy as her expressions have to be aggressive and strong, and they felt Puja did a very good job. However, the choreography in their performance, did lack the necessary power. Puja was awarded 22 marks.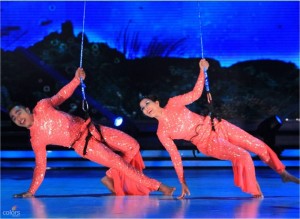 After Puja's performance, it was time to say goodbye to the special guest Vidya Balan. Vidya asked Palak if she could dance on a song from her latest film Bobby Jasoos. The contestants joined them both and said goodbye to Vidya. Then host Manish called the judges on stage and asked them to enact a filmy scene. The judges obliged and Karan and Madhuri acted on the song Ae Kya Bolti Tu from Ghulam. The scene ended with all three of them dancing on the song Tu Ne Maari Entriyan from Gunday.
The audience were then reminded that Sunday's episode would welcome wild card entries on the show!
Sunday's episode opened with all the contestants and the judges dancing to Tum Hi Ho Bandhu from Cocktail. The audience were reminded about the wild card entries that would be making their appearance during the show.
First to perform on Sunday's episode were chota packet Akshat and Vaishnavi. Their performance bought live animated cartoon characters from Nickelodeon, to the Jhalak stage, for the fist time. They danced Freestyle and they performed to the song Tai Tai Phis from Chillar Party. The judges applauded Akshat and Vaishnavi for this performance as they not only got to see something new, but it was a very convincing performance. Judge Remo, noted that it was never easy to act as if a cartoon character is standing next to you and Akshat and Vaishnavi did this effortlessly during their performance. Akshat was awarded 30 marks for his performance. This is the 4th time he has received full marks! The cartoon characters that danced with Akshat & Vaishnavi were 'Motu & Patlu' and they came on stage to dance with the judges.
Host Manish tried his hand (once again!) at serenading judge Madhuri with the famous love song 'Tum Hi Ho' from Aashiqui 2. Of course, the audience soon realised that Manish was not singing and that it was singer Rahul Vaidya providing the vocals! Rahul was the first wild card entry of this seasons Jhalak Dikhhla 7.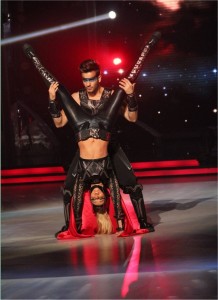 It was then time to find out which contestant would be in the face-off with Sukhwinder Singh. Mouni, Ashish and Shakti were all called on stage. Ashish and Shakti were safe and Mouni would be in the face-off with Sukhwinder.
Ashish and Shampa were next to perform and their chosen dance style was Freestyle. The song they danced to was 'Muskurane' from Citylights. Their act was based on the love and separation of a rose bud and a thorn. Ashish played the role of a thorn whilst Shampa was the rose bud. The judges loved the emotional performance and felt it had been executed very beautifully. Judge Remo felt that they just need to work on improving their coordination. Ashish was awarded 26 marks.
It was then time to introduce another wild card entry. Tara Popowich was the second wild card entry on this seasons Jhalak. She performed on the song 'Jai Ho' from Slumdog Millionnaire. Of course, Tara also is not fluent in Hindi which gave host Manish the chance to take another dig (jokingly!) at her! The next wild card entry was RJ Mallishka. RJ Mallishka is a very famous Mumbai based RJ. She requested Madhuri if she could dance with her and Madhuri graciously obliged.
Next to perform were Shakti and Tusshar. The audience were shown how Shakti prepared for her performance this week. Shakti had decided that she would make her choreographer, Tusshar laugh as he is always in a very serious mode. Their chosen dance style for this weeks performance was Latin Freestyle and they danced on the song Diliwali Girlfriend from Ye Jawani Hai Deewani. The judges loved the performance. It was high energy and very happy compared to their earlier, serious performances. Judge Madhuri then sang the classic song 'Main Hoon Pyar Tera', as this act reminded her of the energy in that song. Shakti was awarded 29 marks.
It was then time to check out the next wild card entry, which was actor Kushal Punjabi. Kushal performed on the song Desi Boys title song. and surprised the judges with his enthusiasm. Palak asked Kushal if he could do some push-ups before he came to sit with the contestants and Kushal agreed. Palak then sat on Kushal as he approached the 6th push up! Needless to say this evoked a lot of laughter from the judges and the contestants!
It was then time for the face-off between contestants Sukhwinder Singh and Mouni Roy.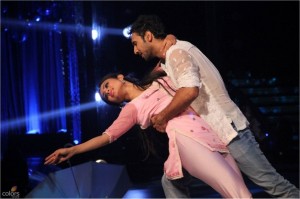 Mouni and Punit performed first. Their chosen dance style was Freestyle and their song was the female version of 'Kabhi Jo Badal Barse' from the film Jackpot. Their act was based on a Hindu-Muslim love story that ends in a tragedy. The beginning of their act was shown in flashback mode. The judges scores were saved and would be revealed after Sukhwinder performed.
Sukhwinder and Bhavna performed next. Their dance style was also Freestyle and their song was 'Sarfaroshi ki Tamannah' from The Legend of Bhagat Singh. Sukhwinder was enacting the role of Bhagat Singh during his patriotic performance.
The scores were then revealed. Mouni received full 30 marks and Sukhwinder received 22 marks. Sukhwinder was the next contestant to be eliminated from Jhalak Dikhhla. Judge Karan asked Sukhwinder to sing one of his songs before he goes and Sukhwinder sang 'Hud Hud Dabangg' from Dabangg. Akshat and Vaishnavi were given the performance of the week title.
Then the last two wild card entries were announced. Actress Kainaat Arora and singer Akriti Kakkar would complete the line up. Kainaat performed on I Want Just You from Joker and Akriti performed on Marjaani from Billu Barber. Both were warmly welcomed on the show.
Host Ranvir and Manish reminded the audience that only 3 out of 6 wild card entries, would be selected to join the existing contestants on Jhalak. Stay with Bollyspice for updates on next weeks show!