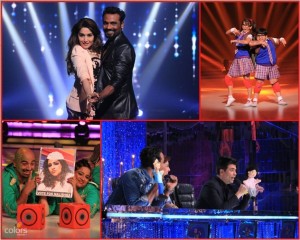 This weekend's Jhalak Dikhhla Jaa opened on a serious note and it proved to be a turning point for the existing contestants of the show. Saturday's show opened with rehearsal footage of existing contestants. All the contestants were called on stage and the two unsafe contestants who would be in the face-off this week, would be announced.
Sreesanth and Puja were the two unsafe contestants. Puja was disappointed to be in the face-off once again.
For the first time, the face-off happened at the beginning of the show. Puja and Rajat were the first to perform. Their chosen dance style was Freestyle, and they performed to the song 'Teri Meri Prem Kahani' from Bodyguard. Their prop was a picture frame. All the acts would be featuring a prop this week as this was the theme. As always, Puja's scores were saved and would be revealed after Sreesanth performed.
Sreesanth and Sneha were next to perform. Their dance style was also Freestyle and they performed to 'Dhan Te Na' from Kaminey. Unfortunately, Sreesanth seemed to be distant during his performance and even missed a crucial step. This naturally affected his marks which were 20. Sreesanth was eliminated from Jhalak Dikhhla Jaa.
The judges appreciated Puja's performance and said they made a good use of their prop during their act. Puja was awarded 25 marks.
As the show started on a dramatic note, host Ranvir told host Manish to stop over reacting and not be so dramatic! Then judge Karan and judge Remo showed their own puppets (these are similar puppets that host Ranvir and host Manish had of the judges a few weeks ago!) of hosts Ranvir and Manish! This naturally put a smile on everyones faces!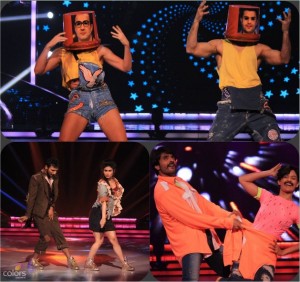 Next to perform were Ashish Sharma and his choreographer Shampa. Their chosen dance style was Bollywood and their song was 'Chinta Ta' from Rowdy Rathore. Their act was full on Tapori style and their prop was a stretchy jacket. The judges loved the performance, especially as it bought out a different side in Ashish's attitude. Ashish was awarded 27 marks. Ashish requested if he could dance with Madhuri and they both danced on the song Aankhiyon Se Goli Maar.
Next on stage were Karan and Elena. As always, host Manish did not miss any opportunity to flirt with Elena! Their chosen dance style was hip-hop and they danced on the Pappi song. Their prop was a bucket each which had a picture of hosts Ranvir & Manish on it! Karan was awarded 26 marks.
It was then time for Mouni and Punit to perform. Their act had them dressed as paupers who find a pair of golden shoes which were their props. Their chosen dance style was Freestyle and the song they performed on was 'Ibn-E-Batuta' from Ishqiya. They also included 'Senorita' from Zindagi Na Milegi Dobara and a Michael Jackson theme in their act. At the end of the act, hosts Ranvir and Manish took of the shoes from Mouni & Punit. The judges really appreciated the innovative concept and the use of the prop during this act. Mouni was awarded 27 marks for her performance.
It was then noted how Mouni has cried a lot during this season's Jhalak. Hosts Ranvir and Manish in their usual style asked the judges if they could also cry so easily. Judge Karan joked that only if Ranvir & Manish performed Indian classical dancing, would Remo then cry! They both performed terribly and judge Remo (with the help of some glycerin!) showed his ansoo (tears)!
Last to perform were Palak and Kruti. Their act was like a magic show and their song reflected this. Their chosen dance style was Freestyle and their prop was a glass. The judges appreciated Palak's energetic performance, but felt there was poor coordination during the act. Palak was awarded 21 marks. Madhuri then joined Palak and host Manish on stage, and they danced to 'Sheeshe se Sheesha Takaraye' from Devdas.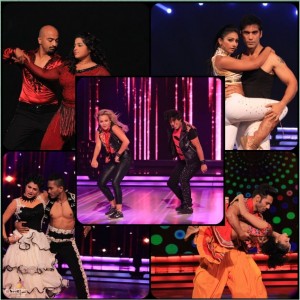 Sunday's episode opened with the title song from the film Bodyguard and hosts Ranvir and Manish wearing boxing gloves and play fighting wih each other.
The first act to perform were the adorable and much loved, Akshat and Vaishnavi. The audience were shown footage from Akshat's father, who explained that Akshat had been dancing since he was three years old. Akshat and Vaishnavi danced Freestyle and they had three props: a glass/glasses/rucksack. Their chosen song was 'Masti Ka Paathshala' from Rang De Basanti. The judges truly applauded this performance and said that Akshat had correct expressions for each type of dance that he does. They were awarded 30 marks for their performance.
Next to perform were Shakti and Tusshar. Their chosen dance style was Contemporary and their song was 'Kabira' from Yeh Jawaani Hai Deewani. Their act depicted the story of the feelings one goes through when a relationship is breaking up. Their prop was a stretchy material. The judges loved the act and said they had chosen a difficult prop. Shakti was awarded 30 marks. Akshat was then called on stage as he also received full marks for his performance. He performed rolls and asked Shakti to do spins which she gracefully did.
Then it was time for Sophie and Deepak. Their chosen dance style was Freestyle and their song reflected the same. Their prop was sticks that were attached to their costume. Judge Remo noted that it is immensley difficult to perform with these sticks and he acknowledged their bravery for doing so. Sophie was awarded 30 marks for this brilliant performance. This was the first time she had received 30 marks.
It was then a real treat for the audience. Judge Remo and judge Madhuri performed together. Judge Remo said he had been waiting to ask Madhuri to dance with him for a very long time. Judge Madhuri graciously obliged and they performed on the song 'Muskaan Jhooti Hai' from Talaash. Then they called judge Karan on stage and all the contestants danced on 'Koi Mil Gaya' from Kuch Kuch Hota Hai.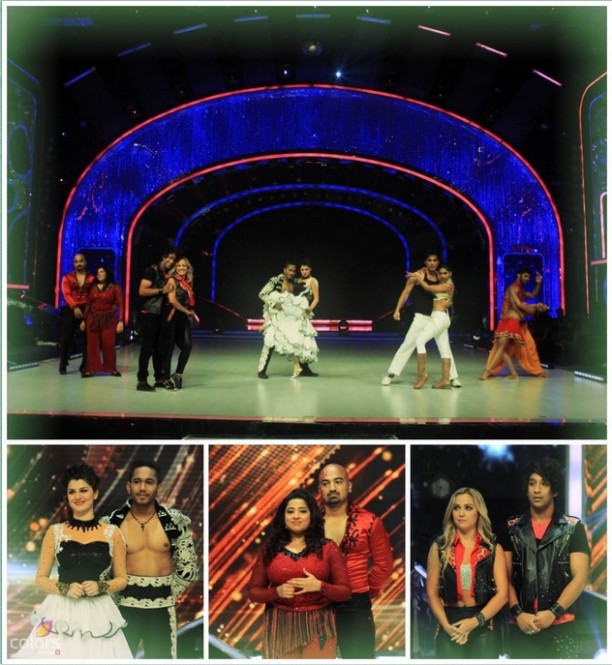 It was then time for the Wild Card entries. The audience were explained that the wild card entries would be given 1 minute each to show their dancing skills and then the judges would be given 5 minutes to pick 3 of the entries who would be joining Jhalak. It was also noted that singer Akriti Kakkar who was also a wild card entry, could no longer perform due to sustaining a back injury.
So the following wild card entries performed on the following songs:
*Tara & Jack – Gulaabi from Shuddh Desi Romance
*Rahul & Sycilia – Chingam Chabake from Gori Tere Pyar Main
*Mallishka & Diwakar – Jumme Ki Raat from Kick
*Kainaat & Cornel – Darling from Saath Khoon Maaf
*Kushal & Mohena – Kudiya Nu Thag Le from Ladies vs Ricky Bahl
Out of this list, the judges chose and welcomed Tara Popowich, RJ Mallishka and Kushal Punjabi to Jhalak.
First to perform were Mallishka and Diwakar. They danced Freestyle to the song 'Dhinka Chika' from Ready. Their prop was a square box. The judges appreciated her performance but said Mallishka would have to work very hard. Mallishka also showed her rapping skills and had created a special rap for each of the judges. She was given 23 marks.
Next to perform was Kushal Punjabi and Mohena. Kushal explained that he has a shoulder injury and this has stopped him from acting for the past two and a half years. Their chosen dance style was Freestyle and their chosen song was 'Main Kya Karoon' from Barfi. Their prop was a heart. Judges said it was a very pleasant performance and he was given 25 marks.
Last to perform was Tara and Jack. Tara is a TV host and is Canada born but she has a real love for India and its spirtuality. Their chosen dance style was contemporary and their song was 'Tum Se Hi' from Jab We Met. Their prop was a feather and a heart. Judges appreciated her performance but wished they had made more use of the prop. Tara was given 27 marks.
Performance of the week was given to Sophie and Deepak. The show ended with all the contestants dancing on 'Ragupati Raghav' from Krrish 3.
Stay with Bollyspice for the latest updates on your favourite show!