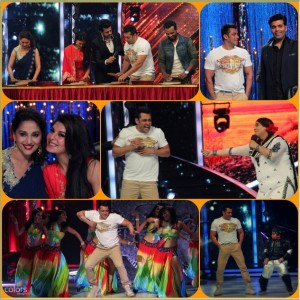 Saturday's show opened with much excitement as superstar Salman Khan would be gracing the stage of Jhalak once again. Before Salman's entry, host Manish lost his watch, and host Ranvir lost his glasses! Then Salman entered the show and performed on the super hit Kick song (which has music by Himesh Reshammiya), 'Jumme Ki Raat'. Salman was warmly welcomed by the hosts, contestants and judges. Salman also returned host Manish's watch.
Next, it was time to get back to business, and find out the two contestants that would be in this week's face-off. As always, all the contestants were called on stage but this time, judge Madhuri, announced that all the contestants are safe this week and that there would be no eliminations! All the contestants breathed a sigh of relief, and the hosts told the audience that the votes would be added to next weeks votes and eliminations would be determined from there.
Sophie and Deepak were first to perform. Their chosen song was 'I Love You' from Mr India and their dance style was Bollywood. This week's theme was 'I Love…' and the contestants would be dancing on the theme they love the most. Sophie was dressed as Sridevi and Deepak was Anil Kapoor. There were some heart-in-mouth lifts in this act and Sophie and Deepak performed them all with a lot of ease. The judges were extremely pleased with this performance and said they had captured the sensuality of the song very well. Sophie was awarded 30 marks. Sophie is known to be a huge fan of Salman Khan and Salman even shared a story of the first time he met Sophie. Judge Karan, gave a rapid fire round for Sophie and Mouni to find the biggest fan of Salman and it is no surprise that Sophie won the rapid fire round! Sophie and Salman then sang Hangover together.
Next to perform were Akshat & Vaishnavi. Akshat is known to be a huge fan of Salman Khan and he couldn't wait to meet Salman. Akshat's theme for his performance, was that he loves Salman Khan. Akshat and Vaishnavi's chosen dance style was robotics and their songs were a blend of Bodyguard title song and 'Pandeyji' from Dabangg 2. The judges loved the performance and Akshat was awarded 30 marks. Salman then came om stage and danced to 'Dhinka Chika' from Ready with Akshat.
It was then time to welcome the heroine of Kick, Jacqueline Fernandes. Jacqueline received a warm welcome from the hosts, contestants and the judges.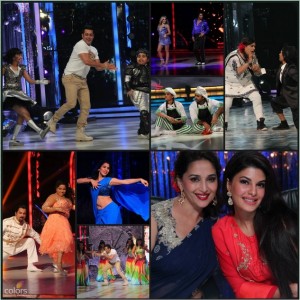 Next on stage were Ashish & Shampa. Ashish loves to cook and his performance was naturally based around this theme. Their dance style was stomping and hip hop freestyle and their chosen song was Golmaal. At the end of their performance, they cleverly presented a real fruit cake to the judges. Ashish was awarded 25 marks for his performance, as unfortunately, the judges felt the choreography lacked in some places. Host Manish then asked Salman if he likes cooking, to which Salman replied he doesn't. The hosts then requested the judges (minus judge Karan) and Salman and Jacqueline to display their 'roti' (chapati) making skills! It was a hilarious contest to see who could make the most round rotis in just 5 minutes. Jacqueline was the winner.
Up next to perform was RJ Mallishka and Diwakar. Their chosen dance style was Freestyle and their song was 'Pareshaan' from Ishaqzaade and also 'Le Le Le Mazaa Le' from Wanted. Her act was a fairytale and was based on the princess and the frog story. Diwakar was unable to perform one of the lifts properly during the performance and Mallishka was awarded 25 marks. Salman went on stage to give Mallishka a hug.
It was then time for Palak and Kruti to perform. Palak asked Salman if she could have some weight loss tips and host Manish made a funny impression which made Salman laugh a lot! Palak & Kruti's chosen dance style was freestyle and their songs were a variety of Raj Kapoor songs. Their act was a flashback of legendary actor Raj Kapoor's famous song sequences. The judges felt there could have been a lot more dance, but they had recreated the era well. Palak got 21 marks for her performance. Palak then requested Salman if he could enact the famous train sequence from his forthcoming film Kick. Palak was the train, Manish was Salman's cycle! The audience were in hysterics after watching this very unique adaptation of the scene. The song also changed to 'Bahon Ke Darmiya' from Khamoshi and saw a very embarrassed Salman dance on the song with Palak! Palak then became very upset as Salman refused to marry her and so did judge Remo. Palak left the Jhalak stage and did not return!
The show ended with all the contestants on stage with Jacqueline and Salman.
Sunday's show opened with host Manish and contestant Shakti dancing to 'Pyar Hua Iqaraar Hua' with modern dance steps.
First to perform were Karan Tacker & Elena. The audience learnt that Karan is a huge fan of iconic actor Shammi Kapoor and he would be enacting him during his performance. Elena was dancing like Helen. Their chosen dance style was Bollywood and their songs were a mix of 'O Haseena Zulfonwali', 'Badan Pe Sitaare' and 'Aaja Aaja Main Hoon Pyar Tera'. The judges were extremely impressed with Karan's performance and loved the energy he kept throughout. Karan sang 'Aaja Aaja' for judge Madhuri. The audience then learnt that Karan's choreographer, Elena would be leaving the show as her mother who is 58 and is a trained dancer, would be giving her last stage performance. Judge Madhuri then requested for Elena to perform for everyone in her own style. Choreographer Deepak joined Elena for this sizzling performance. They danced on the song 'Aa Zara' from Murder 2. The contestants then said their goodbyes to Elena.
Next on stage to perform were the enigmatic jodi of Shakti & Tusshar. Shakti's parents were also present in the audience and we learnt that Shakti survived a major accident when she was younger. One can still see the scarring on her left foot and it is simply amazing that she is still able to dance. Shakti dedicated her performance to her parents and said that she is a dancer only because of them and their support. Their chosen dance style was freestyle and their song was 'Tu Na Jaane Aas Paas Hai Khuda' from Anjaana Anjaani. The judges loved Shakti's performance and also applauded her parents for their great values and upbringing. Shakti was awarded 30 marks.
Next to perform were Kushal & Moena. Kushal's theme was that he loves partying and his performance reflected the same. Their chosen song was 'Blue Eyes' and 'Party with the Bhoothnath'. The judges said it was a very good performance and Kushal was awarded 27 marks. Judge Remo requested host Manish to dance like Kushal as he had questioned jokingly why judge Remo only gave 9 marks to Kushal!
Then it was time for Mouni & Punit to perform. Their chosen dance style was freestyle and their theme was water. It was the first time this season that Jhalak had witnessed a water based act. Their chosen song was 'Roshni Se' from Ashoka. The judges loved this surprise performance and Mouni was awarded 29 marks. Host Manish once again questioned judge Remo's 9 marks and his punishment this time was to sing a Bengali song which he did!
It was then time for Tara & Jack to perform. Their chosen dance style was Jazz and their song was 'Aao Naa Gale Lag Jao Naa'. Tara loves her jewellery and this reflected in her performance. The judges were very impressed, especially as they had chosen an old song and Tara still lip synced with the song! Tara was awarded a perfect 30.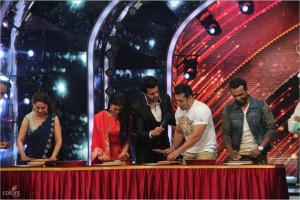 Last to perform were Puja & Rajat. The audience were shown how Puja loves Karan Johar's films under his Dharma Productions banner and said that he was the only one who supported her the most while she was in the face-off situation three times. Their chosen dance style was Bollywood and Freestyle and their songs were a medley of Dharma Production songs. The judges were very pleased as they had even included costume changes during their performance but felt the choreography was not up to the mark. Puja was awarded 23 marks. Judge Karan then took hosts Ranvir & Manish & Puja's auditions for a Dharma Production film.
Judge Madhuri then asked where was Palak? Palak had not returned since leaving the show on Saturday. We were then shown Palak's message where Palak apologised for leaving in anger, but it was not made clear if she would be coming back or not!
The contestants were then told about next week's theme. They would be performing on remixed music that would be remixed by Music Directors Sachin-Jigar. Salman and Lauren performed on the remix version of 'Slowly Slowly' from Go Goa Gone to give an example to the contestants.
Performance of the week was given to Shakti & Tusshar. Stay with BollySpice for updates on all things Bollywood and your favourite show Jhalak Dikhhla Jaa!