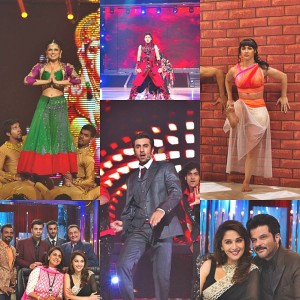 Jhalak Dikhhla Jaa season 6 is finally on that step from where the trophy is just a week away. Yes, this was the semi finale weekend of the dance reality show and it was lit up with stars like Anil Kapoor for the first episode, and the Kapoors family i.e., Rishi Kapoor, Neetu Kapoor and Ranbir Kapoor for the second episode. Anil Kapoor visited the show to promote his new show 24 on Colors, while the Kapoor family was present to promote Besharam. Irrfan Khan also visited the sets to promote his film The Lunch Box. So who made it to the finale and where does the competition for the trophy stand? Read on to know!
Mukti Mohan unfortunately did not make it to the top 4 finalists of the show. Hence,  here are our top 4: Lauren-Punit, Sumanth- onali, Drashti -Salman and Shaan-Marischa.
On Saturday after the series of performances was a special Dance Relay, where the contestants performed to Anil Kapoor's songs. The lowest score i-e 4 marks were given to Shaan, 6 marks to Sonali, 8 to Lauren and the highest score i.e., 10 marks were given to Drashti. These scores were added to their final score of the weekend.
After reaching the top 4, foreign ki Lauren with her partner Punit gave a mesmerising Contemporary performance. With perfect choreography, the right amount of subtlety and a radiant smile, this duo stole hearts and scores as well! They scored 30. For their second performance, the contestants had to perform solo with a dance troop, without their choreo partners. With a Hip Hop performance, Lauren took 'outstanding' to another level as she danced with confidence, poise and perfection. Remo pointed out that Lauren has done 8 forms of street dance in this one performance. She scored 30 yet again. Their weekend score was 68.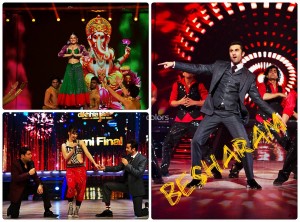 The Madhubala of Jhalak, Drashti Dhami, performed a beautiful Freestyle performance which was loosely based on Pirates of the Carribean. I think what worked the best for this duo in this act was their strong expressions and really strong choreography. They scored 30. Drashti's second performance was Hip Hop, full of energy and enthusiasm as respect to lord Ganesha. It was vibrant and lively, which impressed the judges and got her 30 again. The jodi's final score was 70.
Making their way to the top 4 were our wonder kids Sonali and Sumanth, giving a fantastic Freestyle performance. These kids are indeed blessed and very hardworking, as again they were applauded for their brilliant dancing. They scored 30. Sonali did a brilliant Rumba act for her second performance, where this little girl was not only doing her lifts but also dancing with lovely expressions. She scored 30 yet again. Their score of the weekend was 66.
The 'dancer in disguise' and surprise element of the season Shaan was thrilled to be a part of the top 4! He freestyled with partner Marischa and their concept was lovely as always, since we know Marischa's creativity when it comes to their choreography and concepts. They scored 27. For his solo performance, Shaan did a Hip Hop act. He was mascular, confident and danced with a lot of energy. I think this is the determination that has got him so far. He scored 29. Their total score was 60.
This was a brilliant semi finale weekend and now, just a few days to decide the one who wins this season. Don't forget to catch the finale of the season on 14th September!