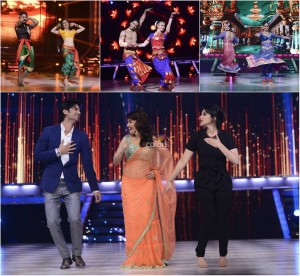 Top 5 it is. Jhalak Dikhhla Jaa's week 13 was no less than a strenuous challenge that put every contestant on their guard to make sure they deliver their best. The challenge for Saturday was Teen Ka Tadka, as a third contestant was added to all the jodis from the previous seasons of Jhalak. Sunday was about public demand, where the contestants performed the act that the public wanted to see them do. So how far did each of our hard working jodis get?
Coming to the danger zone, Sana Saeed and Mukti Mohan were in the Jaan Ke Liye Dance situation. No one can doubt the impressive dancing skills of these two divas who are unique in their individual way. But the choice had to be one. After taking their own time to judge and take this difficult decision, the judges eliminated Sana this week.
On Saturday, the 'Exotic' Priyanka Chopra visited the sets with her Zanjeer co-star Ram Charan for the promotion of the film and to watch the Jhalak stars surprise her with their talent. The sets were graced by Parineeti Chopra and Sushant Singh Rajput to promote their film Shuddh Desi Romance on Sunday. Sushant was a part of Jhalak earlier and hence felt an absolute connect to the show and its talent.
Coming to performances, Drashti's dream of her best friend Sanaya being her third person for Teen Ka Tadka came true as this trio performed a terrific Paso Doble act. The choreography was brilliant and there was no point where either one of the three was without a step. Drashti, Sanaya and Salman were well co-ordinated and pulled off the act very well. They scored 27. The following day, viewers had demanded Drashti to do a Madhuri number to which Drashti responded graciously by doing a Bollywood act on one of Madhuri's best item songs. Truly, I have never seen Drashti so energetic on stage before this! She danced, she laughed, she expressed. Salman let her rule the act and she totally did. They scored 27, which made their score 54 for the weekend.
The teesra tadka to the evergreen jodi and best friends Punit and Lauren was Ritwik, who made sure he is not the extra cook who spoils this otherwise perfect broth. With a hilarious concept of aping the judges and Punit's brilliant choreography, this trio presented an extremely entertaining act which scored a full 30! For public demand, Lauren was asked to be more desi and she did exactly what they wanted with a Bharatnatyam act. Setting Bharatnatyam on a Bollywood song, Punit did wonders with his choreography while Lauren's expressions and perfection totally bowled us over. They scored 28, making their total score 58.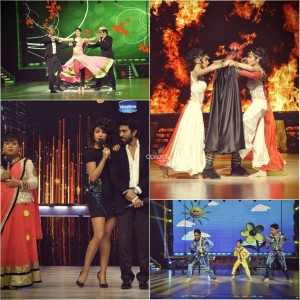 Wonder kids Sumanth and Sonali's third partner was another wonder kid Darsheel Safary, and these three stars performed an extremely cute Hip Hop act. Their moves, their choreography and most importantly their co-ordination was great and as always, their act was pleasing. They scored 27. With sweet little angels like this, what would viewers want more than seeing them enact a fairy tale? Our Aladdin and Jasmine did a contemporary performance which was mesmerizing, as I have not seen Jasmine this graceful and beautiful before. In my opinion, I think it is time to let Sonali and Sumanth's dancing skills go beyond their brilliant lifts, as there have been a few performances where they have made it evident that they can do all kind of dances. The duo scored 27, making 54 their total score.
Shaan was back with a bang last week, and this week his teesri aankh was Hazel. Performing a Freestyle act, Shaan was at his best with his expressions as needed to emote the concept, but somehow I think the dance form itself was not the right choice. As much as the choreography was involving, there could have been something like Afro Jazz or maybe some Latin dance form that would have made their concept stand out better and also made it a stronger act, as that is what is needed at this level. The trio scored 24. Next day was about seeing Shaan in a different expression from who he is. So the public wanted him to shift his smile to a tapori look. Performing a Bollywood act, Shaan was seen being as tapori as possible, giving all those high eyebrow looks and much more. However, on the choreography front, I somehow felt that dance was a little missing. The prop of course, was well played with, but there should have been more dancing and more of those 'mawaali' moves to complete this act. The duo scored 27, and their score for the weekend came up to 51.
Ragini Khanna, the tez tadka to Mukti and Shashank, took over the stage with them as they presented an Afro act. The girls were brilliant at expression and co-ordination, but their concept was weak as they were not able to clearly depict the idea for one to judge. Also, the choreography was somewhat weak, which didn't bring in the energy that an Afro act would otherwise have. They scored 24. The viewers' demand for Mukti was Mujra, and with Shashank becoming a female dancer too, we had a beautifully set and expressed Mujra which had everything in the perfect blend. Be it the dance, the turns, the expressions or the important 'adaa' in Mujra, both Mukti and Shashank really pulled this one off with grace and scored full marks. Their total for the weekend was 54.
The challenge for the fourteenth week gives a new meaning to the word 'challenge', as choreographer Ganesh Acharya will be coming in as a mentor to the top 5 contestants for something 'masaaledaar' since that is the theme for the weekend. So who will be able to go higher and who needs to buck up? Let's find out next weekend! Stay tuned for more!