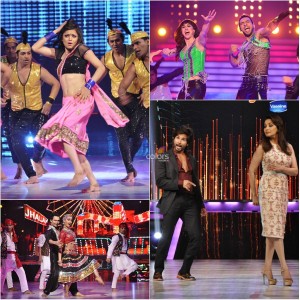 A week away from Semi-finals, Jhalak Dikhhla Jaa 6 had a weekend full of potential and glamour with a lot of hard work. Saturday was full of filmy masala with performances mentored by dance guru Ganesh Acharya, while Sunday was about international dance forms. So who succeeded in showing semi-final potential?
Shahid Kapoor and Ileana D'cruz came to the sets for the promotion of their film Phata Poster Nikla Hero. They were amazed to see such brilliant dances on the platform and Ganesh Acharya was also there to encourage the brilliant performances throughout. Salman Khan also graced the sets for the promotion of Bigg Boss 7, which will begin after the finale of JDJ. As usual, he was entertaining and fun to be with. This weekend had a special surprise in store for the contestants, as there was no elimination! The contestants were beyond happy about that and why not!
Coming to performances, this week I will start with the jodi that has left no stone unturned in making their fans and the judges proud. Lauren Gottleib and Punit Pathak gave an enthralling Bollywood performance on Saturday, full of zest. The choreography was fast, fit and innovative while the energy needed in a Bollywood performance was present all through. They scored 27. On Sunday, this duo paid a tribute to the legendary Michael Jackson through a Street Jazz performance. Well, there is nothing I can say if the Jackson fan and our to the point judge Remo loved it! This couple gave their best shot to this performance with some lovely moves that have ever been done on the stage of Jhalak before. They scored 30, which made their total score 57.
Wonder kids Sumanth and Sonali's performances set the stage on fire this weekend. With a brilliant Bollywood performance on Saturday, Sumanth and Sonali just showed everyone once again that they are not all about lifts and stunts but can do a lot of dancing too. They scored 30. As the challenge for the next day was international dance forms, it was a bonus to this pair. With a stunningly well set and brilliantly executed Salsa performance, this duo received a standing ovation from the judges. Salman Khan was astounded to see the performance! They scored yet another 30, and got the only full 60 for this weekend.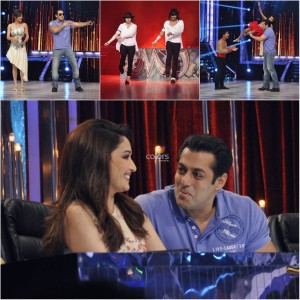 Drashti and Salman seemed to be making sure that the little problems in their performance are being worked out, as they gave a 'Halkat' Bollywood performance. The actress within Drashti came out beautifully as she danced with all her energy and expressions. They scored 27. The next day, this duo gave a sensuous Rumba performance. The choreography was well set, their expressions were nice and one lovely thing was the right body language as needed for the dance form. They scored 27 again, making their score 54.
Surprise package of the season i.e., Shaan rocked Saturday with a thrilling Bollywood performance with choreographer Sneha. Shaan's 'I am back' attitude reflected right through his moves, which surprised Shahid and Ileana. The duo scored 24. The next day, this jodi gave a beautiful Waltz performance which was mesmerizing. In my opinion, the choreography was quite good according to the act and Shaan's lead was lovely. The duo scored 24, and their total score was 48.
Mukti Mohan was all set to make everyone's feet tap as she performed the Bollywood way to 'Chhamma Chhamma'. Brilliant expressions, perfect moves and great choreography made this act work for her. She scored 26 on 30. The next day she performed a Broadway Jazz act for the international dance form challenge. As much as I loved the fact that she attempted Broadway Jazz on the Jhalak platform, the choreography was somewhat disappointing. With a dancer like Mukti and a dance form like Broadway Jazz, there should have been some serious sparks flying around. But even though the performance was entertaining, it was low key. They scored 23.
Next weekend are the semi-finals. Who will discontinue their journey after coming so far and who will move a step ahead towards the Jhalak trophy? Excitement is all over! Keep watching this space for more!