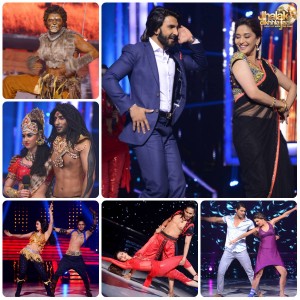 While Jhalak On Wheels evidently took the competition a notch higher, Jhalak Dikhhla Ja had the third week power packed with different forms of dances perfectly blended, as the theme for the week was dance fusion. After their challenging second week, the contestants were all geared up to give some great performances once again. The contestants in the danger zone were Shweta Tiwari, Karanvir Bohra and Srikanth.
Drashti Dhami and Salman were the first to perform, with a fusion of argentine tango and contemporary. The duo gave a seductive and beautiful performance, with some really sensuous moves which complimented the dance forms chosen by them.  This was definitely a better performance than last time and it reflected in their score as they scored 28 on 30. They were succeeded by Meghna and Savio with a fusion of Lavani and Cha Cha. While Meghna's expressions and latka jhatkas in Lavani were adorable, the Cha cha wasn't as up to the mark and this duo scored 24.
Sonali and Sumanth added another enthralling performance to their kitty with a perfect blend of robotics and salsa. These kids yet again won the judges' hearts and grabbed a 29 on 30. Then came Ekta Kaul and Tushar with a beautiful fusion of Mayurbhanj Chhau and Odissi. Ekta tried her best to compliment her perfect choreographer Tushar, who is a specialized Mayurbhaj Chhau dancer. The judges appreciated her effort and applauded at Tushar's choreography along with a score of 26 on 30.
Next up as the last performance for Saturday were Karanvir Bohra and Sneha, who performed a fusion of Kathak and Tap dance. Their attempt at the two distinct dance forms was fairly done, but the tap dance required a lot more than just that and so the duo scored 23 on 30.
Karanvir Bohra made his way out of the danger zone, leaving Shweta and Srikanth to do the Jaan ke liye Dance. Shweta managed to take two votes out of three, and Srikanth was eliminated.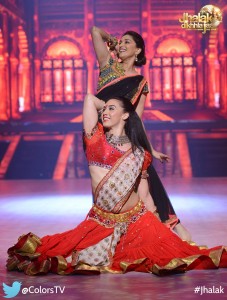 The following day, another series of performances were bowling over the judges and also Ranveer Singh, who was a celebrity guest for the promotion of his film Lootera. The first of the performances was the ever stunning jodi of Lauren Gottleib and Punit Pathak, who brought to stage a fusion of paso doble and semi classical. Whoever watched Lauren dance could never guess that this girl has never done a classical number before in her life, because even in the fastest of moments she did not lose her balance, energy or expressions. Punit was his perfect self, and the choreography was breath taking. The couple grabbed the only 30 on 30 for the week!
Aarti Chhabria and Cornel gave another energizing performance by mixing Kalaripayattu, which is from the state of Tamil Nadu with Tango. Karan Johar called it 'artistically sexy' and Madhuri said that it was Aarti's best performance so far. Aarti surely has a different control on her body and her performance in this act was better than her last act, and she scored 26. Following them was the 'Hero' of Jhalak Siddharth Shukla along with his choreographer Sonia. Their act was a combination of rumba and contemporary. The choreography was good and the song was just what Sonia would choose for a number involving contemporary. Siddharth's nervousness was evident on his face as the lifts involved in this act were intense and the judges noticed it too. The duo managed to score 23.
After last week, Shaan's confidence and performance level touched a different height as he performed an Afro combined with Krumping act on aerial. His expressions, his movements and his postures were too good for a non-dancer's attempt in the third week of the show. The duo scored 28 on 30. The last performance of the week was by Shweta and Sushant, who combined belly dancing with hip hop. Shweta's belly dancing moves were quite good along with her expressions, but the hip hop did not come out as clean as it should have, and the duo scored 23 on 30.
The episode concluded with an extremely cute 'Dola Re' segment of Lauren and Madhuri, after which the theme for the next week was announced. After some surprising performances along with participants who are determined to be better than ever next week, we are surely waiting!
Watch our space for more updates and interviews!