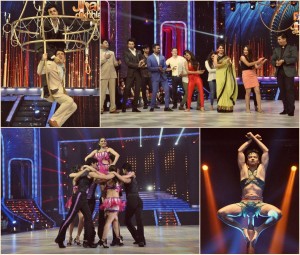 Jhalak Dikhhla Jaa 6 just got crazier and full of twists with this week's challenge, which was a division of the contestants into teams headed by the top scorers of the last week-Drashti and Lauren. The contestants had to give one team performance, which will be marked and added to their individual scores.
The danger zone had Mukti and Karan Patel to do the Jaan ke Liye Dance. Karan was eliminated this weekend.
First talking about the team performances, both the performances proved that it is not always that too many cooks spoil the broth. Drashti's team comprising of Sana, Mukti, Siddharth and Drashti herself gave a thrilling Salsa performance on a fusion of songs. Beautiful costumes, perfect entries and exists and an even better choreography made the team stand out in a different way. As the judges also pointed out, Siddharth was one wow factor of this performance. Their team scored 30 on 30.
Now little did we know that Team Lauren was also ready to compete and jive their way into the judges' hearts. With Sonali being injured and Karan's elimination, Lauren and Punit's team included Karanvir Bohra and Shaan with their choreographers. Their performance was full of energy and extremely entertaining, just like a great stage show should be. It made the judges feel like they never wanted it to end! Other than these comments, the judges showered this team with a 30 on 30 as well!
With both teams scoring 30, it was time for individual performances. Karanvir and Sneha gave an amazing Freestyle performance which was more than just choreography. Karanvir's expressions were brilliant and grooving to Sneha's steps made the act perfect for the duo. They scored 27 on 30, which made their final score 57 on 60. Coming next was the absolutely stubborn to get a 30 girl Sana Saeed with Tushar. The duo did an extremely well set and beautifully crafted Aerial Contemporary performance. Sana's confidence in performing an aerial act with Tushar's to the beat set steps brought out the best of this duo as they scored a 30 on 30, which made their total score 60 on 60.
Shaan is known to try everything he can to make his performances stand out and keep his audience happy. With a Mallakhamba combined with Freestyle act, Shaan and Marischia yet again showed their seriousness in making it to the Jhalak trophy. Even though the judges were not very happy with the act, his attempt at something like Mallakhamba and achieving at least some postures perfectly if not should have been acknowledged a little, in my opinion. The duo scored 23, and their total was 53. Next up were the always awaited to set the stage on fire pair Lauren and Punit, with a nothing less than a spectacular contemporary performance. While Punit brought out the best of contemporary in his choreography, Lauren complimented it with her perfect expressions and grace. Imagine the effort of understanding the lyrics of the song and emoting accordingly. No wonder she is loved! They scored 30, with a total of 60 on 60.
John Abraham visited the sets this week to promote his upcoming film Madras Café and to share some good moments with the contestants. He was quite impressed with their different performances!
Taking the series of acts ahead the next day were Siddharth and Mohena with a Paso Doble performance. Trying out a new dance form was appreciated and as usual, Mohena's choreography was well set. The judges still found something lacking in their performance, and the pair scored 23 on 30, which totalled to 53 on 60. Next was a dazzling contemporary act by Mukti and Shashank, which depicted a situation of natural disasters. With perfectly expressive choreography, this duo made the judges actually feel that pain that victims of natural disasters go through. Mukti's expressions were fantastic, and this act got them a 30 on 30, with a total score of 60.
Sonali being injured did not let Sumanth down in any way, as he still chose to give a solo performance despite not being marked for it. He wanted their pair to be a part of the episode and he did what he thought was right. His performance was loved by everyone.
The last performance of the weekend was Drashti and Salman, who gave another contemporary performance full of love. Their performance was a light and graceful one, but the choreography did not seem to be as strong as it should have been and the duo scored 25 on 30, making their total 55 on 60.
This week was a complete party, with such an interesting challenge being completed in the correct spirit of dance. Let's hope the contestants make the coming weekend even more difficult to judge by giving their best performances ever!