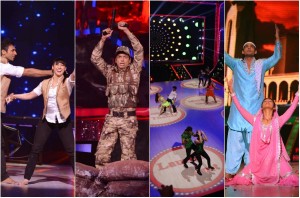 Jhalak Dikhhlaa Jaa 6 had a patriotic weekend with performances to honour Independence Day and the contestants did everything in their power to tell Mother India how much they love her. This weekend, Riteish Deshmukh visited the sets of Jhalak for the promotion of his upcoming film Grand Masti and to watch the contestants compete with grace and some amazing moves!
Due to Sonali's illness, this cute pair of kids did not perform last week. This week, Jaan Ke Liye Dance was between Karanvir Sneha and Sumanth Sonali. Karanvir was eliminated.
The challenge this weekend was Dance Marathon, which happened at the very end. This marathon had all the celebrity pairs dancing on the floor, and the judges would ask the pair with the least impressive moves to leave the floor, one by one. The first pair to leave the floor would score 4 marks, second pair 8 marks, and so on. These scores would be added to their individual marks. The pairs left the floor in the following order: Siddharth and Mohena, Shaan Marischia, Mukti Shashank, Drashti Salman, Sonali Sumanth and Sana Tushar. The marathon winners were Lauren and Punit!
The performances started with a contemporary and aerial performance by Drashti and Salman. Their concept was about how India discovered the number 0. It was a well-co-ordinated act and their aerial was nearly perfect. They scored 27 on 30, making their total score 34. Next up was an Indian Folk performance which was the culture vulture of Jhalak by Sana and Tushar. With different forms like Kathak , Lavani and many other dance forms, Sana really showed her determination in trying to master different dance forms. There were little glitches with shifting between different dance forms; the pair scored 26 on 30, and a total of 35.
Mukti and Shashank expressed their respect to the farmers of India through a lovely contemporary performance. The pain, the efforts and the dedication of the famers was beautifully expressed through this performance. The duo scored 27 on 30, and their total was 33.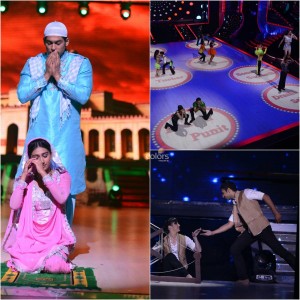 Next up were Shaan and Marischia to pay respect to the military of the country through a freestyle performance. In my opinion, this was one of the most descriptive performances that we have got recently through freestyle. However, the judges found dance missing and so the duo scored 24 on 30, with a total of 29.
A tribute to Mahatma Gandhi has never been expressed better on a platform. Through lyrical hip-hop, Lauren and Punit gave a mindboggling and stupendous performance, describing Mahatma Gandhi and his struggle. Patriotic tributes like these give Goosebumps and leave a smile on your face for God knows how long. Without much ado, their score was yet again 30 on 30, and their total was 40.
Two little golden stars with a 'classic' semi-classical performance stole the show and how! Truly, every time you think that Sumanth and Sonali have surprised you enough, they have something new to take you for another ride! Swift and perfect, before one realises what they are doing, they are already showing another move. Honestly, I have never seen so much of dance and just a few lifts and spins in any of their performances so far. The duo scored 30 on 30, with 38 in total.
The last performance of the weekend was a Contemporary Sufi act by Siddharth and Mohena. Evidently, Siddharth's flow in contemporary was much better than his last performance, and this is one of the most hardworking contestants on the show for real. The concept of Chaand Raat, the night before Eid was choreographed very well by Mohena, describing all the actions and little things that Muslims do on this auspicious night through dance. The duo scored 24 on 30, and the total was 28.
The end of the week brought about a new challenge for the contestants, as always. Next week onwards, the celebrity couples will have two performances instead of one. As the difficulty level rises and so does the level of expectations, the contestants' race to the Jhalak trophy gets more interesting. Keep watching this space and Jhalak Dikhhlaa Ja season 6 for more dance!