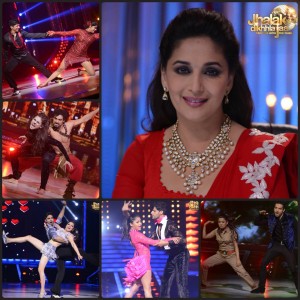 Jhalak Dikhhlaa Jaa has now reached its ninth week with its top 9 contestants, who are now fiercely competitive and stretching their hands towards the trophy. This week's challenge was item numbers, and I must say that each pair lit up the stage in its own way. With no eliminations this weekend, the atmosphere at JDJ was surely full of happiness and joy!
Mukti and Shashank commenced the weekend with a Samba performance to a hardcore Bollywood item number. They had some interesting twists in the concept, but somehow their dance as a whole did not match the judges' expectations. After the breath taking act of last week, this one was somewhere again not a Mukti level performance. The duo scored 24 on 30. Up next was that celebrity who has fought his way to the top 9 with his hard work. Siddharth Shukla with Mohena gave an absolutely stunning Rumba performance, sensuous and lovely. Siddharth gracefully performed the act and Mohena had again choreographed so well that their chemistry stood out. Siddharth moved forward on the score front and got 27 on 30.
Ever seen the epitome of Broadway perfection on the Jhalak stage? Here it was! Lauren and Punit yet again got something that no one has ever seen on this platform as they performed Broadway Jazz beautifully. Punit had choreographed this act to the best level possible and the pair received a huge round of applause with another 30 on 30. To keep the spirit of dancing alive and kicking came Sonali and Sumanth, with a bang on Rock and Roll performance that not only made the judges and audience jump out of their chairs, but also made their fellow contestants wary of the competition that these little stars are giving them. I didn't think there were any more lifts or moves that they haven't already shown on this platform, but this performance had it all and more! They grabbed 30 on 30 yet again!
Mukti's sisters Shakti Mohan of Dance India Dance fame and Neeti Mohan who has sung famous songs like "Jiya Re" from Jab Tak Hai Jaan visited the sets to support their sister. These 3 sisters had the honour of dancing with Madhuri Dixit on stage to the famous song 'Chak Dhoom Dhoom' from Dil toh Pagal Hai. Another supporter this week on the sets was TV actress Sanaya Irani, who came to support her friend Drashti and to tell Karan Johar how two actresses can be friends!
Being an item number weekend, it couldn't be complete without one of the most iconic and well performed item numbers in the history of Bollywood. Yes, Madhuri's Choli Ke Peechhe Kya Hai was performed on this stage by all the female celebrities with the dancing diva herself. This week surely added a lot of charm to JDJ Season 6 as the following day, dance maestro Remo took his boy gang to the stage with him to show how the men are no less in entertaining their audience and having fun!
Salsa queen choreographer Sneha made her celebrity partner Karanvir do a Salsa number this weekend. With a lovely Salsa choreography, Karanvir's moves looked quite polished. Although, somewhere I felt he lacked that grip that is needed to lead in Salsa and also that he wasn't quite dancing on stage. This duo scored 27 on 30, which was moving ahead from a score fixation again. Sana Saeed and Tushar were next up to capture hearts with a brilliantly choreographed Paso Doble and Krumping act. Yes, this sexy siren turned junglee billi is striving hard to get full scores and this performance was surely an energetic and perfect one. The pair scored 29 on 30.
Shaan and Marischa took up the stage to give a classy Tango performance. Their act was eye catching in its own way, as even though as the judges pointed out some technical glitches in the performance, the pair pulled it off quite well. Shaan's level of performances just raises the bar for him each week and probably that is why this performance wasn't one of his best ones. They scored 24.
Next up was an energetic Jive by Drashti and Salman. The best thing about their act was their level of energy and entertainment, which is the aim of an item number. They jived, they smiled, they enjoyed and so did the ones watching them. This fun filled act got them 30 on 30! Taking over the stage were Karan and Sharmishta with a Hip Hop act that didn't work too well for them. Karan's wild card performance was energetic and great, but this act did not have the much needed Hip Hop energy and his moves were not clean and crisp either. The pair scored 21 on 30.
Even though no elimination this week was a happy surprise, the challenge for the next week is group dance. Lauren and Punit are one team's leaders while the other team will be led by Drashti and Salman. These scores will be added to this weekend's score and thus elimination will take place. With such a twist and the family divided into two teams, the coming week surely is a race to reach closer to the Jhalak trophy!