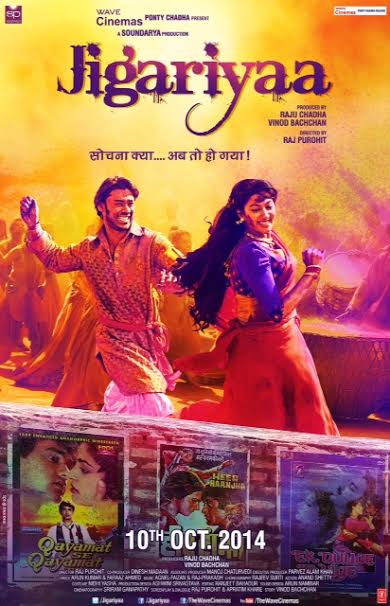 It's been said people's taste changes with time but it's not completely true. There are still few filmmakers who choose old-school ways to attract the audience towards them and also find success in it. Jigariyaa, being a love story based on true events from Agra is depicting the year 1988-89. The film has beautiful melodies which is also happened to be the music of that period in which film is based.
The songs include 'Arziyaan', 'Jigariyaa', 'Ishq Hai', 'Mora Rangdaar Saiyyaan', 'Phurr Phurr' and 'Rang Rang De'.
The song which is played in trailer "Ishq Hai" has already found its place in the hearts of the audience, the song has received 2 millions hit on social networking sites in a mere 2 week time. The other songs are also gaining popularity. The lyricist Arun Kumar – Faraaz Ahmed and the Music Directors Agnel-Faizan and Raj-Prakash have done commendable work on the music and lyrics.
On this Vinod Bachchan says, "When I got the script of 'Jigariyaa', I had already decided not only the songs will be inspired by story but the music will also portray the year in which it is made. In general, makers make mistake in choosing the music which we haven't done. I am pleased that I have fulfilled my promise which I made to myself also I am happy that we have managed to beautify the songs along with the story."
When asked the filmmaker, Raj Purohit says, "I am extremely happy that along with the film, its songs are also gaining momentum. Specially the support we received from today's young generation for the songs on social networking sites is overwhelming. 'Jigariyaa' songs are the USP of the film and for this I am grateful to the music directors Agnel-Faizan and Raj-Prakash."
Waves Cinemas Ponty Chadha presents A Soundarya productions, Jigariyaa, directed by Raj Purohit, Produced by Raju Chadha and Vinod Bachchan, starring Harshvardhan Deo and Cherry Mardia, is slated for 10th October 2014 release.