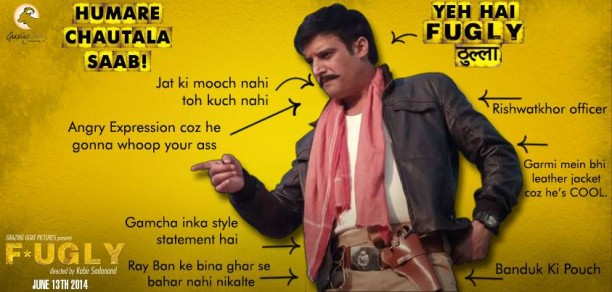 Talented actor Jimmy Shergill, known for his unique roles, will be seen in yet another interesting avatar. In his upcoming movie, Fugly, he will be seen effortlessly essaying the role of a ruthless, corrupt cop. This is the first time that Shergill will play an out and out negative role.
His character is named 'Chautala', an angry Jat who always wears a leather jacket with his signature red 'gamcha' wrapped around his neck. He is a dishonest police officer with a care-a-damn attitude, who runs into the four youngsters and decides to make life miserable for them. In typical stylish cop style, he roams around with a gun pouch tied his waist and his Raybans hung on his belt.
The trailer of the movie has created quite a buzz and fans are eager to watch Shergill on screen once again. It has already garnered over a million views on YouTube.
Fugly stars Mohit Marwah, Kiara Advani, Vijender Singh, Arfi Lamba and Jimmy Sheirgill. Directed by Kabir Sadanand and produced by Grazing Goat Pictures, the movie is slated for release on 13th June, 2014.