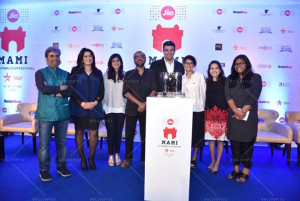 The 17th edition of India's biggest film festival, the 17th Jio MAMI Mumbai Film Festival in association with the STAR India, announced its stellar program line-up which includes new programming sections, special screenings and events. Taking place from October 29th to November 5th in Mumbai, the film festival celebrates the diversity of Indian and international cinema, showcasing the latest cutting-edge independent projects, avant-garde art house films, alongside genre offerings from Bollywood and Hollywood, with a focus on international cult movies.
The festival's presenting sponsor is Reliance Jio Infocomm (RJIL) and Associate Sponsor Partner STAR India. Mrs Nita M. Ambani, Founder & Chairperson, Reliance Foundation has been announced as Co-Chair, Mumbai Academy of Moving Image (MAMI) along with Chairperson Kiran Rao. The Festival Director is renowned writer and film critic, Anupama Chopra.
Other members of the new Board of Trustees of MAMI are Filmmakers Farhan Akhtar, Zoya Akhtar, Karan Johar, Vishal Bharadwaj, Vikramaditya Motwane, Dibakar Banerjee, Actors Riteish Deshmukh and Deepika Padukone, Mr. Anand Mahindra, Chairman & MD, The Mahindra Group, Mr. Ajay Bijli, Chairman and MD, PVR Ltd, Mr. Siddharth Roy Kapur, MD, Disney and Mr. Manish Mundra, Founder and CEO, Drishyam Films. These eminent personalities, outstanding achievers in their respective fields, are bringing together their expertise and experience to give Mumbai and India a bigger, better and even more exciting 17th edition of the Jio MAMI Mumbai Film Festival.
Starting May 15th when the call for entries was announced, the 17th Jio MAMI Mumbai Film Festival received an unprecedented number of entries of movies this year. The selection committee, programmers and curators selected the best films and have taken a decision to screen nearly 190 films in feature/documentary/short films categories.
Speaking about the return of the festival, Kiran Rao, Chairperson, 17th Jio MAMI Mumbai Film Festival in association with Star India said, "We are thrilled to announce that Jio MAMI 2015 will present, two Excellence in Cinema awards – one to an international personality and the other to an Indian. I'm also kicked to announce that our international Excellence in Cinema award will be given to the iconic Israeli filmmaker Amos Gitai who has created landmark films and won laurels around the globe including two Palme D'Or nominations. Our Indian Excellence in Cinema award will be given to two legendary screenwriters who changed the course of Indian cinema and created several classics – they are none other than Salim Khan and Javed Akhtar. We are also introducing a special section called 'Half Ticket' for kids, which will have an exciting slate of children films from around the world."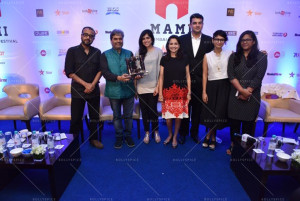 Mrs Nita Ambani, Founder and Chairperson, Reliance Foundation & Co-Chair, MAMI Board of Trustees, said, "I am honoured with the appointment and the faith that the MAMI Board of Trustees has reposed in me. I thank them for inviting me to be a part of this movement that will showcase the best of Indian and world cinema. Jio MAMI deserves to be recognized as one of the best film festivals in the world. We are convinced that Jio will have a lot to do with films, and films will have a lot to do with Jio."
Uday Shankar, CEO, STAR India said, "Star India believes in content that inspires a billion imaginations and moves the nation forward and MAMI is all about celebrating the joy of cinema. By supporting this festival we want to do our bit to fuel imagination that we all know has the power to change the world."
Announcing the stellar program line-up for the festival, Anupama Chopra, Festival Director, 17th Jio MAMI Mumbai Film Festival said, "We are here because of the generosity of many people. Foremost among them is Jio and our associate sponsor – STAR India. And I also want to thank our third partner – the Government of Maharashtra. Our aim is to create a movie-soaked week in which you can see the best of Indian and international cinema. We want to foster a cultural exchange, enable conversations and shape a cinematic sensibility."
Generally speaking about the festivval, Leading filmmaker, Mr. Dibakar Banerjee said, "I really wish Jio MAMI a great success this year as it is a cultural icon of the city. It aims to be the gateway to Indian cinema. This year, the festival received an unprecedented 248 feature film submissions in 29 languages, including Pashto, Wanchu and Jaunsari. The selection of Indian films includes 14 World Premieres, and 17 India Premieres. Audiences at Jio MAMI will get a chance to watch 31 Indian films that have never been shown before in India. 13 films are competing for the best film award in the India gold section. There are 15 fiction features and 5 documentaries in the India story section."
Announcing a new section, After Dark at the 17th Jio MAMI Mumbai Film Festival, Ms. Niharika Bijli, Director, PVR Pictures said,"The journey for MAMI, the Mumbai Film Festival and the multiplexes started back in 1997 and now in its seventeenth year, PVR Cinemas will not only encourage the homebred cinemas, but will also provide the best in world cinema. All this have been possible with PVR's association with MAMI from past many years and have been very successful. Genre films are a mainstay in world cinema, and, 'After Dark' is one of the sections of the festival. It will bring a fantastic genre films to Mumbai and these are horror, thriller, science fiction curated by Jongsuk Thomas Nam, who is the artistic director of one of Asia's biggest genre film fests PIFF in South Korea. We have six films in this section, which is opening with Ludo, made by Qaushiq Mukherjee."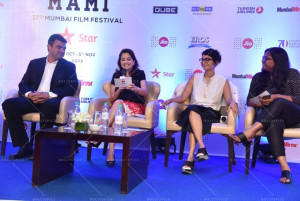 "I am thankful to Anu and Kiran who literally saved the festival. As Anu said, Jio MAMI is an inclusive movie feast as everyone looks forward to it.  Our international tribute is to the great French director Agnes Varda, who was given the honorary Palme d'Or this year.  Varda, who directed her first film in 1955, is also known as The Grandmother of the New Wave. Our Indian tribute is to Chetan Anand who celebrates his 100th birth anniversary this year. We think of Chetan Anand as the man who made the great war film Haqeeqat. But his contribution to Hindi cinema goes far beyond that," said leading filmmaker, Mr. Vishal Bhardwaj.
Announcing a very special event being organized for the first time at the Festival, Mr. Siddharth Roy Kapur, Managing Director, Disney India said, "Anu and Kiran have done an incredible job driving the festival. They have given Bombay the festival they deserve. The grand finale this year at Jio MAMI is the MAMI Movie Mela– a one-day celebration of cinema. On October 31st, when you walk into Mehboob Studio, you will enter a different world – a world of movie characters, movie merchandising, movie books, dvds and above all, movie conversations."
Smriti Kiran, Creative Director of the festival said, "This festival is the hardest thing I have done but when I meet someone who says that MAMI changed their life, all the blood and sweat makes sense. Our vision is to make sure that Jio MAMI is an exemplary experience for all its stakeholders from delegates to filmmakers to sponsors to studios to young talent, guests and continues to alter lives the way it has."
Members of the Board of Trustees unveiled the Festival's new trophy that has been created by celebrated jewellery designer Nirav Modi. "At NIRAV MODI, we are committed to the pursuit of excellence that transcends time and are excited about this collaboration with MAMI. I find a sense of harmony in movement, ­ the flow of a story, and the images which make a film. The award represents an ode to movie-makers that are able to capture moments and emotions and immortalize them in film," said Mr. Nirav Modi, Founder, Nirav Modi.
For more information on MAMI and the upcoming 17th Jio MAMI Mumbai Film Festival scheduled to be held from 29th October- 5th November 2015, visit: www.mumbaifilmfestival.com The film screenings will take place at PVR Juhu, PVR Citi Mall, Andheri, PVR LP, Phoenix Mills, PVR Ghatkopar and Regal-Colaba. To attend, viewers can register online at http://in.bookmyshow.com/mami/ or visit registration counters at the festival venues listed above.