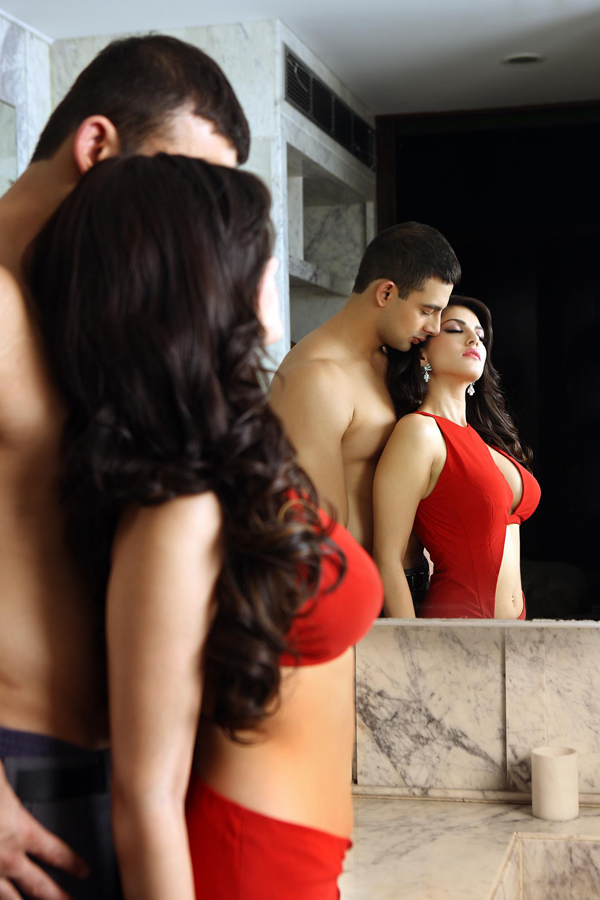 From Bipasha Basu's sensual debut in Jism, we have the unlikely but extremely suitable star in Sunny Leone who makes her entry into Bollywood in Jism 2. While Jism was a fairly good erotic thriller, it relied on that passionate music by M.M Kreem and that sizzling chemistry between Bipasha and John Abraham. The new installment features Leone, and her two heroes Randeep Hooda and Arunoday Singh who are caught in her trap. The film also marks Pooja Bhatt's return to directing after the dud Kajraare so it looks like this one might be a surefire hit. Leone made quite the furore when she appeared on Big Boss last year, and the very clever Bhatt camp snapped her up for a role that would be right up her alley. The film has a lot of live up to with the wonderful songs like Jadoo Hai Nasha and the haunting Awaarapan Bhanjarapan from the original. Admittedly, I was expecting the factory line Sufi-rock concoctions offered by most Bhatt soundtrack, but this album is quite a gem.
The soundtrack starts with Abhi Abhi, which is another one of those reliable tracks that transcends its situational appeal. The song opens like a soft-rock track with the strumming guitars and piano melody that hooks you in. It's in the simplicity of the composition and KK's lovely vocals that makes this a track that sticks with you. It works for a film like this, as it works as the romantic number and for the situational appeal. The lyrics too are eloquent and convey so much with the spare verses. KK is so effortless and reliable for a song like this, and it is lovely to hear him again with a great song like this. We do get a duet version of Abhi Abhi, but this time KK shares the vocals with Shreya Ghosal, and Akriti Kakkar. This one completely improves upon the original, as it uses more gritty guitars and drums to emphasize the emotional lyrics. Kakkar has such a deep and gritty voice that is so unique and original. She highlights her range in the quieter parts where she just excels. The portions with Shreya Ghosal are quite infrequent, but when she comes on, she's ever reliable. I would definitely go with this one.
We do finally get a female solo song in Yeh Kasoor, which highlights a different side to Sonu Kakkar's voice. The opening is quite haunting with the orchestra and background piano melody complementing Kakkar's subdued singing. The stirring lyrics by Mithoon convey that passionate love and lament of loss. Yet despite of all of this, the song feels incomplete somehow as Kakkar seemed to be a bit pitchy at times.  It does not seem to be her comfort zone, but she gives her best effort. Try this one or skip it.
Finally, we get to the track that has hooked us in with Maula, along with Randeep Hooda looking a bit unintentionally hilarious in his passionate strumming of the cello in the promos! The cello accompanies the suspenseful tone at the beginning of the song that gets you immediately hooked. The arrangements during the chorus are so industrial and striking that it makes sure that song is stuck in your head for good reason! Ali Azmat is simply superb, and he is one of the few singers who may bellow out his verses and makes it contribute to the dard of the song. The song is just a perfect combination of killer lyrics, interesting composition, and one singer who cements it to becoming such a hit.  If you don't have this on your most played list, then you're missing out!
Ali Azmat gives us a treat in the equally perfect, Yeh Jism Hai Toh Kya, where he shows off his versatility and gives a very tender facet of his voice. The melody may seem to fit right in place as a conventional track, with its piano melody, and minimal arrangements, but it just transcends that. The lyrics convey a real semblance of pathos along with the beautiful violin solos. Music director, Arko Mukherjee has created such an evocative song with the fabulous melody and a strong singer like Azmat. The song is another gem of the album that will likely have a longer shelflife than perhaps the film. Keep this on repeat.
The Pakistani prog-gothic group lend one of their songs, Darta Hoon (Adhoora), which seems like an unusual addition to a film like this. Yet despite this, it is one of the best songs I've ever heard as it's so primal and grungy. It starts off quite mysteriously with a tinkling piano melody before launching into an aggressive and fuzzy guitar riff. The chorus may sound monotone but it suits the music and style so well, but it's the female singer who adds that extra edge to the song. She has such an innocent and fresh voice that contrasts nicely as the music crescendos around her verses. The composition is brilliant as it has so many layers to savour and enjoy. It may not appeal to some, but give this one a try, you won't regret it.
Unfortunately, we do get an unnecessary trance number, Hey Walla, which feels quite inconsequential and boring. Unoosha takes the helm of the song, and she does the best with the insipid and silly English lyrics. The English verses are alongside a more traditional chanting of the Hey Walla part. Skip this one.
New music director Arko Mukherjee makes a great debut in composing four wonderful tracks that highlight his versatility and ability to create the usual Bhatt camp songs but making sure it has that edge to keep these gems with us long after the film ends. As an overall album, the album works for the film its presented for, as it has that emotional and passionate quotient evident in the racy promos. It is a very evocative, and eclectic mix of songs that just makes sense. Definitely worth a spin!