When production companies release news of future projects to come, fans and the media start spinning the wheel of speculation on who will direct and compose the music for the films. Of course, one of the biggest things that always gains the most attention is which actors and actresses will be chosen as the jodi for the film. For many fans it can be that pairing that will make or break any film more than the lack of script or direction. With Bollywood's continuing affair with screen romance fans have been treated to some epic jodis like Rajesh Khanna and Sharmila Tagore, Shah Rukh Khan and Kajol in DDLJ and more recently Akshay Kumar and Anushka Sharma, which proved to be the crutch of Patiala House. We also loved the jodi of newcomers Saqib Saleem & Saba Azad in Mujhse Fraaandship Karoge. While there have been many that have dazzled in the past, lets see which jodis we can expect to light up the screens in 2012. We did expand the definition just a bit for jodis and included a few choices that may not be just about romance as it is about chemistry on screen!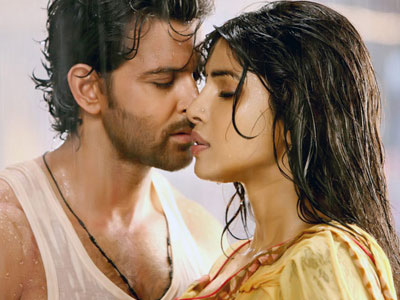 Hrithik Roshan – Priyanka Chopra
Hrithik Roshan and Priyanka Chopra have previously shared screen space in films like Krrish, but everyone is now talking about their pairing in the upcoming Agneepath. The film based on the Mr. Bachchan original, is set to show the pair sizzling on screen as Vijay Dinanath Chauhan and Kaali. In fact, seeing the chemistry between the two was actually higher on the list of 'jodis to see' than that of SRK and PC in the recent Don 2. Only excitement has surrounded the project with Karan Johar producing the film and the jodi has proven to be electric with fans giving a total positive reaction to the promos so far. While 'Chikni Chameli' might be enjoying a great deal of attention, one track stirring up the hearts of hopeless romantics is the romantic tune 'O Saiyyan'. During the song Priyanka and Hrithik can be seen getting cozy in the rain, which is gorgeous of course, but it is the pure emotional picturisation of the track that makes everyone sigh. With Agneepath due to hit screens on the 26th of this month fans will not have long to wait for one of the hotly anticipated jodis of the year.
Imran Khan and Kareena Kapoor are both familiar with romantic comedies and their next film proves to be no different. Ek Main Aur Ekk Tu, which is due to be released at the start of February, will be produced by UTV and Dharma Productions. The fresh rom-com is about two totally different people that when after a night of having way too much fun and way too many drinks they wake up and find themselves married. From what we have seen so far it seems we can expect laughs and romance in abundance. So far the pair have received positive comments with the release of music videos and trailers and even Imran comments saying, "Kareena and I have a fantastic chemistry in the film. We have been appreciated by a lot of people." The songs are proving the be a hit among the younger population along with the insider video blogs from Imran, so we predict a very good response with many fans turning out for this fun flick. We also hear the jodi is so good together that they have already signed a new film together but that may have to wait until next year's list!
It may seem to some like a bit of an odd jodi but to us when we heard they would be in a film together it just brought a smile to our lips. They are starring in Jodi Breakers, a cute romantic comedy, which as the title suggests, is about two people who go into the business of breaking couples up. From what we have seen so far they sparkle together and this is going to be one that surprises the doubters. Both Bipasha and Madhavan agree. Bipasha told TOI, "My pairing with Madhavan is very unusual and our chemistry in the film is just perfect." While Madhavan says, "In Bipasha I have found a charming, fun and talented co-star. She is so full of life. Now I am waiting for the release. Do wish us luck!". We will see the two soon because Jodi Breakers hits theaters at the end of February.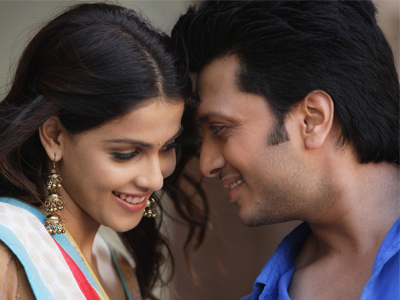 Riteish Deshmukh – Genelia D'Souza
Could there be a cuter couple than Riteish and Genelia? We loved them in Masti and finally they are paired opposite each other in Tere Naal Love Ho Gaya. Once again the bubbly Genelia and the funny Riteish are perfect for each other and their spark shines even in just the stills from the film. The two stars are a couple off screen as well and after the film's release they will tie the knot, how sweet is that? We also hear that because they are getting married in real life the producers and director of the film changed the ending so that their characters in the film get married in reel life! Awww! We look forward to seeing both shaadi's and wish them a very happy married life!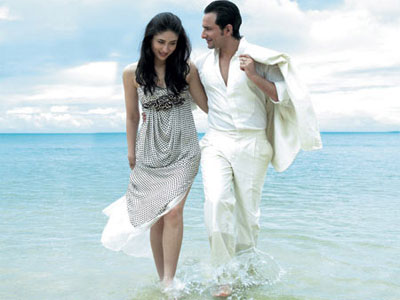 Saif Ali Khan – Kareena Kapoor
Saif Ali Khan and Kareena Kapoor can not only look forward to a wedding in 2012 but also the up coming release of their film Agent Vinod. While the film has undergone a series of delays in production, director Raghavan confirmedm "Saif and Kareena did their last shooting for my film on December 24 and left for their holiday. We are now in post-production work. The release date is March 23." The official poster release has stirred up a great deal of interest with some stating it feels like a Bond film promotion. While Saif is to play the lead in the film, Kareena is set to play the role of a secret agent, quite the removal from her recent comedies. Kareena in the past has voiced her dislike of doing her own action stunts but admits that for this production Saif was able to convince her to do them, something, which she actually enjoyed. In terms of their personal relationship, the two have stated that they can only prepare for a wedding after the release of the film. We can't wait to see what they have in store for us both off and especially onscreen in Agent Vinod!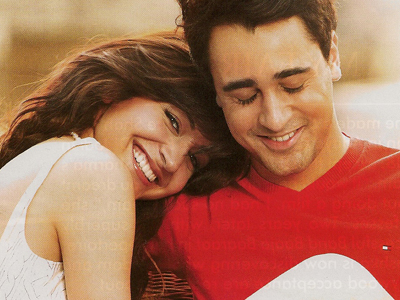 Imran Khan – Anushka Sharma
Imran Khan and Anushka Sharma made it onto our magazine countdown with a sizzling cover radiating nothing but chemistry between the two stars. The two young stars previously expressed their desire to work together in the future and that wish came true because they are starring opposite each other in Matru Ki Biwi Ka Mann Dola. Both have been riding high recently with a collection of hits between the two but this Vishal Bhardwaj production should prove to be a bonus for both. While we have previously seen Anushka in typically Bollywood roles, fans can expect to be in fits of laughter watching her play the role of a psycho chic in this urban comedy. We will also see Imran take on a different avatar of a village and a sport a very new look. This won't be the first time both have taken to the comedy genre with both proving their comic timing in Delhi Belly and Band Baaja Baaraat. Bhardwaj is also appreciated for bringing out the most in his actors and we can't wait to see how he transforms these two. With both Imran and Anushka known for giving their all to their work we can only expect that all will be leaving cinema houses satisfied.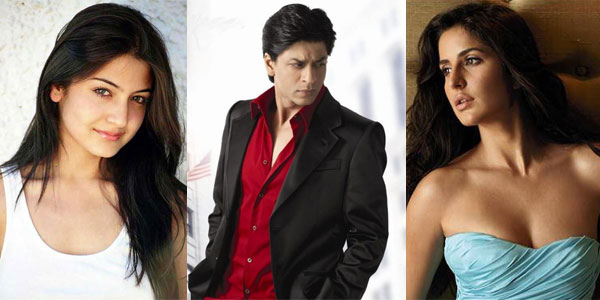 Shah Rukh Khan – Katrina Kaif – Anushka Sharma
When industry heavy weight Yash Chopra announced his new directorial project under his banner Yash Raj Films, the media went wild speculating on which stars would be chosen for the project. Given that Shah Rukh Khan has a strong relationship with Yash Chopra it was expected that he would be approached to be the hero for the film. Katrina Kaif and Anushka Sharma were signed up not long after proving that the untitled film is set to be a blockbuster. While King Khan has previously worked with Anushka, this will be the first time he will get to romance Katrina in a lead role. As expected with any Yash Chopra project, the lips of those involved remain tight as to the nature of the project. The one thing we do know is that SRK tweeted, "Feel extremely happy when I work with Yashji from the inside. Easy smiles, happiness, purity of storytelling." One thing we can be certain of is that this film being a success with Yash Chopra previously giving us hits like Veer Zaara as a director and Faana as a producer just to name a few.

Ranveer Singh – Sonakshi Sinha
Ranveer Singh and Sonakshi Sinha both ruled the 2010 award season separately sweeping up countless awards for the best new comers in Indian cinema. While both had be praised for their strong chemistry with their costars in Dabangg and Band Baaja Baaraat, the media continued to speculate about the personal chemistry between the two. Well, fans will finally get to see the two stir up some chemistry in front of the camera in Lootera. Director Vikramaditya Motwane has worked hard to keep his project under wraps, but he has revealed the script follows a Bengali story set in the 1950s. Even more appealing to audiences is the news that the production team is wishing to use some of Dev Anand's most classic tunes for Ranveer to woo his costar. The film is currently being filmed in West Bengal but has recently lost part of his budget due to some damage from a snowstorm. Despite this set back we are sure that the chemistry between the two will help get people to the cinema.
In a time when 40+ actors often are paired with actresses who could be their daughters, it's a delight to see Sanjay Dutt reunited with the lovely Juhi Chawla. After Safari, an entertaining mix of Crocodile Dundee and Romancing The Stone, shot in the 90's and released in 1999, Sanju and Juhi will be seen together again in Ajay Devgn's home production Son Of Sardar, an action-comedy with, as Juhi revealed, "a little funny comic romance between us". Well, obviously Sanju and Juhi have a lot of fun on the sets, according to that story of Sanju cooking tea for the entire unit and Juhi holding the umbrella over him as it was raining heavily… All the best for this loveable jodi!
Twelve years ago, Sanjay Dutt wooed Karisma Kapoor in Chal Mere Bhai but in the end large-heartedly stepped aside and made way for his younger filmi brother Salman Khan. This time, things look better for Sanju when in his next home production, a remake of the Amitabh Bachchan and Hema Malini starrer Satte Pe Satta (loosely based on the musical Seven Brides for Seven Brothers). Karisma will play the leading heroine, for though she surely first will teach the rowdy bachelor some manners, all the signs are pointing to a happy-end for this jodi who already charmed the audience in Chal Mere Bhai.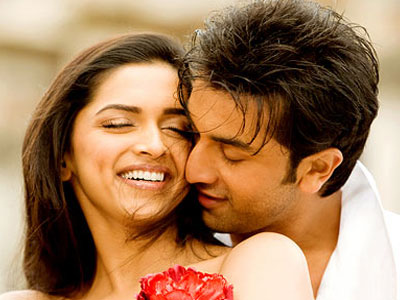 Ranbir Kapoor – Deepika Padukone
Ranbir Kapoor and Deepika Padukone are another pairing that has enjoyed some screen time together but fans were left wondering whether the two would be seen together on screen after a very public breakup. Well, that question can be answered and we can positively look forward to seeing the two light up the screen for Ayan Mukherjee's next film, Yeh Jawani Hai Deewani. The film, which is due to hit the floors this month, will be produced under Dharma Productions. After the success of Wake Up Sid, we are excited to see what Ayan will bring us in his second film and with this jodi as the lead pair you can see why this one made it to our list!
Like many of our Bollywood forty something actors, Akshay Kumar's female costars continue to be some of the young and hottest stars in the industry, and in 2012 Sonakshi Sinha will star in not one but two films with the actor. What is so interesting is that the films could not be more opposite, one a full on raw action film, one a sci-fi 3-D epic. First up is Rowdy Rathore in June. The buzz about the jodi and the film is very high, especially with Akshay going back to his action roots in the film! Later in the year, the two will also be seen in Shirish Kunder's Joker. Talking about the project and the jodi the director said, "Joker will be India's first 3-D magnum opus. And the reason why I've signed Sonakshi is because she is ideally suited for the role. Also, Akshay has acted with almost every heroine on the scene. Sonakshi and he are a fresh pair; the casting is already creating ripples." We predict great things from this jodi and can't wait to see them in the two completely different films!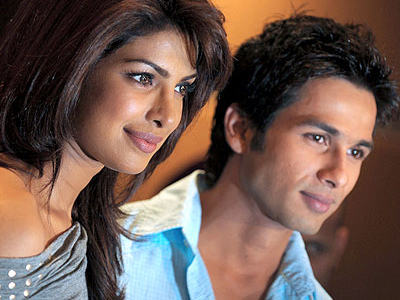 Shahid Kapoor  – Priyanka Chopra
We have seen the two actors together in Vishal Bhardwaj's Kaminey, and in the black comedy their connection as Sweety and Guddu added to the fabulousness of the film. So much so that fans were crying to see the couple in a pure filmi romance. We got our wish because the master of romance Kunal Kohli has paired the two in the still to be named film that is being called a timeless epic romance. We not only get to see them fall in love once, we get to see them romance four times, in four different avatars and in four different eras. About the film and his actors the director tweeted, "And it's a film wrap. Took the last shot of @shahidkapoor & @priyankachopra, don't ask how I'm feeling. Overwhelmed! Love my team. Will miss them. Looking forward to bringing this one to you all." We are looking forward to seeing it and this jodi too Mr. Kohli!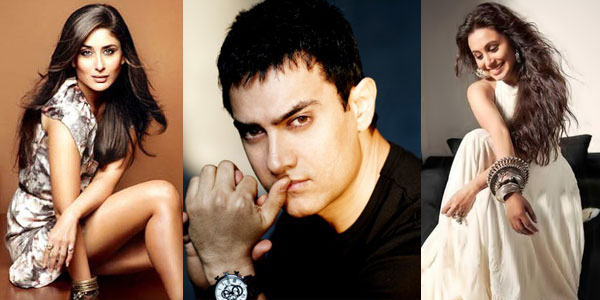 Aamir Khan – Rani Mukherjee – Kareena Kapoor
When we heard that Aamir would be starring with Kareena Kapoor AND Rani Mukherjee in Talaash, needless to say this combination of excellent actors immediately made it on this list and our films to look out for in 2012 (but more on that in the next countdown). Talking about starring with Kareena and Rani, Aamir wrote, "Well, the lead actresses for my new film have been locked. Kareena and Rani. Am so happy to be working with Kareena again after 3I, and most excited about working again with Rani after so long. Difficult to concentrate on my work with such beautiful co-stars around " Directed by Reema Kagti, who most recently wrote the screenplay for Zindagi Na Milegi Dobara, Talaash is said to be a suspense thriller. Aamir revealed a bit of the story, "Talaash actually goes very well with each of the characters. Kareena, Rani and me, all three of us are in search of something." Seems we will get our first look at the trio and the film because we hear a teaser promo is coming with Agneepath on the 26th!
Though never fully confirmed Salman Khan and Katrina Kaif were rumored to be a couple in real life but in reel life they never had a prem kahani together. We will finally get to see that in Yash Raj Films' Ek Tha Tiger directed by Kabir Khan. Fans have been clamoring to see the two romance onscreen but with a tag line "All his life he fought for his country. This time he fights for his love", this is not your typical Yash Raj filmi song and dance romance! We can look forward to the sparks because we are sure they will fly off the screen in this romantic thriller that is set for an Eid release!
They may have only first worked together in We Are Family, but Kareena Kapoor and Arjun Rampal were praised for their chemistry in the film holding their places next to Kajol. Film goers will have their chance to see the two come together again but it promises to be a more racier pairing in the film Heroine directed by Madhur Bhandarkar. The film, which has been compared to recent box office smash The Dirty Picture, is set to see Kareena essay an up and coming actress and the journey she takes within the industry. Along the way she falls in love with Arjun Rampal's character who is also an actor. Arjun Rampal has said, "It is a beautiful love story about what happens to two characters from the same line of work and how much misunderstanding is created by people who are supposed to make that communication easier." We have a feeling this love story will have us riveted to our seats!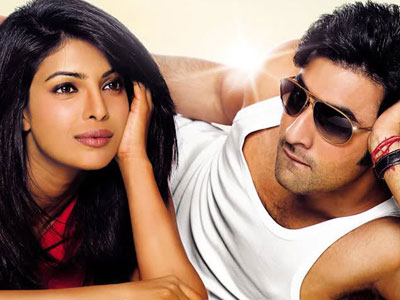 Ranbir Kapoor – Priyanka Chopra
When we first heard that in Anurag Basu's Barfi, Ranbir Kapoor would be playing a deaf mute and Priyanka Chopra would be playing an autistic woman in a romantic murder mystery, to be honest, we sort of scratched our heads. However, we were definitely looking forward to seeing these two outstanding actors together in a film again after the chemistry they had in Anjaana Anjaani and knew that they both would do the challenging characters complete justice. It seems our belief in that is to be trusted because at a recent UTV preview, Barfi was given rave reviews. "Wow, super, fantastic, superb, wait with baited breath, and Barfi is the film to look out for in 2012" were just some of the words used on Twitter to praise the film and the performances of Priyanka and Ranbir. We can't wait to join in the praise and perhaps give them a standing O!
Looks like it is going to be a very good year for fans of Bollywood with some very interesting jodis entertaining us in some very exciting stories and romances on the silver screen! It will be interesting to see at the end of 2012, which couples will make it on our Best Jodis of 2012 list!
With contributions by Ingrid Zellner and Stacey Yount