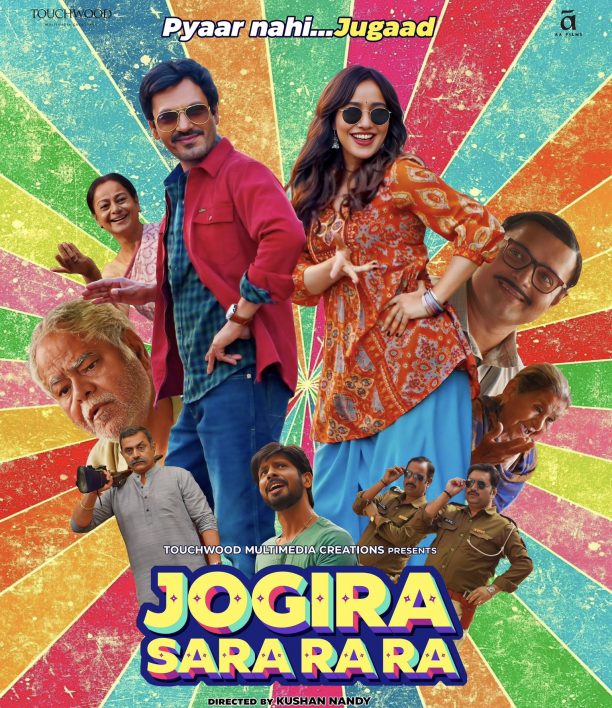 Jogira Sara Ra Ra
A stellar cast especially Mahaakshay Chakraborty as a naïve nerd, ensures you stay invested in this small town comedy of arrears.
Yeah yeah, I know. Not another one. But before you groan, consider this: almost every member of the vast cast has a blast; even the usually weepie Zarina Wahab lets her hair down as Nawazuddin Siddiqui's long-suffering matriarch….Just kidding!
Suffer karen inke dushman. Janaab, yeh safar toh suhana hai! These are characters who know how when and where to extract optimum juice from life's vicissitudes. These are jolly jugadus, none more so than our hero Jogi played by Nawazuddin Siddiqui who has a thing about marriage as an institution. He can't stand anyone getting married. Don't look for media headlines in Nawaz's character.
So when Dimple Chaubey(Neha Sharma), a direct descendent of Kangana Ranaut in Tanu Weds Manu, swigs her way through many plastic glasses of the strong stuff, it is time for Jogi to save her from marriage to an ardent suitor, Lalu, played with a disarming joyless sincerity which comes naturally to born losers, by Mahaakshay Chakraborty. His performance is the feisty film's highlight.
But making Mahaaskhay does to "I am a disco dancer' was a bit too much. We get it.
Although steeped in the mofussil ethos (which, let me state, has become a formula for a certain kind of cinema where everyone speaks in thick accents and turns up the volume of vernacularism) there is still a certain charm in the ethnic effusiveness of Ghalib Asad Bhopali's screenplay , even when the plot gets tangled in its own web of wackiness in the second-half.
Although there is no discernible chemistry between the lead pair, Jogira Sara Ra(whatever that means!) is a joyride in a jalopy that gives you a little ticklish feeling in the tummy even as it rolls down from the heights of expectations it creates initially and is unable to sustain the festive mood till the end.
Nonetheless there is considerable fun in watching these characters grow 'winks' and soar to the skies in from of our eyes. There is a likeable aura of mischief that stops these clamorous characters from becoming annoying in their insistence on being noticed. At times, the tone and mood seem to suggest a subversion of the traditional rules of cinema on small towners. Most of the time , these are people so full of themselves and their provincial providentialism, you can't stop yourself from smiling at their need for attention.