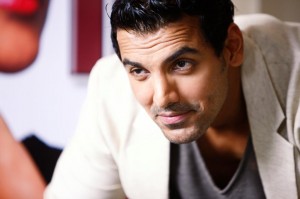 Bollywood hunk John Abraham took the opportunity during a recent promotional event for his new blockbuster romantic-comedy I, Me Aur Main, releasing through Reliance Entertainment on 1st March 2013, to get up close and personal to some lovely ladies – but alas, it was all in the name of work as the gorgeous actor met with female journalists in Mumbai to discuss his new film and to answer some intimate questions about love and relationships. And according to all sources present, the event turned out to be a no-holds-barred, candid chat, as John bared his soul.
The cheeky chappy actor is quoted as saying: "The movie promotion of I, Me Aur Main was just an 'excuse' to have a heart-to-heart chat with a few ladies from the media over a cup of coffee."
The 'women only' event was a real treat for the media ladies as they blushed their way through the session with Bollywood's leading man of the moment, with no cameras being allowed in to track the event. The actor truly dropped his guard and became a relationship guru for a few hours.
Some of John's most candid and deep-felt answers were about his girlfriend Priya Runchal, and his ex-flame, Bollywood siren Bipasha Basu.
He said about Priya Runchal: "Priya and I met through common friends. Definitely there was attraction, but it takes much more than physical attraction to be in a relationship. I am in a happy space right now. She is extremely supportive and prefers to be away from the public eye. If she calls me at 11.30 in the night and I am caught up with something or am tired, she says I should take rest or go to sleep once I am done with work. It means a lot to me.
He added: "She gives me space and I give her space. She is currently in London to pursue her two-year full-time MBA, so ours is a long-distance relationship. We will get married when I take a break from work."
John also talked about the importance of loyalty in a relationship, saying: "It's important to be loyal. Loyalty, to me, is to be with the one person that you are in love with. I am not a possessive boyfriend though."
Then came the question on everyone's lips – John's thoughts about his ex-girlfriend Bipasha Basu, with whom he had a long-term relationship. John simply stated: "I don't speak negative about my past relationships. I don't pay attention to what is written. After a while, it stops affecting you."
In I, Me Aur Main, the charming John Abraham (Academy Award nominated film Water, Housefull 2, Force) plays Ishaan, a charismatic, strikingly handsome music producer from Mumbai. A typical city boy, Ishaan leads a sheltered life that mirrors around himself and his wants and his needs. His self-absorbed existence revolves around his mother (Zarina Wahib – My Name Is Khan, Agneepath), who rests on his every word and caters to his every whim, his over-protective elder sister Shivani (Mini Mathur – Dil Vil Pyar Vyar ) and his long-suffering girlfriend Anushka (Chitrangda Singh – Desi Boyz, Hazaaron Khwaishein Aisi). Ishaan takes all the devoted women in his life for granted. But one day his picture perfect life comes crashing down around him with sad, poignant and amusing consequences. Alone and sad, Ishaan's new neighbour Gauri (Prachi Desai – Rock On, Bol Bachchan) comes into his life and creates a whirlwind of positive change for him. From her he learns the importance of relationships and valuing women.
I, Me Aur Mainreleases through Reliance Entertainment on 1st March 2013.