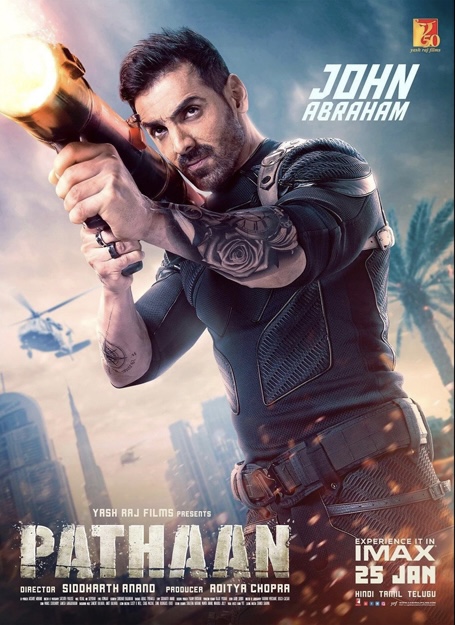 YRF's Spy Universe unleashed a notorious villain in the form of John Abraham aka Jim in Pathaan. A patriot-turned-ruthless mercenary, John has been given unanimous praise from critics and fans alike for his brilliant acting and skill in the action sequences.
The actor is ecstatic about Pathaan's success. What means even more to him is that audiences love his performance, especially since he is the bad guy in the film.
John says, "It is incredible the amount of love that I have been receiving for playing Jim in Pathaan! As an actor, I only work for the love of audiences and fans. Records and milestones are a huge bonus and I'm grateful that Pathaan is such a historic blockbuster. I didn't expect that people would love my character so much that they want more of Jim to be given to them."
He adds, "I'm astounded by the number of messages I'm getting daily on my social media about how there should be a prequel to Jim. When people almost always root for the hero, and that hero is Shah Rukh Khan in Pathaan, it is hugely gratifying that people are rooting for the anti-hero too! I'm fortunate that my work in Pathaan has spoken loudly and hopefully, I have managed to give people an anti-hero that they will always remember. That was my intent when I heard Pathaan."
Fans have been clamoring for a solo prequel film for John's character, which thrills the actor and he hopes Aditya Chopra, who is carefully building the YRF Spy Universe, brings Jim back and tells the world his backstory.
Speaking about what he loves about Jim, the leader of notorious Outfit X, a band of deadly gun-toting mercenaries on hire, John says, "Jim is a refreshingly suave villain, with very well etched out characterisation that dives into why he became what he became! Imagine the pain he endured, imagine the hurt that broke him and turned him into the man he became. To me, Jim was a very powerful character and yes, it would be great if Aditya Chopra wants to bring him back and tell the world how good a super-spy he was and how he became a ruthless mercenary later!"
He adds, "As Luthra says in Pathaan, Jim and Kabir are the best in business. So, there could be lots to explore if a film is made on Jim. I don't know what Aditya Chopra has in mind. As of now, I'm relishing the love that's coming my way and I'm thankful that I have entertained people thoroughly."
Yash Raj Films' Pathaan, directed by Siddharth Anand, is a historic all-time blockbuster. The film is on an incredible run at the domestic and overseas box office and has now collected about 888 crore gross worldwide with the second week coming to a close!
Pathaan, on its second Thursday, held up strongly and was rock steady with reduced ticket prices. It collected 5.95 crore nett in India (Hindi – 5.75 crore, All Dubbed versions – 0.20 crore). The second week collection of Pathaan is at a staggering 94.75 crore nett in India (Hindi: 91.50, dubbed: 3.25 crore)! In two weeks, Pathaan has recorded $41.02 million in the overseas territories alone, while nett collection in India stand at 458.90 crore (Hindi – 442.50 crore, Dubbed – 16.40 crore)! The total worldwide gross is an incredible 888 crore (India gross : 551 crore, overseas : 337 crore)!
Pathaan is now the highest grossing Hindi film worldwide in the history of Hindi cinema and also the highest grossing film of YRF's Spy Universe!