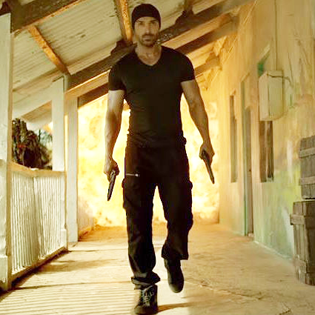 The producers of Rocky Handsome have kept their promise of delivering "Never Ever Seen Before Hand to Hand Action in an Indian Film".
This is what John Abraham and Sunir Kheterpal had promised right through the promotional campaign of the Nishikant Kamat directed Rocky Handsome. Nishikant had corroborated the same. Guess, they were saying this in all the right earnest!
While there have been numerous hand-to-hand combat sequences that have been seen in films from Bollywood as well as Hollywood, what has been on display in Rocky Handsome is truly a new experience, at least for those who have grown up on Hindi films.
Now that's what makes Rocky Handsome a paisa vasool affair. Add to that the 'seeti maar' interval point and you know that John Abraham has pretty much set this film for the audience that loves to see its hero emerge victorious after bashing up 10-20-30 baddies in a go. Of course, 'being real' is in. However, how much have we missed some bone crunching action on screen that gets your adrenalin pumping. One gets that and more in this Nishikant Kamat film.
What keeps you engaged right till the end is the pre-climax and climax fight which is truly brilliant. It can well be said that John truly worked on making his action avtar come different from the rest of his ilk, and it all pays off as well. It is breathtaking to say the least, especially the knife fight where he and Thai actor Kazu Patrick Tang are together. It is truly magical, more so because it is generally very rare to see a hero and a villain as equals when taking on each other in the ring.
That is not the case in Rocky Handsome as in both the sequences where John and Kazu are together, it is a fight amongst the equals where you do realize that the eventual result could go either way. Whether it is the restroom sequence earlier on or the one that takes place in the hall of the villain, the combats are superbly choreographed with the right humane angle coming in. Thankfully, there is no stereotyping that comes in with hero necessarily bashing the villain, and this is what makes Rocky Handsome pretty relatable when it comes to these fights.
As for the other 'item fight sequences' (as pointed by John himself), you do know that it is time to sip the cola and munch that popcorn even as baddies (with axes galore) try in vain. They are felled, and with style.