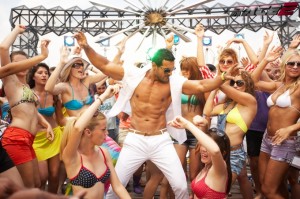 John Abraham has apparently refused to promote Ramesh Taurani's Race 2 at the Mumbai Marathon, but the producer is still hoping that John changes his mind.
John has been an active part of this marathon for several years now, but reportedly the actor does not want to mix business with the passion of several fitness oriented people including him, and that is mainly the reason why he does not want to promote the film there.
John said that he has no knowledge about the film being promoted on the marathon platform and he is not endorsing it. "Mumbai Marathon is here to support NGO's. If one film's promotion happens on this platform, it will eventually become a trend. This marathon is for a particular cause and it is not right to shift focus from the cause to a film's promotion. I don't think I will encourage this, even if it is my own film," he added.
The second side of the story from producer Ramesh Taurani goes in a different direction. Ramesh says that John has not completely refused to do the promotion yet. "The promotion is still in talks with the organizers and we have not come to any conclusion so far. We still have to work dates out," he stated.
Race 2 is directed by Abbas-Mustan and also stars Deepika Padukone, Jacqueline Fernandez and Ameesha Patel.