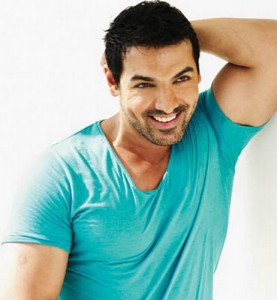 We have seen and heard much more of India's hottest man this year more than any other in the past, but for fans it's a welcome surprise that they could easily get used to. This year has been an important year for John Abraham, and the star admits that he has become a changed man and for the better. With films lining up left right and centre, the star looks forward too more "inspired living" in the future.
"I think I have let myself go. I have opened up and let my hair down gradually. So the change is evident, both in my personal as well as professional life," say John during a telephonic interview with a leading newspaper.
The year started on a difficult note with the 38-year-old splitting from his girlfriend of eight years, Bipasha Basu – something that caused the star to be quite reticent. However, John has channeled his energies into his work and thanks to heavy movie promotions, he has come out of his shell. This year has seen a list of successful releases including 7 Khoon Maaf, Force and Desi Boyz with each film being successful either with critics or fans at the box office. Force has been so successful at the box office that is being considered as John's most successful release of his career, which started in Jism.
Commenting on his success John said, "I am happy. This is the best phase of my career so far. But you never know how long this lasts! With my present slate of films, I can look forward to ups and downs, but I would like to believe that I have a safe set of projects in my kitty."
Commenting on whether the much-talked about sequel to Mahesh Bhatt's Jism could also be in the pipeline, he said, "Well, I can't say anything right now. Bhatt saab spoke to me about the film, but I have been busy shooting. He spoke to me and said: 'John, I'm planning something on it.' But that's about it. I have not even read the script yet; so I can take a decision only once I do that."
Despite nothing set in stone for a Jism 2, John will not be short of work to choose from next year. In fact his visibility on and off screens will only rise with a line up of films like Race 2, Housefull 2 and I, Me Aur Main.
For the actor, however, he looks to find time to look after himself properly while he continues his shoots. "Inspired living to me is self-actualisation…it is beyond the physiological needs of people. I would like to believe that I lead an inspired life. But I guess with the kind of lifestyle I lead, it's a little far beyond for me to achieve. But every day, I am trying to attain it."
His personal life also appears to be growing from strength to strength with his new girlfriend Priya Ruchal. After his very public breakup from Bipasha Basu the star and suffered a bashing from some in the media but the actor his voiced his intentions to settle down on platforms like Simi Selects India's Most Desirable. Sources claim that John is prepared to get engaged to Priya as early as April 2012, followed by a wedding towards the end of the year.
While John works hard during his shoots he is also taking his role as ambassador for electronics brand, Haier very seriously. "Technology is a major part of everyone's life these days. I like to lead a simple and basic life, but there's no escaping from technology. You can't run away from it…not even if you miss the magic of handwritten letters. But I feel if one has to use technology, they should do it in a way that supports eco-lifestyle," he said
With his return in Dostana 2 also confirmed earlier this week, fans can look forward to seeing plenty of John in the future.