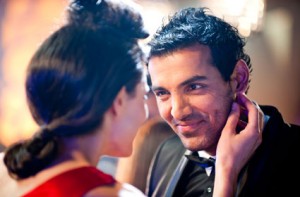 Single, sexy and a superstar;  John Abraham is well known for his riot-inducing hotness factor, demi-god good looks and a chiseled body and now his single status making him the most-desired hunk in Bollywood.
For all those ladies who want to know what John has been up to these days – Here is a sneak peak:
The star that was recently voted 'India's Sexiest Bachelor' by Big CBS Prime, was seen partying hard and hanging out with a bevy of beauties at a nightclub in South Africa. The star was shooting for a TVC for Van Heusen's clubwear – VDot. The commercial features John turning on his charm and enjoying all attention much to the dismay of the second fiddle. When asked about the female attention surrounding him, John was all praises for them – "It's so exciting to shoot with such beautiful women, because they're nice, they're simple and they have so much energy." Talking about the shoot he also said, "The script demands that you have these women. More than that I think it accentuates what VDot is about".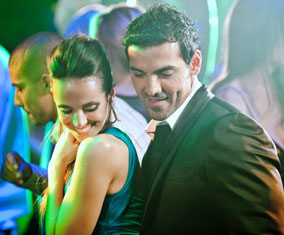 Will John be flaunting his perfect body for the TVC like he did last year?  He will surely be flaunting his new wardrobe. This sizzling brand ambassador has already got his new party look in place with V Dot's smoking-hot 'wearable couture' line made for the perfect fit in more ways than one. And when the combination fits so impeccably, who are we to argue?
The latest V Dot TV commercial will be out in another couple of weeks. TURN IT ON!!
About the Campaign
What happens when you combine an eclectic collection, the very cutting edge in sophisticated fashion, with the raw masculinity and almost effortless sex appeal of John Abraham? You get an amalgam that's bold and sophisticated, yet simply irresistible. An idea that can be encapsulated in one thought: Turn it on.
"Turn it on" demands you raise the bar and the stakes. It demands you turn on the heat and set the party ablaze.