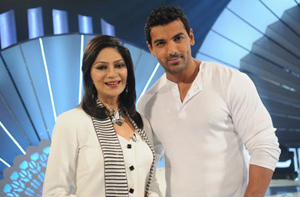 Bipasha Basu recently confirmed the news that her and John Abraham had split up.
John Abraham, who had previously not officially confirmed the split, has finally opened up about the reason the power couple of Bollywood parted ways after 10 years together.
The Bollywood actor decided to break the silence by telling Simi Garewal, on an upcoming episode of India's Most Desirable, the reason why he called it quits with the Bollywood beauty. "The silence lasted too long and I guess it was time (to break it). I'm solely responsible for the split — I did not want to get married."
John admitted that he is "probably the reason" their "relationship didn't work."
The actor also went on to put down rumours that the couple split due to disloyalty. He told Simi, "We had decided, if we ever parted ways it, won't be for another man or woman."
John Abraham and Bipasha Basu were first seen on the big screen in Jism, and went onto appear in other films together such as Aetbaar, Madhoshi and Dhan Dhana Dhan Goal.