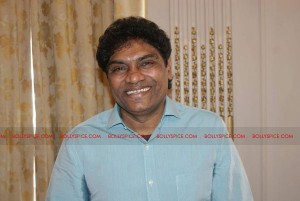 You will have seen Johny Lever numerous times in many of the 400 films he has been in and many of you will attest to the fact that nothing is funnier than seeing him live on stage. Britain has a great tradition of stand up comedy and live entertainment and in the past few years Jay Kotak from Jay's Entertainment has brought a magnificent line up of artists to the UK. These include artists such as Pakistan's singing sensation Atif Aslam, Indian queen of melody Shreya Ghosal, Bollywood's singing supremo Sonu Nigaam and upcoming comedians such as Raj Pal Yadhav, as well as veteran actor and comedian Paresh Rawal.
In the month of May 2012 Jay's Entertainment brought to Britain, back to back stage performances by Bollywood's legendary comedian Mr. Johny Lever. Bollyspice were at a press conference with Johny which you can read here. Now we have some highlights and video clips from the shows.
The opening show took place in Bradford city, at St Georges Concert Hall on 2nd May 2012 and opened to a packed audience. Johny displayed his comic singing and dancing talents by doing his very own rendition of the smash-hit song 'Sheila Ki Jawaani' from Tees Maar Khan! Known for his mimicry talents, he treated audiences with a number of impersonations of famous personalities and one which stood out in particular was his impersonation of King of Pop Michael Jackson! Johny ticked the audiences with his stories from when Jackson visited India.
Next stop was Watford Colosseum on 5th May 2012 where audiences were given an extra special treat: Johny's daughter! Jamie Lever, who studied in London, took to the stage in what was her debut comedy performance. Cleary inheriting her father's comic genes, the audiences not only enjoyed her performance but also appreciated being witness to the premier performance of a new rising star. Many left the show muttering: "Guess what, we saw Johny Lever's daughter on stage!" Now that is what we call two for one!
The final leg of the tour was DeMontfort Hall in Leicester on 6th and 7th May 2012. The backbone to many great stage performances are undoubtedly the supporting artistes and as with the other shows, Johny was joined by comedian Gurav Sharma and Mahesh D, an act by a Salman Khan look-alike and a performance by Abbas Hassan, a Canadian-born French-Asian pop music artist. With Leicester being home to one of the largest Gujarati communities, much of the humour was focussed on Gujaratis which was not only apt, given the audience, but also had them in absolute stitches!
Johny's laughter will remain with audiences for a while to come and most uniquely for any comedy show, Johny left audiences with words of wisdom and food for thought. Here's our plea to Jay's Entertainment to bring Johny back again soon and meanwhile we look forward to them bringing many other great performers to England…
Check out some clips from the Watford Colosseum show:
http://www.youtube.com/watch?v=W9dwySqkXF4
http://www.youtube.com/watch?v=w3ctRbc-9qU