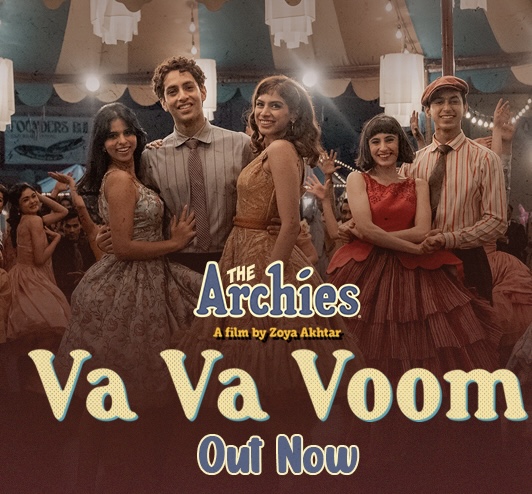 The highly anticipated The Archies helmed by filmmaker Zoya Akhtar, stars a talented cast of young actors. Based on the classic comic book, The Archies, a live-action musical, is set to release in December on Netflix.
Now we get another look into the world of The Archies!. The creators of the film have dropped its second song titled 'Va Va Voom', a groovy time machine ride to the '60s rock and roll era. 'Va Va Voom' is composed by the dynamic trio Shankar–Ehsaan–Loy, penned by renowned lyricist Javed Akhtar and sung by Tejas Menon.
An oh so cool dance number, 'Va Va Voom', celebrates the timeless rock and roll tunes, with Dot (Aditi), Agastya Nanda, Khushi Kapoor, Mihir Ahuja, Suhana Khan, Vedang Raina, and Yuvraj Menda in the spotlight.
Talking about composing 'Va Va Voom' Composers Shankar–Ehsaan–Loy jointly said, "The creative process behind this song was truly exciting. We wanted to create a dance number that would immediately compel one to hit the dance floor. Our composition, Tejas Menon's vocals and Javed Akhtar's lyrics all came together as a collaborative effort. 'Va Va Voom' transports you back to the moody rock and roll era of the 1960s. We have effectively tried to capture the essence of that era and look forward to seeing the audience's response to the song."
The Archies' director Zoya Akhtar also shed light on the song adding, "'Va Va Voom' is a classic Archie comic term. It's a compliment to describe a girl he likes. A way of saying she is cool. This song encapsulates the energy of the 60s rock 'n' roll era and romanticizes teenage love. Archie wears his heart on his sleeve as they dance to a super fun Shankar-Ehsaan-Loy composed tune. My dad Va va voomed it and Ganesh has nailed the choreography. The actors just followed his lead and as gruelling as it was we had a blast shooting it."
Join in and dance to the groovy 'Va Va Voom' beat from The Archies!
A heartfelt coming-of-age tale set in the idyllic backdrop of the 1960s, 'The Archies' draws viewers into the lives of a beloved group of teenagers. The film is a collaborative effort between Netflix India, Tiger Baby, Archie Comics, and Graphic India. Helmed by Zoya Akhtar, the highly anticipated film exclusively released on Netflix worldwide on December 7, 2023.