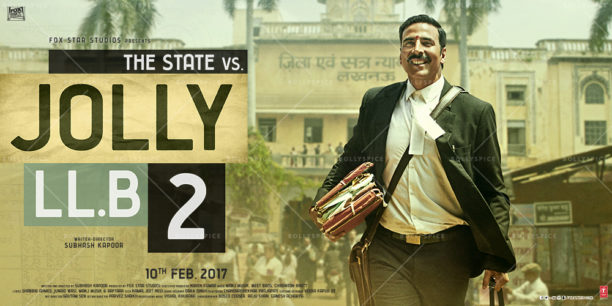 The makers of the forthcoming dramedy JOLLY LL.B 2 have released the trailer today! A unique opportunity was given to 100,000 fans all over the world to view the trailer 30 minutes before it's official worldwide launch.
The plot of the movie is set in Lucknow, Jolly LL.B 2 is the story of the blunt, abrasive and yet oddly compassionate Jagdishwar Mishra, aka Jolly (Akshay Kumar), a small-time, struggling lawyer who has moved from Kanpur to the city of Nawabs to pursue his dream of becoming a big-time lawyer.
A hustler by nature, Jolly survives by fighting petty cases and using every tactic under the sun to make a quick buck and earn a decent living. Having spent years in the chaotic and dingy court corridors Jolly is looking out for an opportunity that could turn the tide in his favour and help him achieve his dream of becoming a full-fledged Lawyer with a chamber.
When faced with the glimpse of such an opportunity, Jolly jumps at the chance and in the bargain commits an innocent mistake with irreversible consequences that makes him ready for a big fight with the ruthless advocate Mathur.
Get set to welcome Jolly and his own inimitable ways that will not only leave a smile on your face but will also make you look at society and system through a very subtle satirical filter.
Jolly LL.B 2 releases in cinemas on 10th February 2017 through Fox Star Studios.
Check out this awesome trailer right here!