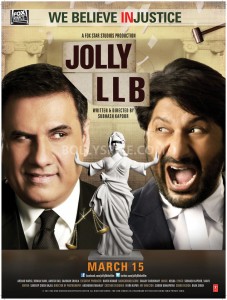 The most disappointing kind of film is one you really want to like – for its earnestness, its noble intentions, its sincere actors – but are not able to. Director Subhash Kapoor's earlier film Phas Gaye Re Obama was a gem of a satire. Jolly LLB doesn't even come close to the brilliance of that one.
Struggling lawyer Jagdish Tyagi aka Jolly (Arshad Warsi) moves to Delhi from Meerut for better opportunities but soon realises that things are as bleak as they were back home. Impressed by the high-profile advocate Rajpal (Boman Irani) and desperate to make things happen in his life, he files a PIL that is guaranteed to get him the media spotlight. It starts out as a publicity stunt but slowly turns into a life-changing decision for him. Encouraged by his girlfriend Sandhya (Amrita Rao), Jolly develops a conscience and decides to fight for justice.
A satire has to be genuinely funny to make an impact and that is where Jolly LLB fails. It does have a few moments of brilliance but they are overshadowed by the predictable and mostly boring narrative. Jolly's change of heart lacks gravitas, the way he keeps getting leads and help is too convenient, and the ease with which good triumphs over evil is just laughable. Another gripe is the bad music. After Special 26, this is another film which would have been better off without the songs and romantic track.
What works for the film is its attention to detail in the courtroom scenes. The atmosphere of lower courts is captured very well and gives authenticity to the going-ons. Adding weight to the proceedings is Saurabh Shukla as the sardonic Judge. The only times the film truly comes alive is when he is on screen. His is the best written character in the film and Shukla sinks his teeth into the role with visible delight.
The rest of the cast is not so impressive. The usually dependable Arshad and Boman come across as strangely one-note here. Amrita is seen on the screen after a long time but neither her role nor her performance adds value to the film. The very talented Manoj Pahwa, Sanjay Mishra and Brijendra Kala are just wasted.
Jolly LLB has its heart in the right place. However, nobody enjoys a moral science lesson unless it is backed by either genuine wit or engrossing drama. Subhash Kapoor is undoubtedly a talented film maker and here's hoping that his next (the third Munnabhai film) sees him back in form.