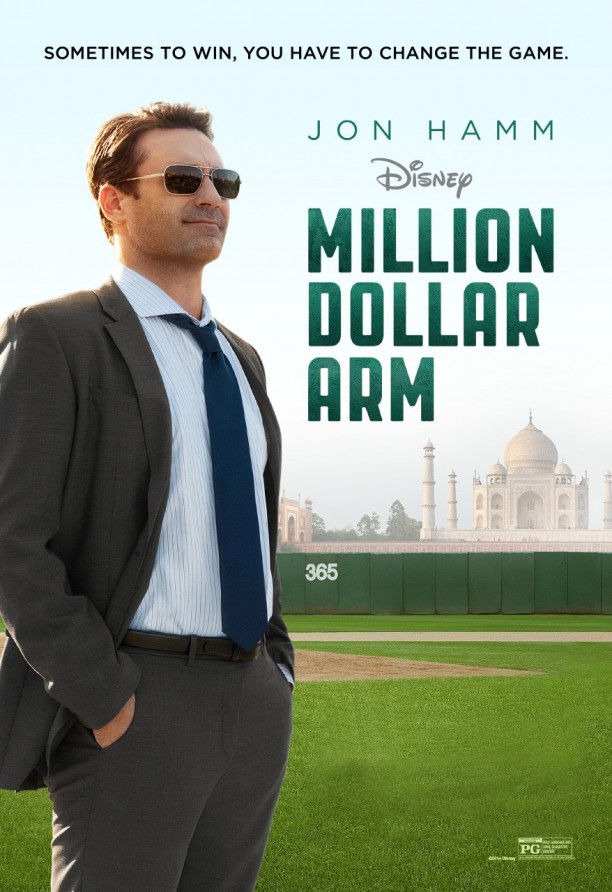 The UK release of Million Dollar Arm is just few days away and actor Jon Hamm took some time from his busy agenda last week to come to London to promote the film and we were there. Clad in a casual outfit and wearing a deliberately scruffy beard, the actor of Mad Men received the press in a hotel of Central London to talk about the film, his character and much more!
Based on a true story, Million Dollar Arm tells the story of J.B. Bernstein, played by Hamm, a sports agent whose career is going through a bad patch. His business is declining and he has just lost the opportunity to sign a celebrity sportsman. In a last move to save his career, he decides to travel to India in the search for young cricketers that can become baseball players. J.B. sets up a talent contest, "The Million Dollar Arm", which will identify the best cricket bowlers and bring them to the US for a chance to get a major League baseball contract. Bernstein finds Rinku (Suraj Sharma) and Dinesh (Madhur Mittal), and takes them to the LA to train, but the boys will struggle to adjust to their new life and cope with the pressure being heaped on them. With his career on the line and the relationship with the boys at stake, J.B. realizes that family and friendships are more important than sealing the deal.
"Part of what attracted me to the story was the fact that it is aspirational and inspirational. There is a major part of the story of the film that is a really wonderful message for everyone, including young people," Hamm said about why he got involved in the film.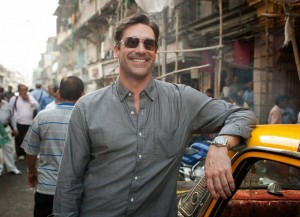 The actor repeatedly stressed the significance of what Rinku Singh and Dinesh Patel achieved. "It can't be understated how difficult it was to do what they did. To go from zero baseline of knowing, not ever having picked up a baseball, much less play the game, or have any idea of how the mechanics work. To go from that level to play at the elite level that they eventually got to is mind-blowing. I played baseball my whole life. I can't do what they did. And I have a very comprehensive knowledge of how to do that, I just don't have the talent and the work ethic."
In fact, Hamm knows what playing sports at a professional level demands, as he played several sports – including baseball – when he was at high school, but decided not to pursue this career. "I rapidly realized that my talents did not necessarily lie in that arena, so you do the next best thing. You become an actor and you can fake it!" he joked.
The American actor, who rose to fame playing the character of Don Draper at the TV drama Mad Men, incarnates J.B. Bernstein, a sports agent who sets up a reality show in India to find young cricketers that can become baseball players.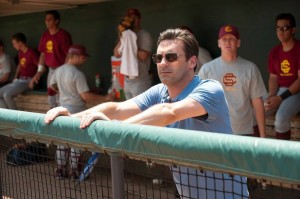 The actor had the opportunity to meet real-life Bernstein in a rather comical encounter he told journalists. When asked about Bernstein's first words to him, "He (Bernstein) said 'Hi! I'm J.B.', and I said 'Hi! Me too!'" On a more serious tone, Hamm talked very kindly about Bernstein. "Getting to know J.B. was actually very cool. He's a wildly intelligent guy and a very big thinker. It's a pretty great idea what he came up with. No one else had thought about it before him, and that's kind of an awesome thing to be the first person to think something up."
An important part of the film takes place in India, where the company shot for almost three weeks. The filmmakers had no choice but to shoot in the spring, the country's hottest season, due to actor schedules. Hamm recalled the experience during the interview. "We shot in May and we were immediately told that all the productions in Bollywood don't shoot outside in May. That's ridiculous because it's far too hot. And not only in Mumbai. We shot in Agra and Lucknow as well, which is even hotter but drier, so that was nice."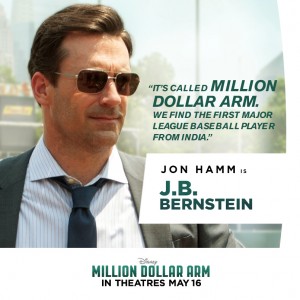 In fact, it was the actor's first visit to the country. "It was exciting; it's all I can say. The experience of being in India for me, everything was new; I've never been to Asia. That was my first trip to the continent so everything was new, and India is such an amazingly rich tapestry, not only from a cultural standpoint, a religious standpoint, a culinary standpoint, I mean just the differences in landscape from being in the far south in Mumbai and then getting further and further north. It's remarkable, it would basically send me to Wikipedia every day when I get home and I wanted to learn whatever I'd had seen or learnt that day. It was pretty fascinating."
One of the scenes shot in India takes place in Agra with the Taj Mahal in the background. The historical monument made an impact on the actor, who had the opportunity to visit the complex. "You aren't really prepared for how big it is, and you aren't really prepared for what exist on both sides and in front of it, which are these other two beautiful temples and this unbelievably gorgeous gate that lead you up to, and then you see this breathtaking beautiful perfectly symmetrical seven hundred year-old edifice. It's breathtaking, it really is."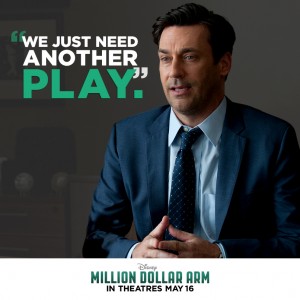 Hamm is not very familiar with Bollywood cinema, but he had the opportunity to get into contact with the industry during his stay in Mumbai. "I haven't seen a lot of them. Although when I was in India I got to meet Ranbir Kapoor. He was shooting in the stage next to us. I got to see a part of it, I don't know what film it was, but it was a really cool scene because there were about six hundred people in the scene. It was a dance and there was a lot going on," he said.
Besides Jon Hamm, Million Dollar Arm also stars Suraj Sharma, Madhur Mittal, Lake Bell and Pitobash. Directed by Craig Gillespie, the film is set to reach UK cinemas on August 29.